2011 guard Matt Carlino commits following IU Elite Camp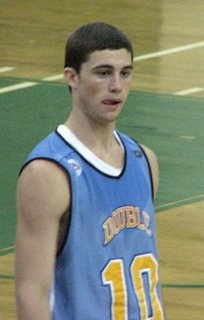 Update: We were just tipped off about this video of Carlino via goazcats.com. The file size is large, but if you have the patience and the bandwidth to check it out, it's definitely worth a look. We'll have a Q & A with IU's latest commitment later this week.
Indiana has its first commitment for the class of 2011 — Gilbert (AZ) guard Matt Carlino. According to our good friend Dave Telep of Scout.com, Carlino made the decision shortly after attending this weekend's elite camp in Bloomington:
"I had gone to their team camp in July and ever since then I've been thinking about Indiana. When I came down here and got coached by a lot of great coaches that just sold me. Looking up at the banners, that was amazing. They're looking for me that when I get there I'm supposed to be an impact player on their team. They're going to really get it rolling here with him there. By the time I get there, I hope, they'll have a chance to win a national championship. Once I saw Indiana … Coach Crean is unbelievable. He gets guys ready for even higher levels and that's what sold me on Indiana."
Carlino grew up a fan of the Indiana program and that influence led him to pick the Hoosiers over UCLA, Arizona, Arizona State and USC. He's ranked the No. 8 player in the 2011 class by Hoop Scoop and is expected to be among the top 50 players in his class when Rivals and Scout expand their rankings.
(Photo credit: Jody Demling)
Editor's Note: You may have noticed the change in the author bylines on Inside the Hall. Big A, PostmanE and PostmanR will now be known by Alex, Eamonn and Ryan. 
Filed to: IU Elite Camp, Matt Carlino