IU appoints Jenna Jerden as Director of Compliance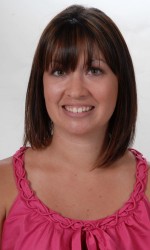 IU sent out a press release this morning to announce the hiring of Jenna Jerden as the Director of Compliance. Here is the complete release:
Indiana University Associate Athletic Director and Senior Woman Administrator Dr. Grace Calhoun and Assistant Athletic Director for Compliance Ian Rickerby have announced the hiring of Bloomington native Jenna Jerden as its new Director of Compliance.

"Jenna's experiences at the NCAA and her time spent at IU will serve her immediately as she begins this on-campus position," said Rickerby. "I am confident that she will hit the ground running and be another invaluable member of our Compliance Services office."

She will be responsible for acting as the primary contact for all constituents for rules interpretations, overseeing the monitoring of rules compliance and assisting with rules education in the position.

"I was very impressed with Jenna and believe she will have a lot to offer to Indiana University," said IU Director of Athletics Rick Greenspan. "Her experiences will be a tremendous asset to our department."

She began work at the NCAA in the summer of 2006, and for the past two years she has worked regularly with the NCAA as a part-time coordinator, while completing law school.
"I am very excited to be given this opportunity, and to be a part of the IU athletic department," said Jerden.

While working for the NCAA, she gained invaluable insight into the workings of membership institutions and the legislative philosophy of Division I athletics. As a part-time coordinator she has balanced various duties working within both the public call center and the student-athlete reinstatement team. Additionally, she gained valuable experience reviewing and interpreting NCAA legislation on a variety of issues.

In addition to working with the NCAA, Jenna interned within the athletics compliance office at IUPUI in 2007 and with the office of the director of athletics at IU in 2005, where she was able to gain valuable insight into the impact of NCAA legislation on campus.

Jenna recently completed her Doctor of Jurisprudence at Indiana University School of Law – Indianapolis and received her Bachelor's Degree in Communications from the University of Tennessee in 2004.

She will reside in Bloomington.
Filed to: Jenna Jerden