The Jordan Crawford/LeBron James video has leaked, and it's disappointing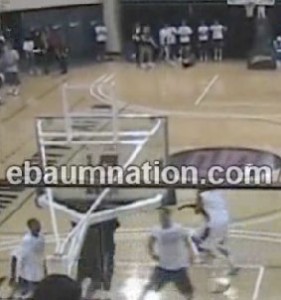 After Nike confiscated the two videographers' tapes that were rolling during the Dunk Heard Round The World, there was a slim chance it was ever going to see the light of day.
But thanks to a guy who filmed it off his cell phone — at least that's what it appears to be from the poor quality — and sold it to TMZ, you can now feast your eyes on the dunk over on their site. It seems this was a third shooter, one Nike apparently didn't know about.
But wait! There's more!
Another site, eBaum Nation, has a much higher-quality video of the dunk from a better angle. Take a look at that here. Perhaps TMZ, which wasn't supposed to put it up on their site until tonight after it debuted on their TV show, found out about eBaum Nation's better video, so they decided to release theirs early. No word on where or how the eBaum people got their hands on it. Yet.
Anyway, enough about the particulars of where the video resides online. Let's talk about the dunk. It's anti-climatic. But that's what everyone was expecting. The dunk was basically a Paul Bunyon-esque tall tale a few weeks back, but now that it's right in front of our eyes, well, it's not that great. Former Hoosier Jordan Crawford still dunked on LeBron James. But James was late sliding over in transition; he barely puts any effort into defending.
So yes. There you have it. Crawford gets his day in the sun. We all finally get to see the video. Now when is Hoosier Hysteria?
Filed to: Jordan Crawford, LeBron James