Kyrie Irving on IU: 'They're at the top of my list'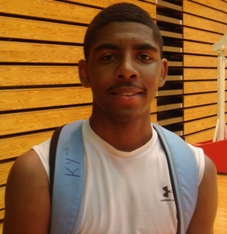 Adam Zagoria of Sports Net New York and Rivals.com caught up with IU's top target in the 2010 class, Kyrie Irving, and the St. Patrick's point guard had favorable things to say about the Hoosiers:
"They're at the top of my list for now," Irving told Zagoria in a phone interview. "It's them and Notre Dame and Duke and Virginia. They're at the top of my list right now."
"They have my major, which is journalism, one of the best programs in the country in journalism," Irving continued. "I got a home feeling when I went out in Indiana. They showed me around the campus. I got a feel a good feel for the campus. It went really well. The fan support was tremendous. They really showed me a good time out there."
It's not uncommon for things to change quickly in recruiting, but you can expect IU to be in the thick of things for Irving until the end. He's developed a strong relationship with Tom Crean and Roshown McLeod that also extends to his family, which Irving told us a couple of weeks ago is an important factor.
Related:
Filed to: Kyrie Irving