Kyrie Irving enjoys trip to Bloomington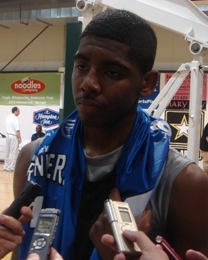 The primary target of Indiana's 2010 recruiting efforts was in Bloomington this weekend for the adidas May Classic.
And before his New Jersey Roadrunners team played two afternoon games on Saturday, he got a chance to visit with the Indiana coaches on Friday and tour the campus.
"I was with the coaches and I just looked around," Irving said. "I'm going to major in journalism. I heard they have one of the best journalism schools in the country, so they showed me around there."
Irving is in no rush to make a decision and is still considering a large list of schools, but he likes what he's been able to see of Bloomington and the Indiana program.
"The fan support here is great," he said. "I can see how they get 17,000 even though they didn't have a good season. The fan support was still tremendous."
Filed to: Adidas May Classic, Kyrie Irving