St. Patrick's Kyrie Irving looking for the right fit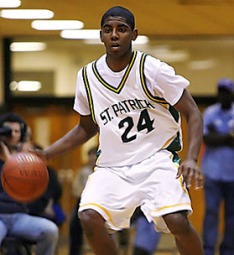 Kyrie Irving doesn't plan to make a decision on where he'll attend college until this fall. But as his recruitment plays out and he mulls over the schools on his list, he's already sure of one thing.
"Once I step on campus, I'll know it's the right school," Irving said.
The 6-2 point guard from St. Patrick's (NJ) is considered by many to be Indiana's primary target for the 2010 recruiting class. Not only is Irving looking for the right fit on the court, he's also focused on finding the right fit in the classroom.
"Academics is the most important thing," Irving told Inside the Hall. "Academics has been the primary thing in my household since I was probably eight years old. Secondly is probably the coaching staff and where I'll fit in."
Irving visited IU for last year's season opening win over Northwestern State and he plans to take an unofficial visit to Bloomington this summer. He'll also make stops at Notre Dame and Texas A & M. From there, he'll trim his list to five schools at the end of the summer and begin scheduling official visits.
"I just try to sit back and enjoy every moment of it," Irving said of the recruiting process. "Because a lot of people aren't in my position. I'm just thankful for that in itself. Being around the coaches and getting to know everybody is just great. I'm just taking it all in as the process goes on."
After transfer rules forced Irving to sit out several games last season, Irving quickly became acclimated to his new home at St. Patrick's.
"Coming into St. Patrick's, I was the new guy," Irving said. "I had to find my way playing with other great players. Playing with Dexter (Strickland) and going against him everyday he just prepared me for the next level and competition and everything. He showed me the ropes around St. Patrick's."
With the graduation of Strickland (North Carolina) and Paris Bennett (George Mason), Irving is looking forward to becoming more of a leader during his senior campaign.
"The leadership role, I'm taking it," he said. "I've always been a leader, so it's nothing new. For St. Patrick's it's just another step, but teaching the younger guys is the most important thing for them next year. Also, we have a great group of guys. We lost a lot of seniors this year, a lot of good teammates, but we're just taking another stepping stone. We're trying to repeat and win a national championship."
Although all of the schools on Irving's list are on a level playing field, he's in regular contact with Indiana coach Tom Crean and assistant Roshown McLeod. Not only are both coaches building a strong bond with Irving, they're doing the same with his family.
"I talk to them as much as possible," Irving said of the Indiana staff. "I just have a strong relationship with them. The relationship I have with them extends beyond me, it extends to my family. It just translates to everything about Indiana I like. They're in with my family, so I'm close with them."
In the running: Indiana, Texas A & M, Notre Dame, Georgia Tech, Seton Hall, Pittsburgh, Florida, Marquette, Maryland, Duke and Kentucky
Irving at the Adidas May Classic: Irving and the New Jersey Roadrunners are expected at this weekend's Adidas May Classic in Bloomington.
Quotable – Irving on how the Indiana staff says they'll use him: "They just want me to come in and play right away and make an impact. And that's what I plan on doing at any college I go to."
Filed to: Kyrie Irving