Kentucky is a great job, if you like insane expectations and a rabid fanbase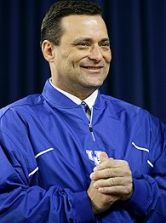 As I watched the Hoosiers struggle through a six win season, I took some solace in what I saw take place in Lexington, Kentucky this season. Despite two future NBA players and one of the worst years ever in the SEC, Kentucky managed to lose 14 games and miss the NCAA Tournament for the first time in 17 years.
Kentucky, which ran a perfectly respectable coach in Tubby Smith out of town a mere two seasons ago, is reportedly on the verge of severing ties with Billy Gillispie. The rallying cry amongst Big Blue Nation has shifted from 'Blame Tubby' to 'Blame Billy.'
The notion of changing coaches after just two seasons is drastic and unheard of in most cases, but Gillispie's unwillingness to stray from his stubborn ways have probably sealed his fate more than the wins and losses.
(Excessive phone calls do not qualify as most cases.)
But ultimately, like any top five job, the pressure to win big and win immediately might be more apparent at Kentucky than anywhere else.
Win a championship and you're the king of the bluegrass. Fail to lure big recruits and reach the Final Four for nine seasons (Smith) or fail to make the tournament and embrace what it means to be the coach at a school like UK (Gillispie) and you'll find a for-sale sign in your front yard. (By the way, my guess is that Gillispie's going to have a hard time selling this.)
You'll get no argument from me that Kentucky is one of the top jobs in America. Their fans show up and travel in droves. Their facilities are state of the art. And Kentucky basketball is the main event in Lexington and across a majority of the state.
But the pressure and unrealistic expectations would make any sensible coach think twice about taking the job, right? Perhaps that's why the first time UK settled on Gillispie, a coach without a trip past the Sweet 16, a questionable personality and a past that included arrests for driving while under the influence.
For whatever reason, the intensity and spotlight in Lexington is dialed up off the charts. Maybe it's the bourbon. Or maybe it's a fanbase that is so obsessed with winning that they'll call for a change after just two seasons. Or a combination of the two. Either way, it's easy to understand why any coach would think twice before submerging into the pressure cooker in Lexington. And who can blame them?
Filed to: Billy Gillispie, Kentucky Wildcats, Tubby Smith