Devin Ebanks' high school career now over; Memphis talk picks up steam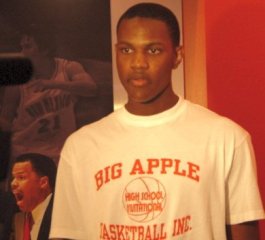 Last week, Rick Bozich of the Louisville Courier-Journal heard rumblings about IU recruit Devin Ebanks backing out of his LOI with Indiana in favor of the Memphis Tigers. This week, with Ebanks' high school career officially in the books, (his squad lost last night to Armon Bassett's own Hargrave Military Academy 98-75) it's looking like talk of Ebanks going elsewhere is intensifying.
Via Zagsblog:
It appears unlikely that the 6-foot-9 Ebanks, who had 22 points in the Hargrave game, will attend Indiana given the recent firing of Kelvin Sampson and a handful of schools appear to be in the running for his services, including Memphis, Rutgers and Texas.

St. Thomas More head coach Jere Quinn said he planned to meet later this week with Ebanks, his mother, Yvonne Jackson and Ebanks' AAU people, including Lawrence McGugins, the head of Team Takeover.

"We're going to try and make a quick assessment of what they're trying to do," Quinn said Wednesday by phone. "We're hoping to get together soon."

Memphis has made a push with Ebanks, and Quinn said that might be an option.

"Memphis has contacted us," Quinn said. "I know they've contacted his AAU people."
At this point, save for some Herculean effort by the IU coaching staff — and which coaching staff would that be? old or new? — it looks like Ebanks is peacing out of Bloomington before he even got there. And really, who can blame him. There's a lot of talk about kids playing for "the name on the front of the jersey," but I just don't think that's the case anymore. Kids come to schools because of the head coach and his staff first and foremost, everything else is just an added bonus.
Might want to ask Eric Gordon about that one.
Filed to: Devin Ebanks, Memphis Tigers