Which Hoosier team will show up?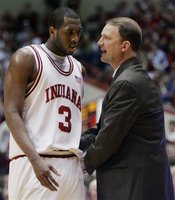 We'll have a lot better grasp on whether Sunday's debacle against Michigan State was an aberration when the Hoosiers take the floor tonight in Assembly Hall opposite the Minnesota Gophers. Tubby Smith's club is 18-10 and is coming off a 71-57 home win over Ohio State.
Back to the Hoosiers. Let's face it, Sunday's game left a bad taste in everybody's mouth. The performance was a major cause for concern because once Indiana got down big, things seemed to snowball. The defensive effort was pathetic and some of the jawing that was going on seemed to suggest that Dan Dakich might not have control of certain players. Despite their 2-1 record under Dakich, this group hasn't played well since their win over Purdue.
If Indiana turns in a solid performance tonight, all of the sudden there will be hope once again for where the season is headed. If we see another uninspired effort, especially on a night where seniors D.J. White, Lance Stemler, Mike White and Adam Ahlfeld will be honored, it's time to throw up a red flag. This is the time of year where teams should be putting it all together and improving. Another poor effort would be a sign that a collapse is imminent.
With that said, what are your expectations for tonight's game? Will we see the Indiana team that crushed Michigan State at home a couple of weeks ago? Or will we see the club that struggled with Northwestern, Ohio State and was throttled by the Spartans at the Breslin Center? Also, in terms of senior night, how will you remember the seniors? And one final thought: How do you rate Dakich's performance after three games?
Your thoughts are welcome in the comments.
Filed to: Dan Dakich, Minnesota Golden Gophers