Hoosiers lose nailbiter at home against Badgers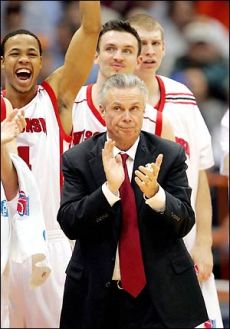 I'm having a hard time not starting off this recap with an expletive, but alas, I will refrain. Anyone who watched this one can tell you the drill: it was a highly contested, great game. Unfortunately, IU came out on the wrong end, losing 68-66. Brian Butch hit a lucky bank three with just a few ticks left on the clock to put Wisconsin up and Jamarcus Ellis missed a three at the buzzer that would have given IU the victory.
D.J. White started out hot, dropping six of his first six baskets. But he picked up his third foul early in the second and played a bit reserved because of it. So, Eric Gordon did his thing, taking the ball to the hoop and hitting a few shots. White finished with 17 points and seven boards, while Gordon finished with 23 points. Jason Bohannon led Wisconsin with 18 points.
The one good thing here? IU played well. This is two games in a row we can sit back and say: "Hey, we're looking good, we're finally coming around." It's just too bad it had to come in a loss. At home. The day it was announced Kelvin Sampson got slapped with major sanctions.
As a reminder, we still haven't beaten a ranked team or anyone of real worth. (Ohio State doesn't count.) You know, in case you were wondering out there.
It's been a rough day to be an IU fan. Let's just leave it at that.
Filed to: Brian Butch, D.J. White, Eric Gordon, Jamarcus Ellis, Jason Bohannon, Kelvin Sampson, Wisconsin Badgers