White, Gordon help IU pull away against Northwestern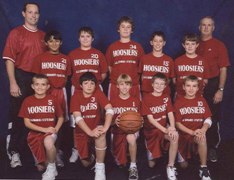 It took a while for the Hoosiers to pull away in this one — thanks to Northwestern's back cuts and three-point shooting — but with around eight minutes to go, Eric Gordon hit a few shots, D.J. White chipped in some free throws and that was that: 75-63, IU wins. For the afternoon Gordon had 29 points — 18 of which came on three-point baskets. White racked up his fourteenth double-double with 26 points and 13 boards. Craig Moore led the Wildcats with 17 points.
It also helped that IU went to a zone in the second half, negating some of Northwestern's nifty screening and cutting. At one point, Northwestern didn't notch a field goal for just about eight minutes. Kyle Taber got the start at the four for the Hoosiers and saw some considerable playing time. (Clearly, Kelvin Sampson — like many of us — is realizing the Mike White/DeAndre Thomas/Lance Stemler combo has been lackluster as of late.)
Though Taber saw considerable playing time, he was just sort of, well, there. He didn't do anything particularly notable. He didn't do anything particularly awful, either. (Although, I do remember an errant pass for a turnover in the second half.) It was nice to see Sampson try something else there, even if it wasn't quite the answer. Taber does have size and if he can play some defense — which he seemed somewhat capable of today — it might be another serviceable option for IU as the season progresses.
Our guy A.J. Ratliff saw the floor for a good stretch this afternoon as well, but it's clear his shot just isn't there yet this season. He attempted six threes and only hit one.
Oh and since we've all been rather critical of Sampson, his offensive schemes and the way this team has played this year, I highly recommend you read Chris Korman's article from today. Sampson responded to a lot of that criticism yesterday. (One thing I'll say: Sampson was able to maximize the talent on last year's squad: they played well together. Why he hasn't been able to do that for this year's team, well, I don't know. But we're eight game deep in the Big Ten season, he better figure it out soon.)
The Hoosiers are now 18-3 on the season and 7-1 in the Big Ten. They play Illinois on Thursday night in Champaign, Ill.
Filed to: A.J. Ratliff, Craig Moore, D.J. White, DeAndre Thomas, Eric Gordon, Kelvin Sampson, Kyle Taber, Lance Stemler, Mike White