Battle tested Hoosiers prevail, 81-65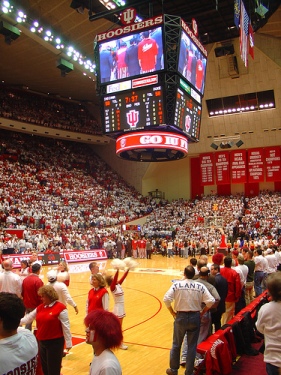 A game that looked to be a mismatch on paper turned out to be quite a battle for No. 9 Indiana Sunday afternoon in Assembly Hall.
Penn State, minus All-Conference player Geary Claxton, led 52-51 with 11:53 remaining before the Hoosiers closed the game on a 30-13 run.
The 81-65 victory moved Indiana to 16-1 and 5-0 in the Big Ten.
Kelvin Sampson improved his record to 26-0 at Assembly Hall and the Hoosiers extended their homecourt winning streak to 28.
Eric Gordon scored 25 points to lead the Hoosiers and D.J. White added 22. Gordon hit 8 of 17 from the field, 5 of 11 from three-point range and 4 of 4 from the foul line.
White, who pulled down seven rebounds, was pleased with his team's effort in the second half.
"They (Penn State) came out ready for us. I think the zone bothered us a little bit in the first half," White said. "Our guards did a good job of penetrating the zone, which we didn't do in the first half and that's what opened the game up."
Armon Bassett came off the bench and scored 17 points (five three-pointers) in 33 minutes for Indiana and Jamarcus Ellis added 12 points, eight assists, five rebounds and three steals. Overall, the Hoosiers shot 57 percent from the field and hit 11 of 23 from beyond the arc.
Freshman Talor Battle led Penn State with 20 points and Jamelle Cornley added 19.
Related:
Update: Those of you looking for The Morning After, it'll be up a bit later than usual on Monday.
Filed to: Armon Bassett, D.J. White, Eric Gordon, Jamarcus Ellis, Penn State Nittany Lions