D.J. White goes off; Hoosiers roll in Ann Arbor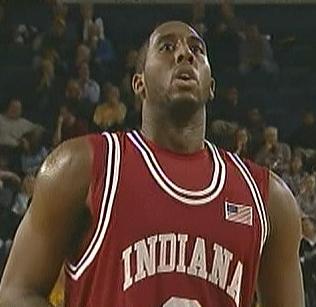 It seems every couple games we're writing about D.J. White racking up a career high in rebounds. And tonight in Ann Arbor, Mich., White was getting down and dirty again.
D.J. snatched 22 boards during IU's 78-64 win against the Michigan Wolverines. That's the first time a Hoosier has grabbed 20 boards since Allan Henderson in 1995. Oh yeah, D.J. was no slouch on the offensive end either. He dropped 21 on the Wolverines, nothing finer than when he grabbed a steal, threw down a dunk and was fouled in the process. Simply put: he was caps locked SOLID tonight.
Eric Gordon started out with the hot hand, dropping four of his first six shots, but was slapped with three fouls around the midway point in the first half and sat on the bench for the remainder of the first frame. He came back strong in the second half and his whole game was on display this evening: he hit the deep threes, he threw down a thunderous dunk, and he moved off the ball to create shot attempts. He finished with 23 on the night.
Super frosh Manny Harris had 19 points for the Wolverines.
The Hoosiers were in control of this one all game, leading by as much as 22 in the second half. (Well maybe there was a bit of a scare at the end of the first half.) And really, when was the last time we could say that? IU dominating on the road in the Big Ten. Yeah, Michigan isn't very good, but IU has struggled against the bottom of the Big Ten on the road for a while now.
Anyways, E will get into all that tomorrow in his Morning After post. (He'll probably also riff on Jordan Crawford, too. Some commenters were pretty harsh on his play tonight. I will say this: he is not bad. He is, in fact, a good freshman. Give him time to wrangle in his game. He was pressing too hard in front of a crowd laden with his friends and family.)
For now, revel in it, friends. IU is 2-0 in the Big Ten with two road wins. Illinois is up next this weekend at home. This is what we've been waiting for all year, right?
Related:
Filed to: D.J. White, Eric Gordon, Jordan Crawford, Michigan Wolverines