Game Thread: Chicago State @ Indiana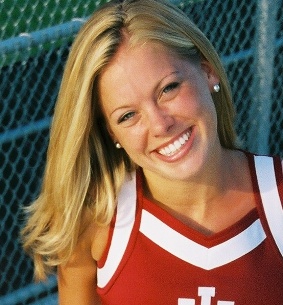 In case you're wondering, the lovely lady to the right is former Indiana cheerleader, Megan Martz. Now, onto the festivities at hand.
Opponent: Chicago State
Date: Saturday, December 29, 2007 | 7:06 EST
Arena: Assembly Hall (17,357) – Bloomington, Indiana
All-time series: Indiana leads 1-0
TV: Big Ten Network (Mel Proctor and John Laskowski)
Radio: IU Radio Network (Jeremy Gray and Todd Leary)
Probable Starters:
Chicago State (4-11): John Cantrell, David Holston, Mike Wilson, Carl Montgomery, Nemanja Stankovic
Indiana (10-1): Armon Bassett, Eric Gordon, Jamarcus Ellis, Lance Stemler, D.J. White
Game Notes (Adobe Reader required to view)
As always, your predictions and comments are welcome in the game thread.
Filed to: Chicago State Cougars