Gordon and White lead Hoosiers past Chicago State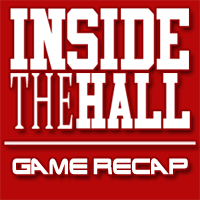 Eric Gordon scored 22 points and D.J. White posted his eighth double-double of the season with 21 points and a career-high 15 rebounds as No. 13 Indiana crushed Chicago State 97-59 Saturday night at Assembly Hall.
Gordon struggled from the field for the second straight game as he shot just 3 of 12 but the 6'4″ freshman hit 14 of 14 free throws.
Indiana opened the game on a 11-0 run and led 28-6 on a Lance Stemler three-pointer with 10:30 remaining in the first half.
"I thought we were ready to play," Indiana coach Kelvin Sampson said. "I thought our defense was really, really good the first 20 minutes. We dominated every phase of the game."
The Hoosiers (11-1) shot 47 percent from the field, out-rebounded Chicago State 56-26 and had 11 blocked shots.
Armon Bassett returned from a three-game suspension and scored 13 points.
Chicago State (4-12) shot just 36 percent from the field, committed 18 turnovers and missed all five of their free throw attempts. David Holston led the Cougars with 25 points.
The win extended IU's home court winning streak to 26 and moved Kelvin Sampson to 24-0 at Assembly Hall.
Indiana will open Big Ten play Wednesday evening at 9 p.m. ET against Iowa at Carver-Hawkeye Arena.
"We're excited about starting Big Ten play on Wednesday," Sampson added.
Related:
Filed to: Armon Bassett, Chicago State Cougars, D.J. White, Eric Gordon