Gordon sets freshman record as IU rolls, 99-79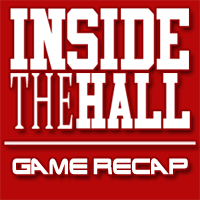 Eric Gordon set an Indiana freshman record for a debut with 33 points to lead No. 8 Indiana past Chattanooga 99-79 Monday night in Assembly Hall.
The Hoosiers (1-0) trailed 50-46 at halftime before outscoring the Mocs (1-1) by 24 points in the second half.
Gordon shot 9 of 15 from the field, including 7 of 11 from behind the three-point arc. The North Central product added six rebounds, four assists, three steals and a block in 35 minutes.
More importantly, Gordon shut down Chatanooga's Kevin Bridgewaters in the second half.
"He's a monster," Kelvin Sampson said. "Watching him everyday in practice, that's where he's made his biggest strides, defensively."
Indiana struggled defensively in the first half as Chattanooga shot 50 percent from the floor and out-rebounded the Hoosiers 14-12.
A renewed focus on defense led the Hoosiers to a 10-2 run after the break and they never looked back.
Armon Bassett, coming off a mild ankle injury in Saturday's exhibition over UNC-Pembroke, added 20 for Indiana. Bassett was 8 of 10 from the field and 4 of 5 on three-pointers. He added six rebounds and five assists.
D.J. White also turned in a stellar effort with 17 points before leaving late in the second half with a laceration on his head. While attempting to block a shot, White had his legs taken out from under him and hit his head on the floor. He left to a standing ovation and signaled a thumbs up to the crowd before heading to the locker room. He did return for the final minutes of the game sporting a band-aid.
Other notables for Indiana: Jordan Crawford (13 points), Jamarcus Ellis (Five points, nine rebounds and six assists) and DeAndre Thomas (11 points). The Hoosiers shot 55% from the field and 74% from the foul line.
For Chattanooga, Bridgewaters had 14 points, all in the first half, and Kevin Goffney had 13.
For those of you who missed the game, check out the highlights below, courtesy of the Big Ten Network: