Devin Ebanks impressive at Boost Mobile Elite Classic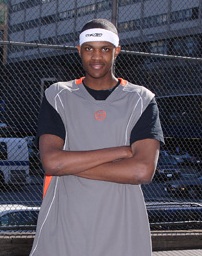 Devin Ebanks took place in the Boost Mobile Elite 24 Hoops Classic this past Friday night at Rucker Park and walked away a winner as his White Team defeated the Orange Team, 169-164. Suffice to say, not much defense was being played.
Ebanks teamed with another IU target, Mount Vernon (NY) forward Kevin Jones as well as Brandon Jennings (Arizona), Samardo Samuels (Louisville) and Tyreke Evans.
Slam Magazine was there to break down the action and here's what they had to say about Ebanks, who finished with 18 points:
Devin Ebanks, 6-9 wing, St. Thomas More (CT), 2008, committed to Indiana: A skilled, oversized wing in the Durant/McGrady mold, Ebanks' smooth jaunts to the rack were remarkable. Combine that with his outside J and the Queens native had a more than respectable outing.
This is the type of praise we've already heard for Ebanks and just reinforces the fact that he's going to be a flat out stud the minute he arrives on campus next fall. The fact that he's being compared to Kevin Durant and Tracy McGrady makes me even more excited to see him in person.
I wasn't able to find any stats for Jones, but Jennings finished with 19 points and 23 assists, Evans scored 30 points and Samuels added 21 points.
Filed to: Boost Mobile Elite 24 Hoops Classic, Brandon Jennings, Devin Ebanks, Kevin Jones, Samardo Samuels, Tyreke Evans