Writer expands on his Garcia to Memphis prediction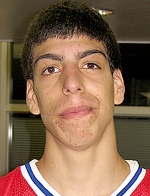 Kelin, an avid reader of Inside the Hall, shot an e-mail over to Dan Wolken regarding his story where he predicted East Chicago Central's Angel Garcia will attend Memphis.
He's been kind enough to share his e-mail and the response he received from Wolken with all of the readers, so thanks are in order for that.
First, here's what Kelin sent over to Wolken:
Dan-

As an Indiana guy I think you are way off on the Garcia prediction. IU has no one at his position after this year and the style of play will vastly change given the type of players we have in this year's class and next year. With Eric Gordon, Jamarcus Ellis and other "transition type" players, the days of the motion offense are gone. Yes Calipari produces NBA guys…lets not forget Dajuan Wagner! I think Memphis has a shot but the reasons you are stating really don't hold the weight. I am for certain Indiana will receive far more national exposure than Memphis over the next few years, including this year. Being an Indiana kid, I think Angel knows that.
And here's the response Wolken gave with his rationale:
Thanks for your note.

Every fan of every school thinks every recruit should come there and can give a list of reasons why, and I'm fine with that. I'm not a fan, so I base all my commentary on what I observe and what I'm told from my sources. I based my prediction about Garcia on the following factors:

1) Calipari has gotten many players from Puerto Rico over the years, both at UMass and Memphis. This is not a coincidence. If Garcia comes to Memphis, he'll also be playing for an assistant coach who is Puerto Rican.

2) There is a pretty stark difference between Memphis and Indiana in style of play. Memphis is selling that hard.

3) Whether you think it's true or not, Calipari is perceived in the basketball/recruiting world as a coach who gets players ready to go to the NBA.

4) Angel isn't an Indiana kid. He's from Puerto Rico.

5) Memphis is on ESPN/ESPN2/CBS 10-15 times per year, which is about as many as any program outside of Duke. They're No. 1 or No. 2 this year in every preseason poll. Outside of Duke, Carolina, Kentucky, UCLA and Florida, Memphis gets about as much national exposure as any.
Like I said yesterday, I'm thinking this could go either way. With Garcia, Tyler Zeller and Kevin Jones all still possibilities for this class, you can't say enough about the recruiting job that Coach Sampson and staff have done. It's been nothing short of remarkable. If one of these kids come to IU, we're looking at another top five class. If two of them come, you're probably looking at a top two or three class.
By the way, I haven't forgotten about the All-Big Ten preview. That'll be back next week as I'll reveal the fourth player on the first team as well as my pick for player of the year.
Filed to: Angel Garcia, Dajuan Wagner, John Calipari, Memphis Tigers