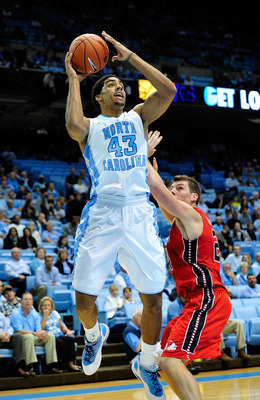 Ever since the Indiana schedule was released, Nov. 27 has been the date to circle in the non-conference schedule. Last week's Legends Classic in Brooklyn was certainly a challenge for the No. 1 Hoosiers (6-0), but Tuesday's Big Ten/ACC Challenge matchup with No. 13 North Carolina will likely be their biggest test prior to conference play.
The Tar Heels possess more athleticism than any team the Hoosiers have played to this point, and they bring an element to the game unlike any Indiana has seen during the Tom Crean era. At 9:30 p.m. Tuesday night, a track meet could well break out at Assembly Hall.
"I don't know if we've ever seen a fast break come into Assembly Hall in our time here like we're going to see," Crean said Monday. "Their transition is literally second to none. It always is with Roy Williams teams. We saw it first-hand when we were at Marquette and he was at Kansas and we played in the Final Four. As hard as we prepared for it, it was unlike anything we'd seen. That's the way that they are right now."
North Carolina (5-1) loves to push the tempo whenever possible. The Tar Heels will certainly run on missed shots and turnovers, but they're also plenty willing to go on the break off a make.
"We can't celebrate a nice play because they'll be scoring in two seconds on the other end," sophomore Cody Zeller said.
There are several keys to the Carolina break. First, nearly everyone Williams puts on the floor is an offensive threat. The Tar Heels have seven players that average at least 7.3 points per game (though P.J. Hairston won't play on Tuesday). Second, they space the floor very well, with shooters spotting up on both sides of the court. And finally, freshman guard Marcus Paige is exceptional at pushing the ball and finding the open man.
"Teams that aren't committed to running run to the wings. They run to the corners," Crean said. "And you have to guard them in the corners. It's not like you can just go back and get in your normal help defense routine and roll against them, you've got to go get to the corners. Everybody on the break is a legitimate threat to score."
The Hoosiers also excel in transition and love to play fast, which could make for an uptempo, high-scoring game. But while they want to play fast, the Hoosiers know they must focus on slowing North Carolina down on the defensive end.
The defensive focus will start with 6-foot-8 sophomore forward James Michael McAdoo, who earned co-MVP honors in the 2011 McDonalds All-American game. McAdoo is averaging 16.8 points and 8.8 rebounds per contest, leading the Tar Heels in both categories.
"McAdoo is as good of a rebounder — especially offensively — that these young men have seen this year or any other year," Crean said.