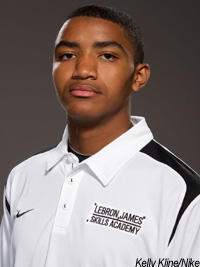 Indiana fans can thank their sellout crowd for keeping Gary Harris from IU's open gym on Saturday — he was stuck in traffic.
Harris eventually made it down to Bloomington in time for the IU-Michigan game, and got to take in all the festivities with the current team and a bevy of talented fellow recruits. The day after his trip to Bloomington, Harris had plenty of good things to say.
"I had a great weekend," Harris told Inside the Hall on Sunday night. He said the visit gave him a feel for "what it's like to be a part of Indiana basketball."
Harris' candor on the weekend, and on where Indiana stands with him right now in general, were both positive. More than that, they were reflective of what has become a common sentiment among several of the top players — particularly in-state — that IU is recruiting.
"What they're trying to do is just great," Harris said, noting that Indiana's latest recruiting victories in the '12 and '14 classes have not gone unnoticed. "They're building it up, so I mean, they're going to have a team."
One of Rivals' highest-ranked Indiana prospects in that 2012 class (Harris is the No. 5 shooting guard and No. 24 nationally) said IU is " very high on my list," right now, as well.
"Every time I go there," he said, "I like it even more."