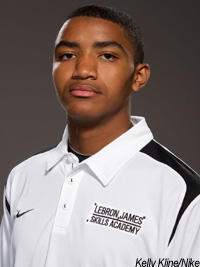 Indiana fans can thank their sellout crowd for keeping Gary Harris from IU's open gym on Saturday — he was stuck in traffic.
Harris eventually made it down to Bloomington in time for the IU-Michigan game, and got to take in all the festivities with the current team and a bevy of talented fellow recruits. The day after his trip to Bloomington, Harris had plenty of good things to say.
"I had a great weekend," Harris told Inside the Hall on Sunday night. He said the visit gave him a feel for "what it's like to be a part of Indiana basketball."
Harris' candor on the weekend, and on where Indiana stands with him right now in general, were both positive. More than that, they were reflective of what has become a common sentiment among several of the top players — particularly in-state — that IU is recruiting.
"What they're trying to do is just great," Harris said, noting that Indiana's latest recruiting victories in the '12 and '14 classes have not gone unnoticed. "They're building it up, so I mean, they're going to have a team."
One of Rivals' highest-ranked Indiana prospects in that 2012 class (Harris is the No. 5 shooting guard and No. 24 nationally) said IU is " very high on my list," right now, as well.
"Every time I go there," he said, "I like it even more."
IU opens the season Saturday and Coach Crean, Brett Finkelmeier, Kyle Taber and new walk-on Kipp Schutz addressed the media earlier this afternoon. Here's the audio, courtesy of CBS Sports All-Access (Microsoft Silverlight required):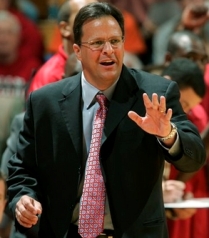 Forgive us for not firing up Cover It Live or a game thread to help usher in Tom Crean's debut in Assembly Hall, but let's be realistic and treat tonight's game for what it was: a glorified practice against a Division III team.
Crean's team did what it was supposed to do: The Hoosiers started with a nice run (21-2 to start the game) and kept applying pressure to a team that was clearly overmatched.
The starting lineup featured four freshmen (Verdell Jones, Tom Pritchard, Nick Williams and Matt Roth) and Vincennes JC transfer Devan Dumes.
Pritchard (20 points and 10 rebounds), Dumes (22 points) and Jones (18 points) each turned in solid offensive performances and Williams showed a nice touch from the free throw line, going 6 of 7. Roth never got into the flow and totaled just five points in 22 minutes.
IU shot 83 percent from the foul line and 56 percent from the field, which could very well be a season-high when it's all said and done. Overall, it was a solid performance for a team that will struggle to find consistency due to its inexperience, but should pull out a decent amount of wins on account of grit and hustle.
Your thoughts on the game and complaints about the BTN's botched streaming experiment are welcome in the comments.
Note: IU is considering adding another walk-on, Kipp Schutz, who plays baseball for the Hoosiers and was all-conference in high school at Evansville Harrison. (Thanks to ITH reader Corey for the tip.)
(Photo credit: Associated Press)