After the massive disappointment last week against Michigan, I didn't expect much out of Saturday's game at Illinois — that's a tough place to play, and Illinois has sneakily been really good this year. Their tempo-free numbers belie a team better than their win-loss record, and their win-loss record is good. Let's just say I didn't have my hopes up. And still, somehow, the game was a gigantic letdown.
As R, Alex, and my friends yesterday could attest, I racked my brain for a while thinking of things to say about this game, and I really don't have much. Some blowouts you can analyze; some are deceptive. There was nothing deceptive happening Saturday. Illinois was just so much better in every facet of basketball it was simultaneously boring and engaging. That doesn't happen often.
In any case, this is your Monday open thread. Discuss whatever you'd like, whether it's Saturday's game, or when you predict IU will win its first Big Ten contest, or whatever. It's all you.
I have one thought to hopefully get the discussion going. Not only was IU bad on Saturday — just skillwise, in matchups, that sort of thing — but it was the first time this year that it seemed like they weren't even trying. Transition defense was unusually slow; Illinois was able to get into their secondary break, make one pass, and have a wide open jumper waiting for them before IU even matched up man-to-man or picked up the nearest player. I understand being drained after the Michigan game. That's fine. But the one positive constant about the Hoosiers this year has been their energy and commitment to their coach, and Saturday was the first time I didn't see it.
Also, one more: Did Illinois fans even enjoy that? Wasn't that sort of like working out all summer, getting big, hoping to fight the bully that terrorized you last year only to see the bully come back to school in a wheelchair? I mean, you can punch the kid in the face if you want … but it's not going to be nearly as satisfying.
Bruce Weber gave an oh-so-hilarious speech to a bunch of Illinois fans yesterday, and he closed with this gem:
– Weber, on the Big Ten race: "The league should be wide open and we can be right in the middle of it. I do know one thing, though. I think Indiana will suck. Don't put that on the Internet."
Awwww. Brucey still hasn't gotten over losing Eric Gordon! Isn't that cute?
For his own sake, Bruce's team better not suck next year. If the Illini come anywhere close to that 16-19 record, Bruce will be stuck obsessing about Indiana on his free time. He'll have lots of it.

Come again, Bruce? Something about fisting?
As my victorious, gloating post just demonstrated, I am incredibly happy to have won tonight. At some level, it's not about winning in a quality way, or looking good while doing it; it's just about winning games on the road when the wins are possible. Thanks to Illinois' horrendous shooting and forgiving crunch-time antics, Thursday's was one such game.
That doesn't mean I'm not going to bitch a whole lot about it. Let's be frank: IU looked just as disorganized and weak as they have in their past three games, and the fact of the win aside — it could just have easily been a loss, and probably should have been — doesn't mean we should be satisfied with this performance or this team.
Still, before the complaining commences, let's just say this: Thank God we won. And that Illinois lost. There are few pleasures so sweet.
And now, onward with the bitching: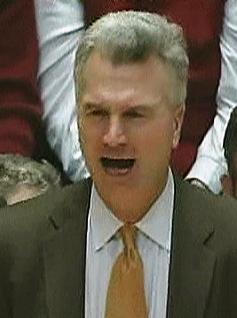 Despite what most people will tell you, Indiana-Illinois has always been a rivalry, at least to some extent. That whole familiarity-breeds-contempt thing? I'm pretty familiar with Illinois fans; Illinois fans were pretty familiar with Bob Knight. The rivalry here is fun, but it is not new. Add a spice of Eric Gordon, and you've got yourself a game that will generate more hyperbole and angst than it will reason and consideration.
That's to be expected, but context doesn't make free throws, and it doesn't run a motion offense. (Neither do the Hoosiers, but hey! I'll be here all night!) Context is important, sure, but it's never as important as what happens on the court. In that spirit, then, let's figure out just why the Hoosiers have such a difficult time with the Illini — and why tonight could be no different.
The first problem here is the matchups. It's not anything new, but while the Illini are a pretty bad offensive team, defensively they are almost perfectly suited to stop IU. 6'10 Shaun Pruitt is bigger than White and just as strong; he makes things difficult for D.J. even without a double team. The story is the same for Eric Gordon, who was defended admirably in the first matchup by the duo of Calvin Brock and Brian Randle. Both are athletic enough to stay close to Gordon on the perimeter without worrying about a blow-by.
As we've established recently, without Gordon and White at the peak of their game, the Hoosiers are toast. The Illini are lucky enough to match up well with IU at those two spots, matchups that level the star-power playing field on the offensive end of the floor.