Hope for the best; brace for the slow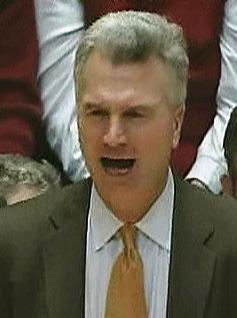 Despite what most people will tell you, Indiana-Illinois has always been a rivalry, at least to some extent. That whole familiarity-breeds-contempt thing? I'm pretty familiar with Illinois fans; Illinois fans were pretty familiar with Bob Knight. The rivalry here is fun, but it is not new. Add a spice of Eric Gordon, and you've got yourself a game that will generate more hyperbole and angst than it will reason and consideration.
That's to be expected, but context doesn't make free throws, and it doesn't run a motion offense. (Neither do the Hoosiers, but hey! I'll be here all night!) Context is important, sure, but it's never as important as what happens on the court. In that spirit, then, let's figure out just why the Hoosiers have such a difficult time with the Illini — and why tonight could be no different.
The first problem here is the matchups. It's not anything new, but while the Illini are a pretty bad offensive team, defensively they are almost perfectly suited to stop IU. 6'10 Shaun Pruitt is bigger than White and just as strong; he makes things difficult for D.J. even without a double team. The story is the same for Eric Gordon, who was defended admirably in the first matchup by the duo of Calvin Brock and Brian Randle. Both are athletic enough to stay close to Gordon on the perimeter without worrying about a blow-by.
As we've established recently, without Gordon and White at the peak of their game, the Hoosiers are toast. The Illini are lucky enough to match up well with IU at those two spots, matchups that level the star-power playing field on the offensive end of the floor.
Remember when IU used to trounce opponents with nothing more than brute athletic force? When Eric Gordon was invincible; when D.J. White was unstoppable; when the rest of the squad was perfectly formed to complement the team's two stars; when a Final Four was surely imminent? It seems almost impossible to fathom now. Thanks to the last few weeks — a horrid loss at home to UConn, an ugly blowout in Wisconsin — the Hoosiers seem more realistic now, more scrutable. And we now know that they deficient in a variety of ways, not least of which is offensive organization.
The Hoosiers rarely run anymore. When they do, they're still effective, but when they're slowed down, their secondary break never really takes shape. (That was something Duke-UNC hammered home last night; those are two teams who know how to run a secondary break.) And the half-court offense, well, let's not get started. Let's agree to say frustrating isn't quite strong enough a word, and move on.
This is made doubly worse against a team like Illinois, one that prefers a high-pressure, half-court man-to-man game. Where Tom Izzo's varied offensive sets could work to free Gordon the way they free Neitzel, IU is instead pushed farther and farther from the hoop before anything resembling motion can get started. The man-to-man has always been susceptible to superior athleticism and/or an efficient motion offense. IU has neither.
Another concern for the Hoosiers is pace. IU's attack is fairly versatile and not immune to the fast break, but the Hoosiers (68.6 possessions a game) are not immune to quick points. The Illini (63.8 possessions per game), on the other hand, seem to loathe high-tempo basketball. It would behoove the Hoosiers to get out and run on every Illini rebound and made shot to force Illinois to retreat as quickly as possible to set up in the half-court. As we've already said, IU's offense vs. Illinois' defense in a half-court game is not what the Hoosiers want. Of course, IU won't do this, because this is not Kelvin Sampson's style. Sampson's style has long been a slow, grinding one, and only this year has the team picked up the pace slightly (perhaps as a secession to Gordon's ability). So his team will remain caught in their weird pseudo-fast break: Not too fast, not too slow, and never really effective.
What does this all mean? It means we're likely to see another close, ugly game from IU. Which team can be more offensively impotent? Which team will miss more shots? That will be the final arbiter here, no matter what the Orange Krush — or the brave crimson-clad souls in the Spaceship — will have you believe.
Filed to: Brian Randle, Chester Frazier, D.J. White, Eric Gordon, Illinois, Kelvin Sampson, Shaun Pruitt