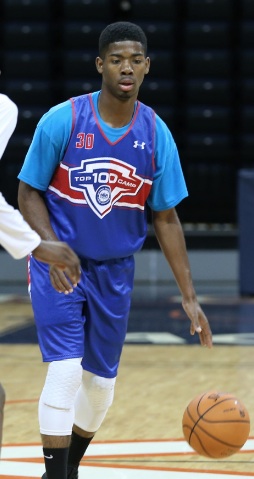 With each passing July evaluation period, 2014 guard Robert Johnson continued to get more attention. He's emerged as one of the elite guard prospects in next year's class, and he has drawn interest from many major schools in recent months.
Indiana offered Johnson a scholarship earlier this month, and the Hoosiers' coaching staff has stayed in constant contact with him ever since. North Carolina, another school that has been recruiting Johnson, offered him a scholarship on Monday.
Johnson told us in Washington last weekend that the five schools recruiting him the hardest were Alabama, Villanova, Florida State, Indiana and Miami.
"When I got the call from coach (Tom) Crean, I was pretty excited," Johnson told Inside the Hall earlier this month. "Indiana is one of the most prestigious programs in the nation. When he offered me, I was real humbled and honored and him wanting me to be a part of that I think is really big. It's a sign that I'm heading in the right direction and need to continue to work hard."
Johnson, a 6-foot-3, 190-pound combo guard from Richmond, Virginia, told us earlier this month that he would "definitely" take a visit to Indiana.
"The last month or so, they've been recruiting him hard," said Johnson's AAU coach, Boo Williams, who is also the uncle of Indiana freshman Troy Williams. "He can really play now. He can play the 1, he can play the 2. He can really shoot. He just knows how to play. He's got great footwork.
"Not a lot of people before this season knew a lot about him, but now almost everybody knows about him."
Before Troy Williams, no Boo Williams AAU player had ever committed to play for Indiana. But now that he has, there's a connection there for the first time. A pipeline hasn't yet been established, but Troy Williams' commitment to the Hoosiers has more players in Boo's program looking at Indiana more closely than ever before.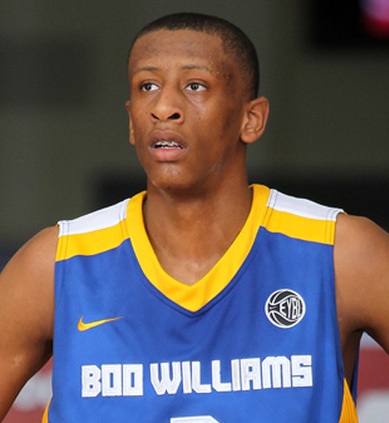 During the process of writing an extended feature on 2013 Indiana commit Troy Williams, I talked to a number of members of his family. What follows is a sort of oral history on Williams.
Part 1: Early experience 
BOO WILLIAMS (TROY'S UNCLE): "Troy got into basketball at an early age, I'd say between eight and nine years old. He was tall, but he wasn't that tall. He was unorthodox. He was the kind of kid that was always around basketball because he would travel with us. He traveled with the girls team. My mom traveled with the girls team. She was the, I don't want to say team mom, but she did all the paperwork, she kept the books. She was like the top assistant. My mom's been in basketball for years. I played at St. Joe's and she was in basketball there, and then my brother played football at West Point, and my other sister coached at Auburn and played basketball at Penn State. He grew up with basketball. When we used to travel all summer, he used to travel with us. He was a ball boy and he did all that stuff."
TROY WILLIAMS: "I was about five years old. My uncle made this one team for us, it was like an 8 and under, or 9 and under team. Most of the kids were like 5 and 6 and 7, and we were all playing for that. During that time though, I was also playing football and baseball, but I wasn't really interested in those two by the time I got to fourth grade. I started focusing on basketball, but I wasn't too serious about it. Then in middle school, I played for the middle school team my sixth and seventh grade team. I started to gain interest in it, started to watching the NBA and college teams more."
BOO WILLIAMS: "We tried to get him to play football but he hated football."
TROY WILLIAMS: "Every time before practice, I used to cry because I never wanted to go. I used to always complain and be like, 'It's too hot' or 'the equipment's too heavy.' I just never liked it."
PATTY WILLIAMS (TROY'S MOTHER): "That boy, he cried every day going to practice. I promised him he did not have to play the following year. Well, while we were in Florida at one of the AAU tournaments, and I came back and Boo had signed him up for football again. And I told Boo, 'You gonna come over here and take him to practice every day because I can't listen to this boy crying about going to practice.' Troy said he didn't want to hit nobody and he didn't want nobody hitting him.
"But once he did get into basketball, he always did like it. I remember he was four years old and he said, 'Mommy, if I sleep with a basketball in the bed it'll make me play better.' I said, 'OK.' So he did this for a couple of years. He kept the basketball in the bed with him all night long. So when he got to about six years old, one night I said, 'Look, let me take this basketball out this bed.' And I took the basketball out of the bed. And Lord, that child came into my bedroom screaming about four o'clock in the morning, talking about where is his ball. So I guess it helped."
MS. WILLIAMS (TROY'S GRANDMOTHER): "Every time we would go in the gym, he would come out with a basketball. I ended up with more basketballs here. I would tell him before we went to the gym, 'Troy, don't you pick up another basketball.' Somehow, eventually another one would end up at the house when he came home."