Indiana in heavy pursuit of 2014 guard Robert Johnson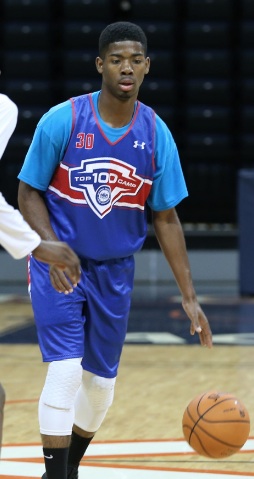 With each passing July evaluation period, 2014 guard Robert Johnson continued to get more attention. He's emerged as one of the elite guard prospects in next year's class, and he has drawn interest from many major schools in recent months.
Indiana offered Johnson a scholarship earlier this month, and the Hoosiers' coaching staff has stayed in constant contact with him ever since. North Carolina, another school that has been recruiting Johnson, offered him a scholarship on Monday.
Johnson told us in Washington last weekend that the five schools recruiting him the hardest were Alabama, Villanova, Florida State, Indiana and Miami.
"When I got the call from coach (Tom) Crean, I was pretty excited," Johnson told Inside the Hall earlier this month. "Indiana is one of the most prestigious programs in the nation. When he offered me, I was real humbled and honored and him wanting me to be a part of that I think is really big. It's a sign that I'm heading in the right direction and need to continue to work hard."
Johnson, a 6-foot-3, 190-pound combo guard from Richmond, Virginia, told us earlier this month that he would "definitely" take a visit to Indiana.
"The last month or so, they've been recruiting him hard," said Johnson's AAU coach, Boo Williams, who is also the uncle of Indiana freshman Troy Williams. "He can really play now. He can play the 1, he can play the 2. He can really shoot. He just knows how to play. He's got great footwork.
"Not a lot of people before this season knew a lot about him, but now almost everybody knows about him."
Before Troy Williams, no Boo Williams AAU player had ever committed to play for Indiana. But now that he has, there's a connection there for the first time. A pipeline hasn't yet been established, but Troy Williams' commitment to the Hoosiers has more players in Boo's program looking at Indiana more closely than ever before.
"I think it opens it up there," Boo Williams told Inside the Hall on Monday. "[Johnson] knows about Indiana. Kids in the East know about Indiana, the success they had last year. Victor [Oladipo's] from the East. The Indiana pride and tradition, everybody knows about all that. He'd be great for Tom Crean."
Johnson has not set a timetable for his decision, but Boo Williams said he thinks Johnson will commit at some point in the fall.
"I don't think it'll be a spring decision," Williams said. "I think they'll want him to commit early. Tom has too much experience with this."
Filed to: Boo Williams, Robert Johnson