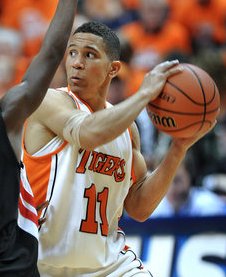 The Fan Report is Inside the Hall's version of Letters to the Editor. Submit a Fan Report at this link. Today's entry was submitted by Kelin Blab.
Notes and observations from Spiece Indy Heat's 87-85 win over Queen City Prophets at the Hoosier Shootout:
+ Nic Moore, Spiece Indy Heat (pictured): The Warsaw guard took and made every big shot. He is very crafty inside and drew several fouls. He can flat out shoot it. He plays with guts and is willing to guard anyone. To begin the game he was guarding Aaron Thomas and did a good job on him despite the size difference. He was impressive to say the least.
+ AJ Hammons, Spiece Indy Heat: I hope prep school helps him next season with his physical play and toughness. He has a ton of upside, but drifts a lot in games. For a 7-footer, he really doesn't make his presence felt on the court. Physically he looks great and he displays soft touch inside. Also a smart defender.
+ DeJuan Marrero, Spiece Indy Heat: Tough. That is his game. Tough defensively, tough rebounder, just tough. I, nor he, has any idea what position he will play in college. He played on the wing and struggled with his jumper and ball handling. If he gets a decent mid-range game and improves his ball handling, he will be a stud. What gets him over is he plays harder than anyone on the court at all times.
+ Aaron Thomas, Queen City Prophets: I finally saw a motivated Aaron Thomas. Prior to the game, you could tell he was ready for this one. After a shoving match with Purdue recruit Raphael Davis, Thomas went on a run on both ends of the court. He gets to the basket and finishes strong. In one instance he got to the basket and finished with a left-handed dunk. His ability to shoot is definitely there and he possesses tremendous upside. If a coach can get him motivated consistently, he will be a big-time player.  He finished with 26 points.
The Fan Report is Inside the Hall's version of Letters to the Editor. Submit a Fan Report at this link. Today's entry was submitted by Joe Moffo.
Upon viewing Inside the Hall today, I noticed the new poll on who the starting PG for next season should be. The two options: Jordan Hulls and Jeremiah Rivers. As I saw this the only thought that came to my head was "None of the Above."

Now don't get me wrong, I love Jordan Hulls, but I don't think he is going to be next year's starter and here is why:

– Prior to Hulls' explosion against Northwestern, Tom Crean decided that Verdell Jones was going to take over the duties as PG. The reasons? Plentiful. Jones is not a consistent threat to shoot the ball from outside like a two-guard or a three can. Also, Maurice Creek or not, Jones is arguably the top threat on the team to drive the lane and create a shot for himself or a teammate, or get to the line (Jones lead the team and was 2nd in conference with 6.1 attempts per game from the line). Also, Jones has the experience and the savvy, he was clearly the only player on the roster willing to step up in the clutch when needed most (see Minnesota game).

– Hulls off the point allows him to work more freely, and thus creates more shot opportunities. And let us all be honest, Hulls contributions are going to come from behind the arc. He doesn't have the size or athleticism to break down the D and barrel down the lane.

– Rivers is not a good offensive player. He was anything but the calm, experienced leader this team needed. Also, he can't shoot at all, if you didn't notice. He's valuable for his defense off the bench, and of course, blocking weak break-away layups.

Next season is up in the air in my mind. But at this point, I see Crean utilizing a lineup of Jones, Creek, Christian Watford, Derek Elston, and Bobby Capobianco. This team though young, lengthy, athletic, and after watching Elston emerge late, it would have four legitimate scoring threats. It would also take the 3-pointer, allowing the offense to spread the floor the Tom Crean way.