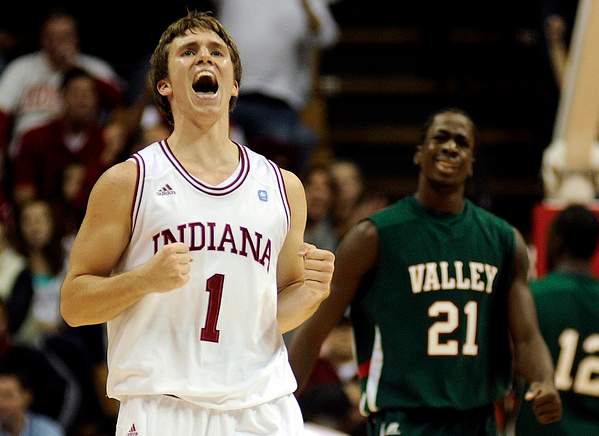 The complete 2011-2012 Indiana basketball schedule won't be released until late summer, but yesterday
the Big Ten announced a small nugget
in regards to next year's challenge with the ACC.
For the second consecutive year, Indiana (along with Michigan) will receive a road game against an ACC opponent. Minnesota will play at the Barn once again and Nebraska somehow received a home game in the event. The full schedule for the 13th annual Big Ten-ACC Challenge should be released next month.
Next year's non-conference slate is looking a bit more daunting than last year's, which was the 325th toughest in the country according to Ken Pomeroy. The Hoosiers beat just two teams in Pomeroy's top 250 in last season's non-conference, Wright State (112) and Evansville (166), and only played one NCAA Tournament team (Kentucky).
Here's what we know thus far about next year's non-conference schedule:
– At Evansville. This was announced last August and is the second game in a 3-game series which began last season at Assembly Hall. It will not, however, be the opening regular season game in Evansville's new arena.
– Notre Dame on December 17 in the Crossroads Classic at Conseco Fieldhouse. The Hoosiers get the Fighting Irish in year one of this event and Butler on December 15, 2012.
– Butler at Assembly Hall. This will be the fourth game of an exempt tournament in which both IU and Butler will host three games at home and then meet in Bloomington.
– Kentucky at Assembly Hall. Depending on which players decide to return to Lexington, the Wildcats could come to Bloomington ranked in the top 3 nationally.
– ACC opponent on the road. Assuming the ACC swaps last year's home and away designations, the potential opponents are Georgia Tech, Maryland, North Carolina, North Carolina State, Virginia and Wake Forest. As appealing at it might sound for storyline purposes to have Zeller vs. Zeller in Chapel Hill, IU would be better off going to Georgia Tech or North Carolina State for postseason aspiration purposes.