What to Expect: 2023 Empire Classic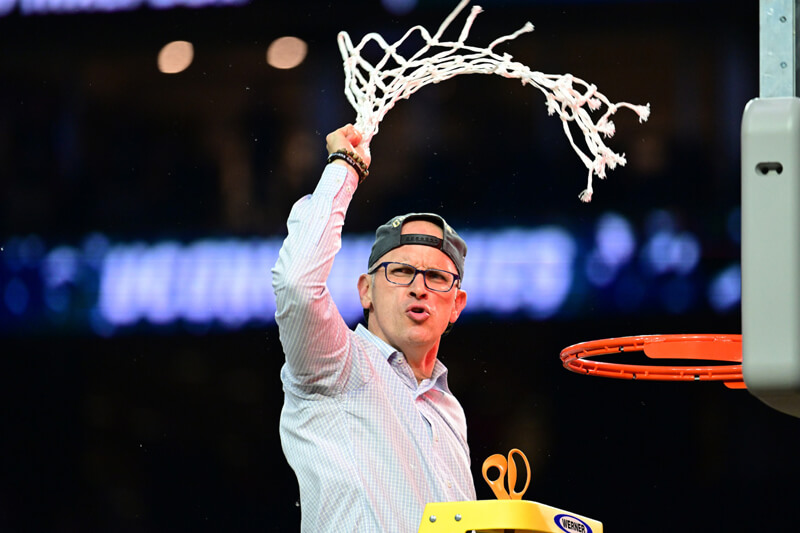 Instead of our traditional opponent preview, we'll preview the two-day 2023 Empire Classic beginning Sunday at Madison Square Garden.
Indiana begins play in the event at 1 p.m. ET on Sunday against UConn on ESPN.
The two-day Empire Classic features four programs with plenty of tradition.
Indiana, UConn, Louisville and Texas make up the field for this year's Empire Classic, which takes place each year in New York.
The event will begin with the Hoosiers taking on the Huskies, followed by the Cardinals and Longhorns in the second matchup. The losers on Sunday will play Monday at 4:30 p.m. ET, followed by the winners' meeting at 7 p.m. ET.
Indiana's chances to be successful in New York depend largely on the status of Xavier Johnson, who suffered a foot injury in Thursday's win against Wright State. The program has not provided an official update on the status of Johnson in advance of Sunday's game against UConn.
A look at the competition
UConn Huskies
UConn, Indiana's Sunday opponent, is the standout team in this year's Empire Classic.
The Huskies won the 2023 national championship and are off to a 3-0 start this season. The Huskies are currently fourth in the KenPom ratings, easily the highest of the four teams playing in New York.
UConn has won its first three games by 34 or more points, but none of its opponents have been formidable. UConn's wins have come against Northern Arizona, Stonehill and Mississippi Valley State.
Through three games, UConn has five players averaging in double figures.
Alex Karaban averages a team-best 17 points and is third on the team in rebounding at 6.3 per game. The 6-foot-8 Karaban is 5-for-13 on 3s and 12-for-14 from the free throw line.
Guard Tristen Newton, who is 6-foot-5, is second for the Huskies in scoring at 15.3 points per game. He's 5-for-14 on 3s, 15-for-16 from the free throw line and has a team-high seven steals.
Donovan Clingan, one of the nation's top frontcourt players, is 7-foot-2, weighs 280 pounds, and will present a significant test for Kel'el Ware. Clingan has 10 offensive rebounds in three games and eight blocked shots. He's averaging 15 points and 6.7 rebounds in 18 minutes per contest.
Rutgers transfer Cam Spencer is a high-volume 3-point shooter (11-for-24 in three games) who played well against Indiana last season. Spencer is also averaging 15 points per game. Freshman Stephon Castle, a high school teammate of Jakai Newton, averages 14.5 points but is out indefinitely with a knee injury.
The KenPom profile for UConn shows that the Huskies are a high-volume 3-point shooting team (40th nationally in 3PFGA/FGA) and have the nation's best 2-point field goal percentage at 73.2.
Texas Longhorns
The Longhorns are a heavy favorite against Louisville, according to KenPom. His ratings give Texas a 91 percent chance to advance to Monday's championship game of the Empire Classic.
Texas, led by coach Rodney Terry, has been led by the guard trio of Max Abmas, Ithiel Horton, and Tyrese Hunter through three games.
Abmas, a transfer from Oral Roberts, and Horton are both averaging 14.7 points while Hunter is just behind at 14 points per game. The trio has been red-hot from the perimeter. Abmas is 9-for-18 from distance, Horton is 9-for-15 and Hunter is 6-for-13.
The Longhorns also have capable pieces in the frontcourt with Virginia transfer Kadin Shedrick, sophomore Dillon Mitchell, senior Brock Cunningham and fourth-year junior Ze'Rik Onyema, a transfer from UTEP.
Texas has been stingy on defense through three games and has the country's 13th-best adjusted defensive efficiency.
Louisville Cardinals
Barring an upset on Sunday, Indiana is likely to face Louisville on Monday afternoon. KenPom gives UConn an 85 percent chance of beating Indiana and Texas a 91 percent chance of defeating the Cardinals.
Louisville's program is coming off a historically bad 2022-23 campaign in which it finished 4-28.
Second-year coach Kenny Payne is feeling the heat from the fanbase to make major strides this season. The Cardinals narrowly survived UMBC 94-93 in the season opener before falling to Chattanooga by 11 at home on Nov. 10. Most recently, Louisville beat Coppin State 61-41 on Wednesday.
The Cardinals are led by sophomore Mike James, who is averaging a team-high 18 points through three games. James is 5-for-13 on 3s, 17-for-20 from the free throw line and is shooting 51.6 percent from the field.
The rest of the Louisville roster has been inconsistent and inefficient through three games.
USC transfer Tre White was expected to be a significant addition, but is shooting a dismal 34.4 percent from the field. Illinois transfer Skyy Clark is shooting 35.1 percent from the field and is 0-for-8 on 3s.
Brandon Huntley-Hatfield was a five-star recruit out of high school who spent his first season at Tennessee before transferring to Louisville before last season. The 6-foot-10 Huntley-Hatfield has been an elite rebounder this season – 10.3 rebounds per game – but has only taken 17 field goal attempts.
Louisville has been excellent on the offensive glass this season – 19th in offensive rebounding percentage – but has poor shooting numbers. The Cardinals are only making 26.4 percent of their 3s, 48.9 percent of their 2s and 65.8 percent of their free throws.
Filed to: 2023 Empire Classic, Connecticut Huskies, Louisville Cardinals, Texas Longhorns