6-Banner Sunday: NBA Summer League and recruiting updates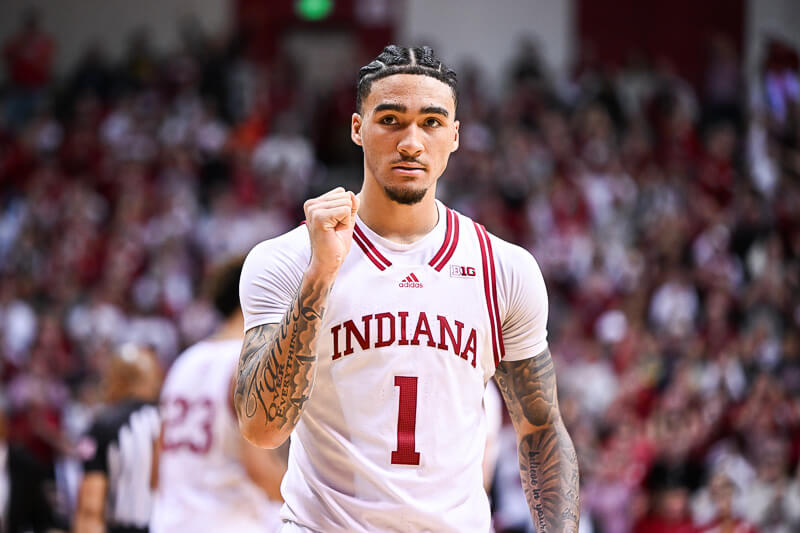 6-Banner Sunday is Inside the Hall's weekly newsletter in partnership with The Assembly Call. Almost 10,000 Indiana fans receive the newsletter each week. In addition to appearing each week on the site, you can also opt to receive 6-Banner Sunday by email. A form to subscribe via email is available at the bottom of this week's 6-Banner Sunday.
Welcome to another edition of 6-Banner Sunday, a joint production between The Assembly Call and Inside the Hall, and presented by our friends at Trueblood Real Estate, where we highlight the five most essential IU basketball stories of the past week, plus take a look at how the other IU sports programs are doing.
Once again, former Hoosiers in the NBA's Summer League and recruiting take center stage as college basketball continues its summer hiatus. The main discussion for the current IU squad was another team member being made available to the media.
Turning away from Indiana itself and to the NCAA as a whole, an important update on March Madness was given this week. Also, Inside the Hall and Assembly Call had shows. We will, as usual, conclude with a look at other Hoosier sports led by a couple of big topics in baseball and women's basketball.
• Hoosiers in the NBA
• Recruiting updates
• Trey Galloway meets with the media
• NCAA tournament expansion update
• Podcast on the Brink and Assembly Call Radio
• Hoosier Roundup
Banner #1 – Hoosiers in the NBA
Another week and more action in the NBA Summer League for recent Hoosiers Jalen Hood-Schifino and Trayce Jackson-Davis. Jackson-Davis finally made his debut for the Golden State Warriors after sitting out several contests with an injury. He made the most of his first opportunity with 14 points, seven rebounds, one assist, one block, and one steal in 20 minutes of action.
Meanwhile, Hood-Schifino saw time in all three contests in the last few days. He had a pair of 15-point performances on Sunday and Wednesday for the Los Angeles Lakers before struggling with just 8 points on Friday.
A little more info came out on this duo as well as both had their jersey numbers and contract information released to the public. Hood-Schifino will wear No. 0 and signed for four years and nearly 18 million dollars. Jackson-Davis, on the other hand, will suit up in No. 32 and make almost eight million dollars over four years.
Banner #2 – Recruiting updates
As July continues, a couple of things happened on the recruiting front. The most important news for Hoosier fans is that 2024 top-30 center Patrick Ngongba included IU in the final eight schools he is considering.
Meanwhile, this weekend is another evaluation period for coaches and Indiana's staff is on the road watching potential prospects. Inside the Hall updated its recruiting board for 2024 and also looked at where Indiana stands with its top targets.
Banner #3 – Trey Galloway meets with the media
Recently, IU has made a player or coach available to the media each week. This time access was given to speak with Trey Galloway as he becomes one of the team leaders going into his senior season. Galloway's press conference discussed him now being one of the upperclassmen, the differences with Jackson-Davis not being there, and the incoming freshmen, among other things.
Banner #4 – NCAA tournament expansion update
Whether the NCAA should expand March Madness is a hot topic of debate amongst fans. The organization's Senior Vice President Of Basketball, Dan Gavitt released a statement this week on the matter. In it, he states this has been discussed, but as of this moment, a decision has yet to be made.
The tournament has added more teams over the years, with the most recent expansion coming in 2011 when the number went from 65 to 68. Currently, 19.4 percent of Division 1 squads make the Big Dance.
Banner #5 – Podcast on the Brink and Assembly Call Radio
Inside the Hall's Podcast on the Brink returned after several weeks of an offseason hiatus. Alex Bozich had guest Tyler Tachman on as he discussed what might happen in the future to Indiana Basketball. Tachman also reflects on his time being on the IU Beat since he is moving a couple of states away to cover the Iowa Hawkeyes.
Meanwhile, Assembly Call was on-air with Both AC Radio and Doing The Work. Thursday night discussed how college basketball players train in the offseason, while DTW introduced new Hoosier freshman Lenee Beaumont.
Banner #6 – Hoosier Roundup
• Women's basketball was given an elite Thanksgiving night matchup against Tennessee in primetime on Fox as part of a holiday tournament.
• Baseball saw contributors Phillip Glasser (who is out of college eligibility) and Craig Yoho taken in the top 10 rounds of the MLB draft.
• Football's Khalil Benson was nominated to the Good Works Team. Also, the participation schedule for media day was announced.
• Volleyball's entire squad received academic honors.
• Women's soccer won the Herbert Cup.
• Track and Field has several athletes competing in various international competitions.
• Swimming and diving sent 15 participants to the Word Aquatic Championships.
• Men's tennis added a transfer and had several members receive academic honors.
• Women's tennis had several team members honored academically.
• Field hockey announced an adjustment to their opening scrimmage.
• Rowing had an All-American.
• Four Hoosiers are participating in the Big Ten's Life Series.
Thanks for your continued support for The Assembly Call and Inside the Hall. We'll be back next weekend with a new roundup.
Now go enjoy yourself a 6-banner Sunday.
Aaron (Ari) Shifron
Assembly Call Contributor
Filed to: