6-Banner Sunday: Hoosier Hysteria date announced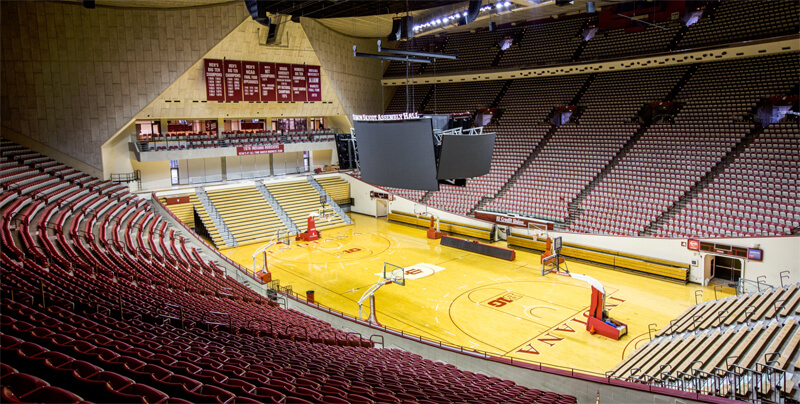 6-Banner Sunday is Inside the Hall's weekly newsletter in partnership with The Assembly Call. Almost 10,000 Indiana fans receive the newsletter each week. In addition to appearing each week on the site, you can also opt to receive 6-Banner Sunday by email. A form to subscribe via email is available at the bottom of this week's 6-Banner Sunday.
Welcome to another edition of 6-Banner Sunday, a joint production between The Assembly Call and Inside the Hall, and presented by our friends at Trueblood Real Estate, where we highlight the five most essential IU basketball stories of the past week, plus take a look at how the other IU sports programs are doing.
Even though it is still the offseason, the 2023-2024 season continues to draw closer. Fans now know the date of Hoosier Hysteria to see the team for the first time during the upcoming year.
Another sign that the season is approaching is that yet another opponent was revealed for the pre-Big Ten slate. Also, a few recruiting updates, former Indiana players in the NBA finals, and Assembly Call's weekly shows round out the basketball-related topics of this week's 6-Banner. We will as usual conclude with a look at other IU sports led by football's conference opponents for 2024 and 2025 being released.
• Hoosier Hysteria date announced
• Another non-conference opponent revealed
• Recruiting updates
• Three Hoosiers competing in NBA finals
• Assembly Call Radio
• Hoosier Roundup
Banner #1 – Hoosier Hysteria date announced
As Hoosier fans long for more IU basketball, they now know when the first opportunity to see the teams for the upcoming year is. This is because it was announced this week that the annual Hoosier Hysteria will be on Friday, October 20 to coincide with homecoming.
As usual, the event will feature both men's and women's basketball, as the fans get to see the squads practice. The men's side will need to replace most of their top players including Trayce Jackson-Davis. However, they do return Trey Galloway, Xavier Johnson, and Malik Reneau. They also bring in a highly-ranked recruiting class that includes incoming top-10 freshman Mackenzie Mgbako and Oregon transfer Kel'el Ware.
Meanwhile, the women should once again be ranked near the top of college basketball and compete for the Big Ten as well as potentially a national championship. This is because they return their own elite Mackenzie in the form of All-American center Mackenzie Holmes. She will once again be joined by Yarden Garzon, Chloe Moore-McNeil, Sydney Parrish, Sara Scalia, and two top-100 recruits.
Banner #2 – Another non-conference opponent revealed
Another piece to the non-conference schedule was revealed this week as Rocco Miller reported Kennesaw State will come to Bloomington for the second straight season over the winter break holiday on December 29. The Owls lost by 14 when they played at IU last season and got the auto-bid from their league into the NCAA tournament.
Kennesaw State joins Florida Gulf Coast, Harvard, and Wright State as top-200 KenPom opponents which is a big upgrade to the so-called guarantee games from years past. Also, elite matchups in the Empire Classic in New York (two of Connecticut, Louisville, and Texas), a showdown with Auburn in Atlanta, and a visit from Kansas round out the known competition so far. This figures to be the toughest non-conference schedule since the Mike Davis era.
Banner #3 – Recruiting update
While the 2023-2024 season is getting closer, recruiting for the 2024 classes and beyond continues to pick up steam as Inside The Hall updated its recruiting board. The Hoosiers continue to be in on many of the top prospects (although no one has committed yet) and are receiving visits from Tyler Betsey, Boogie Fland, and Jaeden Mustaf this month.
Also, highlight videos were released for 2024 targets Mustaf and Travis Perry as well as 2025 guard Jalen Haralson.
Banner #4 – Three Hoosiers competing in NBA finals
The NBA Finals continue and three former Hoosiers are part of it. Thomas Bryant is on the Denver Nuggets who appear poised to take their first championship in team history with a 3-1 series lead. Bryant has yet to see action in the NBA playoffs but is on the verge of a ring nonetheless.
Meanwhile, former IU teammates Victor Oladipo and Cody Zeller are on the Miami Heat. Oladipo was hurt in the first-round series against the Bucks and has yet to see playing time since. However, he was a big contributor before the injury. Zeller on the other hand is the one Indiana alum who has seen spot minutes in the series and throughout the playoffs.
Banner #5 – Assembly Call Radio
Assembly Call was on air this week with shows discussing both the men's and women's teams. On the men's side, AC Radio had its normal Thursday show where the topics included Reneau and recruiting. Meanwhile, Doing The Work talked about the new players coming in for the women.
Banner #6 – Hoosier Roundup
• Football announced its 2024 and 2025 conference opponents which includes no more divisions. Also, two former IU football greats are on the college football Hall of Fame ballot.
• Baseball had one of its best seasons in program history end in the Regional final to Kentucky last Monday. As a result of the strong play, three Hoosiers were named freshman All-Americans.
• Track and Field is currently competing at the NCAA championships.
• Six Indiana wrestlers competed at the U23 and U20 World Team trials.
• Men's Golf's Drew Salyers was named an All-American.
• Women's Tennis' incoming recruiting class is ranked in the top-25.
• Softball's coaching staff was named the top one in the Midwest region.
• Several former Indiana men's soccer players are in contention for the MLS All-Star Game.
Thanks for your continued support for The Assembly Call and Inside the Hall. We'll be back next weekend with a new roundup.
Now go enjoy yourself a 6-banner Sunday.
Aaron (Ari) Shifron
Assembly Call Contributor
Filed to: