6-Banner Sunday: Calbert Cheaney is returning to IU program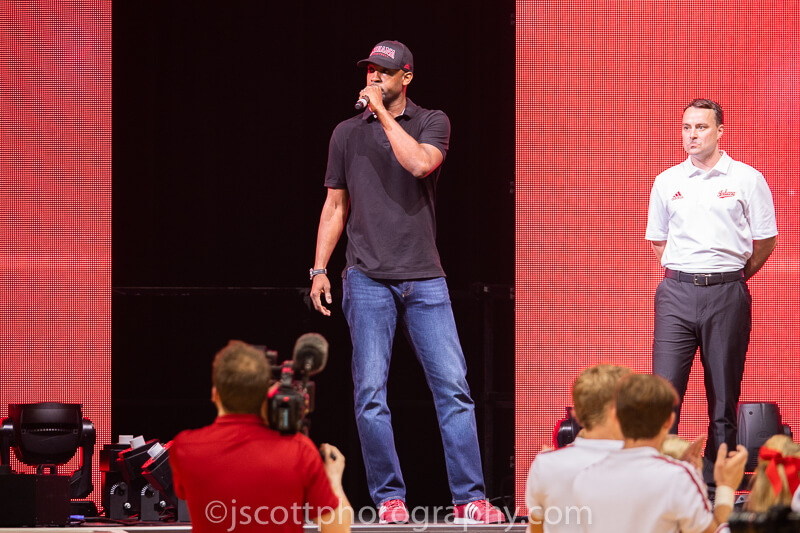 6-Banner Sunday is Inside the Hall's weekly newsletter in partnership with The Assembly Call. Almost 10,000 Indiana fans receive the newsletter each week. In addition to appearing each week on the site, you can also opt to receive 6-Banner Sunday by email. A form to subscribe via email is available at the bottom of this week's 6-Banner Sunday.
Welcome to another edition of 6-Banner Sunday, a joint production between The Assembly Call and Inside the Hall, and presented by our friends at Trueblood Real Estate, where we highlight the five most essential IU basketball stories of the past week, plus take a look at how the other IU sports programs are doing.
This week was highlighted by IU continuing to get the old guard back together with their latest addition to the bench. However, this was not the only news regarding Indiana basketball this week.
Besides that, the improved play on the court in 2022-2023 led to more fans in the seats, the outlook continues to be positive for next season, the NBA draft continues to draw closer, and the regular Assembly Call shows were the other stories to make headlines in the last few days. We will, as usual, conclude with a look at other Hoosier sports, led by baseball being on the way to its first NCAA tournament since 2019.
In a brief article, Indiana will not participate in the Gavitt Games between the Big Ten and Big East next season.
• Calbert Cheaney is returning to IU
• Hoosiers lead Big Ten in attendance for 2022-23 season
• 2024 bracketology update, preseason Bart Torvik rankings
• NBA draft update
• AC Radio
• Hoosier Roundup
Banner #1 – Calbert Cheaney is returning to IU
IU started a connection back to its past with Bob Knight several years ago when he was honored during the Archie Miller era. Then they deepened the relationship when Mike Woodson was hired as coach. Now, another step back to the Knight era has been taken with Indiana's all-time scoring leader being added to the coaching staff in former Hoosier legend Calbert Cheaney.
This is Cheaney's second time on IU's staff as he was part of Tom Crean's staff as well. After a stint in the NBA with the Pacers as a player development assistant, Cheaney now moves 50 miles south to be Indiana's director of player development. Cheaney is now the third former Hoosier on the bench at the moment. He joins team and recruiting coordinator Jordan Hulls and Woodson himself as former players to have suited up in Assembly Hall in the past.
Banner #2 – Hoosiers lead Big Ten in attendance for 2022-23 season
While IU always draws well at the box office, this season was even better than recent ones. In 2022-2023, IU led the Big Ten in attendance for the first time since 2013-2014. The average was 16,101 per game and as per usual, all contests not over holiday breaks were listed at a capacity of 17,222. This was good for eighth nationally.
Banner #3 – 2024 bracketology update, preseason Bart Torvik rankings
With the rosters for next season now pretty much set, Joe Lunardi took another shot at bracketology for the next March Madness in 2024. He moved Indiana up from a 10 seed to an eight seed this week. In his estimation, IU would face Iowa State in the eight vs. nine game in Boston, with number one seed Duked very likely awaiting the winner.
Another projection to jump the Hoosiers higher for 2023-2024 is Bart Torvik. He has moved Indiana up to 25th in his rankings which is third in the conference behind Michigan State and Purdue. Inside the Hall did a rundown recently of each Big Ten squad's ranking in Torvik's projection.
Banner #4 – NBA draft update
As the June NBA draft gets closer, Trayce Jackson-Davis and Jalen Hood Schifino remain in a good spot to hear their name called relatively early. As a result, both were interviewed in various fashions this week. Jackson-Davis met with reporters at last week's NBA Combine, while Hood-Schifino spoke with Draft Express about his future.
Banner #5 – AC Radio
Assembly Call was on-air this week with its regular Thursday AC Radio. On it, they discussed the big topic of the week in the Calbert Cheaney news.
Banner #6 – Hoosier Roundup
• Baseball struggled at the Big Ten tournament going just 1-2. Assembly Call was one of just two IU media sites in Omaha with coverage and had articles from it for subscribers of its community. The good news for Hoosier fans is at 41-18 overall and an RPI right around 30, the team will head to the NCAA tournament for the first time since 2019. The selection show is Monday at noon on ESPN2. Also, Devin Taylor led several Hoosiers in postseason awards by being named Big Ten Freshman of the Year.
• Softball had their best season in nearly 30 years end in the Regional Final last Sunday against an elite Tennessee squad. This was after a thrilling comeback against Louisville extended IU's 2023 campaign by one more game.
• Track and Field finished competition at the NCAA East Prelims with several Hoosiers moving on to the NCAA Outdoor Championships.
• Rowing is currently competing in the NCAA tournament.
• Men's Golf has Drew Salyers competing as an individual at the NCAA Championship with one day left still.
• Women's Basketball picked up a transfer from Tennessee-Martin.
• Men's Soccer announced their upcoming fall schedule.
• Football announced a schedule addition for down the road in 2028.
• Volleyball added a transfer.
• Women's Soccer added additional recruits for the fall.
Thanks for your continued support for The Assembly Call and Inside the Hall. We'll be back next weekend with a new roundup.
Now go enjoy yourself a 6-banner Sunday.
Aaron (Ari) Shifron
Assembly Call Contributor
Filed to: