Familiar Foes: Indiana's perimeter players faced with daunting challenge against Miami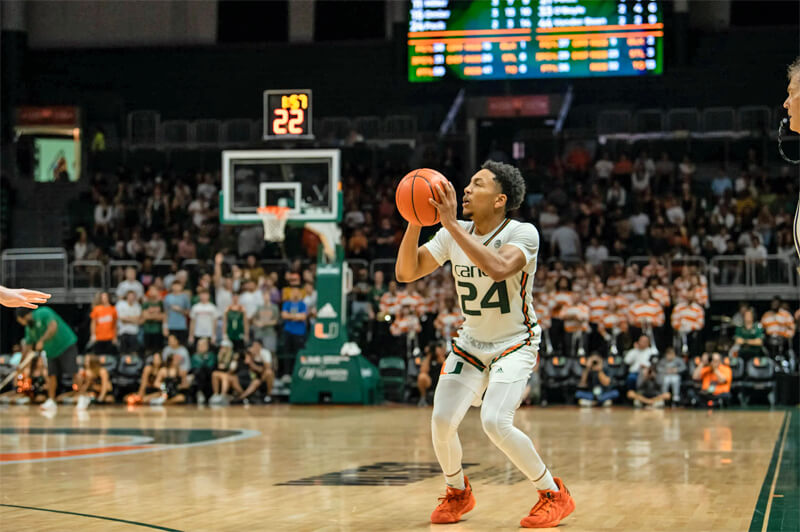 ALBANY, N.Y. — Sunday night won't be the first time Indiana's Trey Galloway and Miami's Nijel Pack have stepped foot on the same floor.
For their freshman and sophomore years of high school, the two Indiana natives played on the same AAU team, Indiana Elite. While they may not speak much leading into the game, the familiarity will be there.
"After the game, we can talk a little bit," Galloway said Saturday. "But right now we're kinda just focused on being ready to go… we grew up together so it's a lot of memories. I had a lot of fun playing with him because he's a really good player. He can pass the ball. Score the ball. Just really poised."
From spending time together on the road and in hotel rooms, to now competing as foes on one of the biggest stages, both of them have their work cut out for them.
Galloway's Hoosiers will be tasked with stopping Miami's high-powered guard play in the second round of the NCAA tournament on Sunday.
Pack is shooting 43.8 percent from beyond the arc in his last 17 games and is averaging 13.4 points and 2.4 assists a game this season. Galloway remembers his quickness as the most challenging part about guarding his former teammate.
"Just his quickness. The way he can get shots off — his release is really quick. He's really poised. It's hard to get him to turn the ball over," Galloway said.
At his size, 6-foot, Pack has to use his quickness and burst through the lane to his advantage. He had a game-high 21 points and hit three triples against Drake.
"Nijel is a great player. Their backcourt is really, really good," Trayce Jackson-Davis said Saturday. "Just watching him just grow throughout high school and blossom into the player that he is now…the way he shoots the ball and then passing, his ability to attack the rim is huge."
Indiana has struggled against quicker guards this season. Boo Buie, Tyson Walker and Jahmir Young are a few examples from Big Ten play. With the absence of Xavier Johnson, Jalen Hood-Shifino and Galloway can sometimes surrender and falter in transition defense. Transition offense is where the Hurricanes thrive.
As a team this season, Miami is shooting 42.6 percent on transition 3s and averaging a stellar 1.211 points per possession on the break. Keeping Miami in the half-court and out of their transition offense will be keys for Indiana if they are to make their first Sweet Sixteen in seven years. Both Galloway and Hood-Schifino will need to stay connected and in constant communication.
Opposite of Pack in the Miami backcourt is ACC player of the year, Isaiah Wong. At 6-foot-4 and 184 pounds, the New Jersey native has a long and wiry frame. Wong can score at all three levels and there's no doubt that the Hurricanes' offense runs through him. Wong averages 15.8 points per game, 4.3 rebounds and 3.4 assists and is shooting 37.5 percent from deep.
Jordan Miller is another talented wing player that Indiana must contain. Miller's skillset is likely to translate well to the next level as he can shoot it well and has athleticism. At 6-foot-7, 195 pounds, he gives Jim Larranaga a body he can put at any position and defend competently.
Miller scored just seven points against Drake in the first round. It was the first time he had scored in single figures since Nov. 23.
"They're perimeter driven, they've got perimeter play that sits at the top of college basketball," Mike Woodson said Saturday. "I know Wong struggled yesterday. He's been kind of their go-to guy. Pack has been solid all season. I thought he carried them yesterday against Drake, after watching it."
Miami's offense was out of sorts in its 63-56 win over Drake. The Hurricanes shot just 30.4 percent from the field, but with how high-powered the Canes' offense is, that's likely not to repeat two games in a row.
Slowing the game down and taking care of the ball will be a couple of the keys for Indiana if the Hoosiers want to stop Miami's high-powered offense. According to Kenpom, the Hurricanes have the 12th most efficient offense in the country. The Hoosiers perimeter players in Hood-Schifino and Galloway will have to hone in on their defensive assignments if they want to move on to Kansas City.
(Photo credit: Miami Athletics)
Filed to: 2023 NCAA tournament, Miami (FL) Hurricanes