What to Expect: Indiana vs. Penn State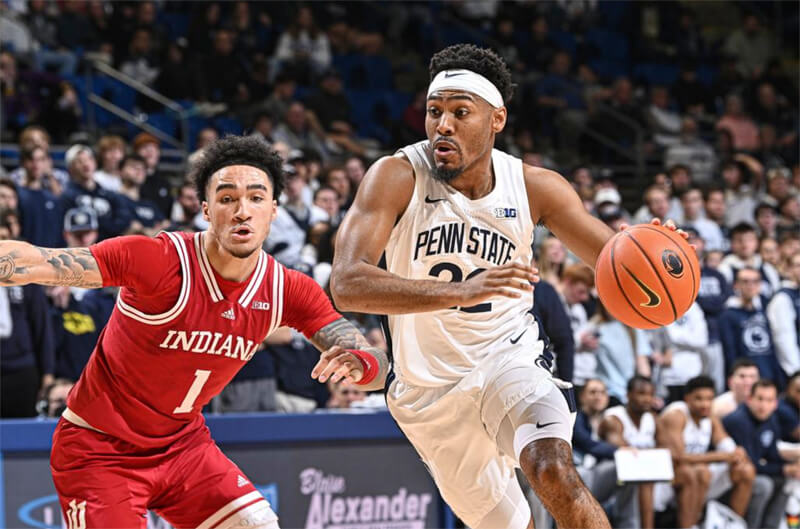 Indiana will try to avenge another regular season loss when it takes on Penn State today in the Big Ten tournament semifinals at the United Center in Chicago. The Nittany Lions beat Illinois 79-76 on Thursday and Northwestern 67-65 in overtime on Friday.
Today's game will tip at approximately 3:30 p.m. ET on CBS:
Indiana passed its first postseason test late Friday night and eliminated Maryland 70-60 in the 2023 Big Ten tournament quarterfinals. There's no rest for the Hoosiers as they'll tip-off in their second game in Chicago 16 hours after their first.
Penn State has clinched its first NCAA tournament bid since 2011 with a pair of wins in Chicago and the Nittany Lions are red hot with wins in seven of their last eight games. While looking ahead to a potential Sunday bout with Purdue for the tournament title might be tempting, there's no looking past the Nittany Lions. Penn State is playing as well as any team in the Big Ten.
THE FIRST MEETING
Indiana's 85-66 loss to Penn State on Jan. 11 was one of the low points of the regular season. The loss dropped the Hoosiers to 1-4 in Big Ten play.
The Nittany Lions made 18 3-pointers in the win and shot 58.1 percent from the perimeter. Indiana was outscored by 42 points on 3-pointers as the Hoosiers made just four triples.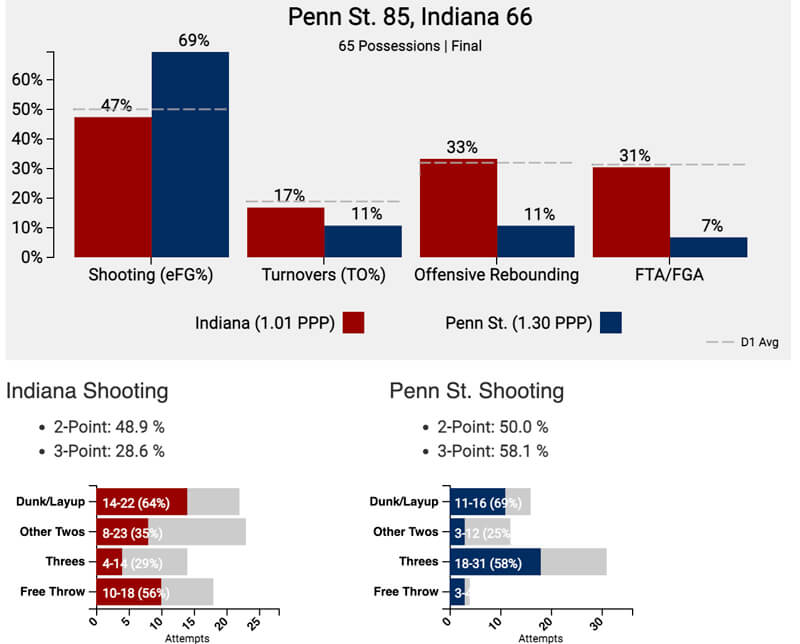 Seth Lundy made seven 3-pointers and finished with a game-high 25 points and Andrew Funk also made seven 3s and scored 23.
While Indiana did manage to put up 66 points and scored 1.02 points per possession, it was an off-night for both of its stars.
Trayce Jackson-Davis shot 40 percent from the field and 60 percent from the free throw line. He scored a team-high 14 points and grabbed a game-high 11 rebounds, but committed four turnovers while dishing out four assists.
Jalen Hood-Schifino was 5-for-15 from the field and scored 11 points. At the time, he was still adjusting to his new role as the primary ball handler with Xavier Johnson's injury.
TEMPO-FREE PREVIEW
All stats are from conference play only and include all 20 Big Ten regular season games.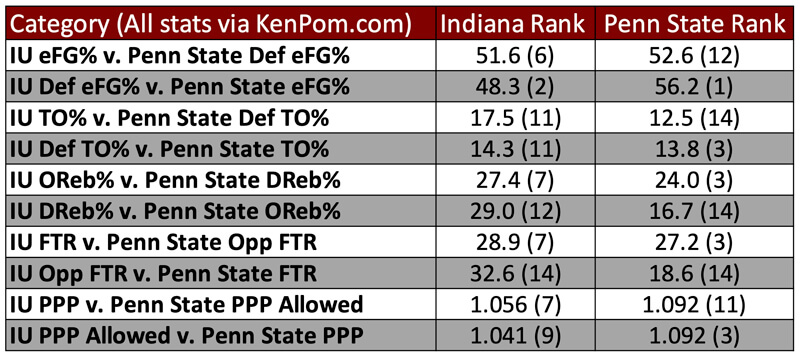 Penn State is as reliant on the 3-pointer as all but one team in the country.
According to KenPom, the Nittany Lions score 43.8 points of their points on 3s, the second highest rate in the country. The national average is 30.9 percent. Indiana scores 23.1 percent of its points from distance.
The Nittany Lions prefer a halfcourt game and have averaged just 63.1 possessions in conference games, the third-lowest average in the league.
Penn State takes care of the ball – the Nittany Lions have the third-best turnover rate in the Big Ten – and don't try to force turnovers. PSU opponents are turning it over on just 12.5 percent of their possessions in conference play, the lowest rate in the league.
Penn State doesn't crash the offensive boards and sends bodies to the defense boards to limit second-chance points. The Nittany Lions have the lowest offensive rebounding percentage in the Big Ten (16.7 percent) and the third-best defensive rebounding percentage (24).
The Nittany Lions also rank last in the Big Ten in free throw rate (FTA/FGA), which isn't surprising with all the 3-pointers they attempt.
WHAT IT COMES DOWN TO
The KenPom projection is Indiana by two with a 58 percent chance of a Hoosier victory on Saturday afternoon.
Indiana has several advantages in this game.
The crowd, outside of a small contingent of Nittany Lion supporters and any Purdue fans that stick around, should be heavily in favor of the Hoosiers. Penn State is also playing its third game in three days against an NCAA tournament team. For a team that relies on the 3-pointer to win, fatigue and heavy legs could have an impact.
The Hoosiers also have a clear advantage in the post with Jackson-Davis, who has taken his game to another level since the loss in State College. Jackson-Davis was brilliant on Friday night against Maryland, finishing with 24 points, nine rebounds, seven assists, three blocked shots and three steals in 38 minutes.
Indiana must be connected in its coverages against Penn State's perimeter attack to prevail. That wasn't the case in the first matchup as the Nittany Lions picked Indiana apart and shot open 3-pointers all evening at the Bryce-Jordan Center.
(Photo credit: Penn State Athletics)
Filed to: 2023 Big Ten tournament, Penn State Nittany Lions