6-Banner Sunday: Anthony Leal uses NIL for impactful Christmas gift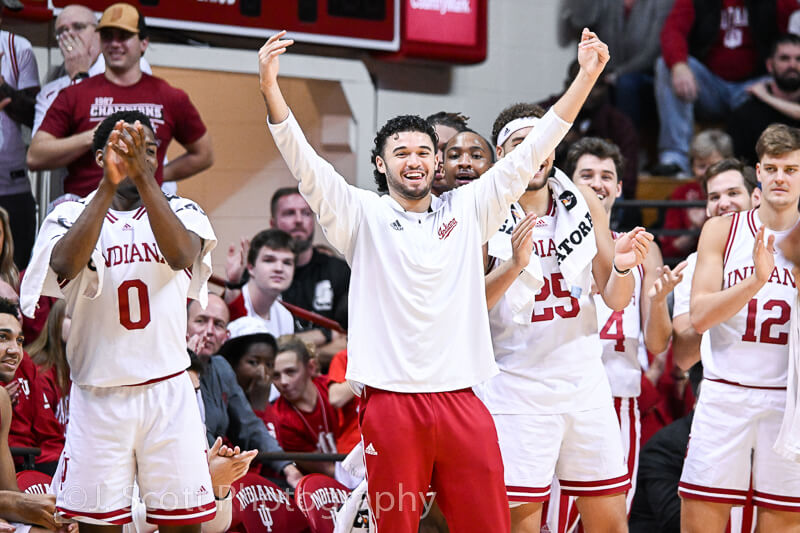 6-Banner Sunday is Inside the Hall's weekly newsletter in partnership with The Assembly Call. More than 9,000 Indiana fans receive the newsletter each week. In addition to appearing each week on the site, you can also opt to receive 6-Banner Sunday by email. A form to subscribe via email is available at the bottom of this week's 6-Banner Sunday.
Welcome to another edition of 6-Banner Sunday, a joint production between The Assembly Call and Inside the Hall, and presented by our friends at Trueblood Real Estate, where we highlight the five most essential IU basketball stories of the past week, plus take a look at how the other IU sports programs are doing.
IU is in the middle of a nearly two-week break for the holidays before returning to play in Iowa City this coming Thursday at 9 p.m. ET on FS1. In the meantime, there have been a few stories away from the court during this extended time off.
In the last week, a current player has used NIL for something very positive, Inside the Hall looked back at this calendar year, and we take a peek at where Indiana's resume stands for March Madness. Also, Assembly Call Radio had a new episode and a future Hoosier recruit made headlines. We will as usual conclude with a look at how other IU sports are doing led by women's basketball's first loss.
In a brief note that will make Indiana fans smile for two reasons, now-ranked Xavier knocked off No. 2 Connecticut on Saturday. As a result, the November victory against the Musketeers continues to age well for the cream and crimson's NCAA tournament resume. So far, the Hoosiers are the only squad to go onto Xavier's home court and emerge victorious this season. The other bright spot coming from this game is that former IU player Jerome Hunter had a significant role.
• Anthony Leal pays off sister's student loans with NIL money
• Inside the Hall's Year-In-Review
• Bracketology update
• AC Radio and Doing The Work
• Gabe Cupps interview and highlights
• Hoosier Roundup
Looking for tickets to upcoming Indiana home games? Vivid Seats has you covered. This week the Hoosiers head to Iowa City to Face the Hawkeyes. Vivid Seats is a full-service provider – with an industry-leading customer service team, reachable by phone or online during extended business hours. (These links are Inside The Hall affiliate links, so a commission will be paid to ITH if you click and make a ticket purchase.)
Banner #1 – Anthony Leal pays off sister's student loans with NIL money
While the debate over name, image, and likeness continues, Bloomington native and current IU player Anthony Leal used the funds he received from NIL to give a very selfless Christmas gift to a family member. The emotional moment was posted to a video on Twitter and Leal retweeted it to make sure everyone understands it was his NIL funds that allowed him to pay off his sister Lauren's student loans.
As NIL continues to bring out strong opinions, moments like this show what good can come from players who benefit from it.
Some folks have negative opinions about NIL. But without it, things like this wouldn't be possible…? https://t.co/fPxYGxzWoz

— Anthony Leal (@anthonyl3al) December 25, 2022
Banner #2 – Inside the Hall's Year-In-Review
As 2023 begins today, Inside the Hall looked back at their top 10 most-read stories from the previous calendar year. Various items made the list and highlighted the important moments throughout 2022 on various topics.
It began at No. 10 with a preview of the current Big Ten season and ended at No. 1 with the suspensions last year against Northwestern. Most importantly, the Hoosiers made the NCAA tournament for the first time since 2015-2016 (No. 9 on the list). However, it was another eventful campaign for the team both on and off the court that featured negative and positive moments.
Banner #3 – Bracketology update
With 2022 now in the rearview mirror, the question remains where the Hoosiers might find themselves come March Madness. The wins over Xavier and North Carolina continue to stand up as impressive victories that should help with seeding. Also, the only losses are to Arizona, Kansas, and Rutgers all of whom are projected to make the NCAA tournament. In the case of the Wildcats and Jayhawks, those are potential No. 1 seeds according to the Bracket Matrix. The Scarlet Knights are on the fringe of being in or out of the field depending on the projection.
In the Hoosiers' case, they average out to a four seed in the same matrix. However, some of the more well-known projections (such as Joe Lunardi, Jerry Palm, and Mike DeCourcy) have IU as a 5 or 6 seed. However, for the first time since 2015-2016, Indiana is expected to dance without much question despite some recent struggles.
Banner #4 – AC Radio and Doing The Work
Despite the week off for the Hoosiers, Assembly Call had its Thursday radio show to decide whether Indiana fans should feel more negative or positive about the season so far and going forward. On the women's side, Doing The Work had a show to discuss the Michigan State game this week.
Banner #5 – Gabe Cupps interview and highlights
IU's 2023 recruits currently consist of Gabe Cupps and Jakai Newton who are both ranked in the top 100 of their class per 247Sports. The Hoosiers may also add a few more players for next season through a spring signing or the transfer portal.
This week Inside the Hall posted both a highlight video and an interview they did involving Cupps to familiarize readers with the future Hoosier.
Banner #6 – Hoosier Roundup
• Women's basketball lost their first contest of the season to Michigan State. They face Nebraska today at 1 pm on ESPN. Also, Inside the Hall's Amanda Foster had an article recapping the Hoosiers' perfect non-conference season.
• Wrestling competed at the Ken Kraft Midlands Championship, taking 15th place.
• Volleyball has signee Ramsey Gary competing in the Under Armor All-American Game.
Thanks for your continued support for The Assembly Call and Inside the Hall. We'll be back next weekend with a new roundup.
Now go enjoy yourself a 6-banner Sunday.
Aaron (Ari) Shifron
Assembly Call Contributor
Filed to: