The Minute After: Jackson State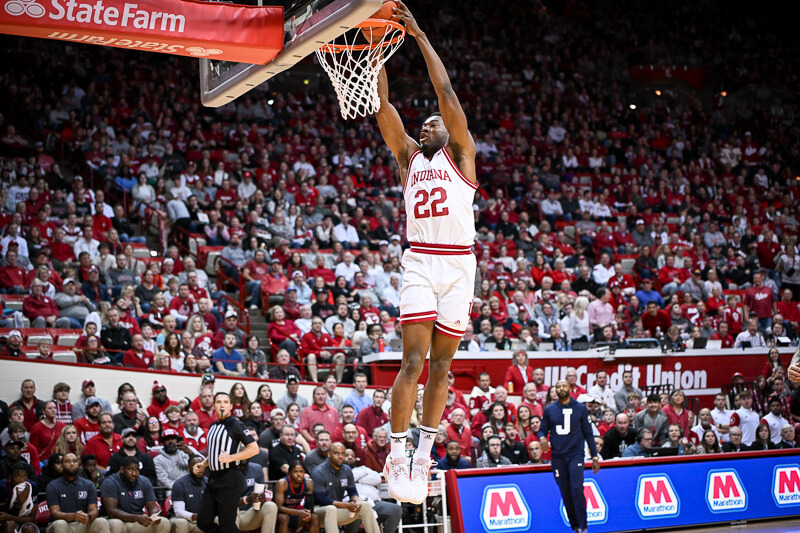 Thoughts on a 90-51 win against the Tigers:
Indiana had plenty of excuses for a flat performance today.
Four games in eight days. Two games in three days with Thanksgiving sandwiched in between. A 12:30 p.m. tip on a Friday afternoon. An opponent ranked in the 300s in the Pomeroy Rankings.
And yet, the Hoosiers came to play in a big way today. This was an absolute shellacking of a Jackson State team that gave Michigan a decent punch earlier in the week, losing by just 10.
As teams have done and will likely continue to do, Jackson State tossed a 2-3 zone at Indiana early. The Tigers looked to take away Indiana's advantage inside, daring them to shoot 3-pointers and hoping they didn't fall. It worked to start. Indiana missed its first four from deep. But after Xavier Johnson hit back-to-back 3-pointers, Indiana's offense sprung to life and it never looked back. Beyond the 3-pointers beginning to fall, the Hoosiers swarmed on defense, turned the Tigers over and dominated in transition. Johnson and four bench players went to work. Tamar Bates scored nine points in just over three minutes of game time on his way to his best game as a Hoosier by a mile.
Bates ended the contest with 22 points on 8-of-11 shooting, including a hot afternoon from deep (4-of-6). He scored inside and out. He also chipped in four assists against no turnovers in 24 minutes of action. This is the type of performance Bates seemed primed to make at some point this season and today was the day.
"Well, he finally had a breakout game," Mike Woodson said after the win. "I'm not surprised or shocked."
Beyond Bates' breakout performance, Johnson's play was key in this victory. Those early back-to-back 3-pointers opened the shooting dam and he kept going, making 4-of-8 from deep and 6-of-11 overall for 16 points. Johnson also added four assists and had just one turnover. He continues to give this team what it needs and they're better for it.
While Trayce Jackson-Davis returned to action after his minor back tweak, he did need to exit in the first half to the locker room, likely to get some work done on it. Jackson-Davis did seem to play a little slower and less free when he was on the court, so it's something to monitor Wednesday night when he takes the floor against North Carolina. Jackson-Davis posted 11 points and grabbed five rebounds in 19 minutes of action.
"He didn't play a lot of minutes today," Woodson said post-game. "We'll go back and assess where he is, but he's got these next few days to get ready for (UNC)."
Speaking of upcoming games, Indiana's in for quite the journey in four of its next five contests. North Carolina (19), Rutgers (37), Arizona (8) and Kansas (16) are all top 40 teams in the Pomeroy rankings.
But Indiana passed its first six tests with few hiccups and has proven elite on both sides of the ball. It's likely too much to expect the Hoosiers to run the table in this upcoming tough stretch, but there's no reason to believe they won't compete.
Filed to: Jackson State Tigers