Potential of a high-tempo Indiana offense made possible by Jalen Hood-Schifino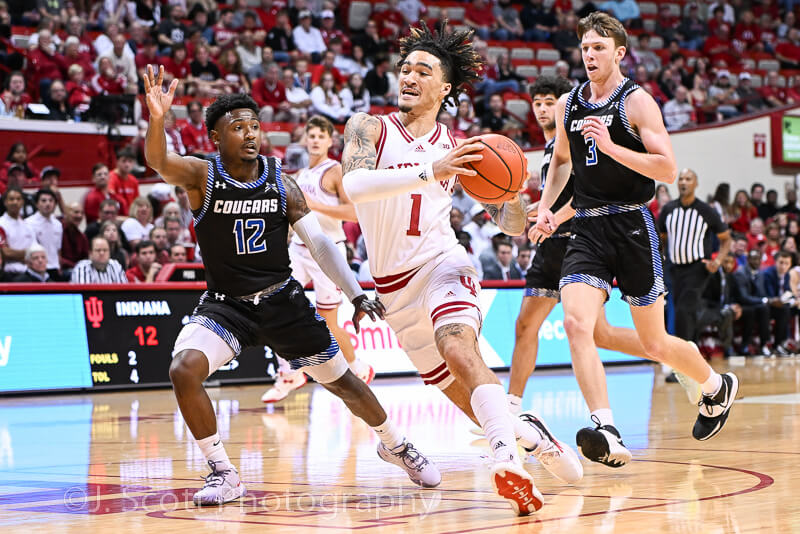 In Indiana's two exhibition wins over Marian and St. Francis (IN), there were multiple things for the Hoosier faithful to be optimistic about. The talented freshmen, efficient 3-point shooting, and increased athleticism.
But, one thing not being mentioned is Indiana's pace of play.
In the exhibitions, it was evident that Indiana wanted to push hard on the break, especially after turnovers. And quite frankly, whether it was Jalen Hood-Schifno, Xavier Johnson or even Tamar Bates bringing the ball up, Indiana looked fast.
Outlet passes were crisp. Against St. Francis, Hood-Schifino had an NBA-caliber layup where he wrapped the ball around his back. Trayce Jackson-Davis was thrown multiple lobs. Indiana just looked comfortable getting out in the open floor.
Last season, according to Kenpom.com, Indiana was 175th in the country in adjusted tempo. In the Big Ten, Indiana was around the middle of the pack. Now, this isn't to say that high-tempo basketball is winning basketball. Villanova, who played at a deliberate pace (347th in the country), had an average possession length of 20 seconds. The Wildcats, however, were one of the top 10 offenses in the country and rarely turned the ball over.
As for Indiana, they struggled heavily in the half-court. According to Synergy Sports, the Hoosiers were in their half-court offense on 87 percent of their possessions. Despite this, they only averaged .884 points per possession. In transition? Indiana was excellent, averaging 1.114 points per possession. That was good for 46th in the country. However, Indiana hardly got in transition in the first place. Only 13 percent of the Hoosiers' possessions were on the fast break. That ranked 261st in the country.
When Indiana got these fast break opportunities, they were led by Johnson and Jackson-Davis (who has established himself as a great rim runner). And with Parker Stewart in the backcourt along with Johnson, it led to isolated playmaking. Pick and roll, dump to TJD and rinse and repeat.
"For 90 percent of (last) season, we played a lot of inside-out basketball… but (Xavier Johnson) really figured out how to run pick-and-rolls," Mike Woodson said on the Inside Indiana Basketball radio show last Monday. "We'll play more openly this season."
Not only could open play lead to more off-ball motion, but it could also mean a change in tempo.
That's why of all changes to Indiana's roster this season, Hood-Schifino might be the most impactful. Through the two exhibitions, the Montverde product put on a show and looked in control with the ball in his hands.
At 6-foot-6, Hood-Schifino can attack the rim and facilitate. Not only does he have handles, but he can also run the break.
Through the two exhibitions, Hood-Schifino had an assist-to-turnover ratio of nine to three and put up 26 points. His preseason prowess was headlined by a 15-point and team-high five-assist performance against St. Francis (IN), where the Hoosiers scored 28 points on the fast break.
Notably, Hood-Schifno has been running the point with the second unit when Johnson exits the floor. Indiana's bench will be headlined with talent this season including fellow Montverde classmate, Malik Reneau. If Hood-Schifino is to lead a productive bench unit, which Indiana didn't have last season, some of that offense must come in the open floor.
In terms of the starting unit, there's no question that Johnson plays fast and erratic. But now with another viable ball-handling option in the backcourt, it will take a lot of weight off his shoulders.
"Well I told Xavier (Johnson) after the game, 'you don't have to do it all this year'… I think we got enough pieces on this team where you can just do your part and not have to stress out about thinking you have to do everything," Woodson said after Indiana's 104-59 exhibition win over St. Francis (IN). "He's still gotta be Xavier Johnson for us. He's still gotta defend. He's still gotta get the ball where it's got to go to."
The Hoosiers don't need to score 28 points a game on the fast break to be successful, but a rhythmic offense won't hurt as long as Indiana isn't turning the ball over.
Teams can play fast and be out of control, so if IU can control the tempo and dictate the pace of games, it might be a highlight-filled season in Bloomington.
Filed to: Jalen Hood-Schifino