Caesars Promo Code: $1,250 Back in Free Bets for MLB, CFB, NFL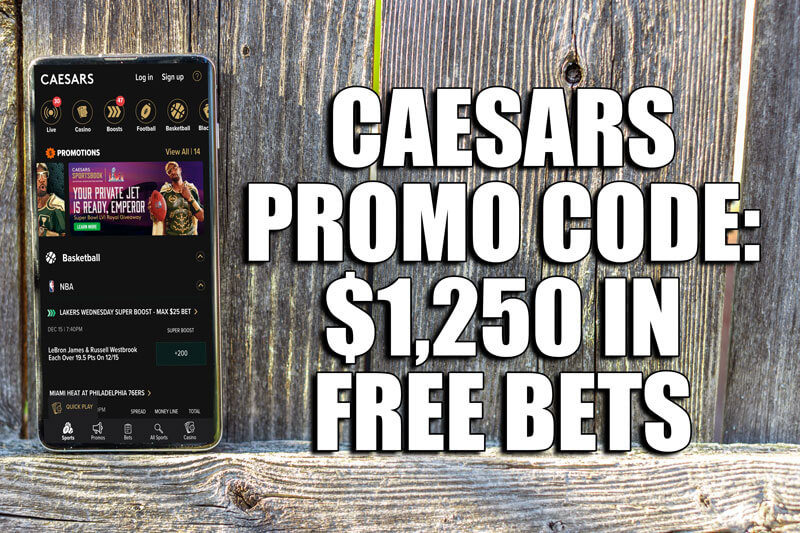 You can take full advantage of a loaded sports weekend with the Caesars promo code (here) that delivers a $1,250 insured bet. Whether it's any of the four Saturday MLB postseason games, college football, or an early start on NFL Week 5 action, this is one of the best offers available anywhere.
Use Caesars promo code HOOSIERFULL to receive a $1,250 bet on Caesars. If your selection falls short, all is not lost, because you will get a wagering credit refund.
There are countless ways to use an insured bet over the next 72 hours. Today, there is wall-to-wall college football, and there are four MLB Wild Card games on the schedule. The NFL action will be hot and heavy tomorrow, and Las Vegas will play at Kansas City on Monday night. You can place your promotional wager on any game, and the bet will be on Caesars.
Click here and use Caesars promo code HOOSIERFULL to get $1,250 of first bet insurance and an extra sweetener.
Caesars Promo Code Key Details
First, this offer is for first-time users, and it gives new players a chance to make a splash right away. Secondly, to put it into perspective, this is the most generous insured bet offer in the industry. You take full advantage of the opportunity if you go for the whole $1,250. A win will be a pretty big deal to most players. At the same time, if that is a bit much, you can make a smaller wager. Any bet that does not exceed the maximum ceiling will be insured.
In addition to the fact that all sporting events are included, all pre-game bet types are on the table. If you win your promotional wager, your winnings will be deposited into your account in cash after the bet settles. A loss will not be a big deal, because you will get a refund in betting credit. You have the same freedom to use the free bet on any sporting event in any wagering market.
Caesars Reward and Tier Credits
This promotion includes 1,000 Caesars Reward Credits, and you will continue to build on your balance when you make bets. The credits can be exchanged for free meals, resort experiences, concert tickets, and other premiums.
Caesars Rewards Tiers are status levels that are similar to the frequent flyer program thresholds. As you build Reward Credits, you simultaneously receive Tier Credits. To complete the Full Caesar package, you also get 1,000 Tier Credits.
Activate the Caesars Promo Code
Most importantly, click one of our activation links to reach the appropriate promotion landing page.
When you arrive, follow the prompts to establish your account. During the process, make sure that Caesars promo code HOOSIERFULL has been entered.
Thirdly, take a moment to get out your phone and download the app. You will have a sportsbook with you at all times, and you will have access to exclusive bonus offers.
Then, determine how much you are going to wager and make a corresponding deposit.
After that, the formalities are out of the way. Place a wager on any sporting event, and you will get a betting credit refund if you don't win.
Click right here and use Caesars promo code HOOSIERFULL to receive the Caesars Rewards package and a $1,250 insured bet.
Filed to: