One key question about each of Indiana basketball's 13 scholarship players entering the 2022-23 season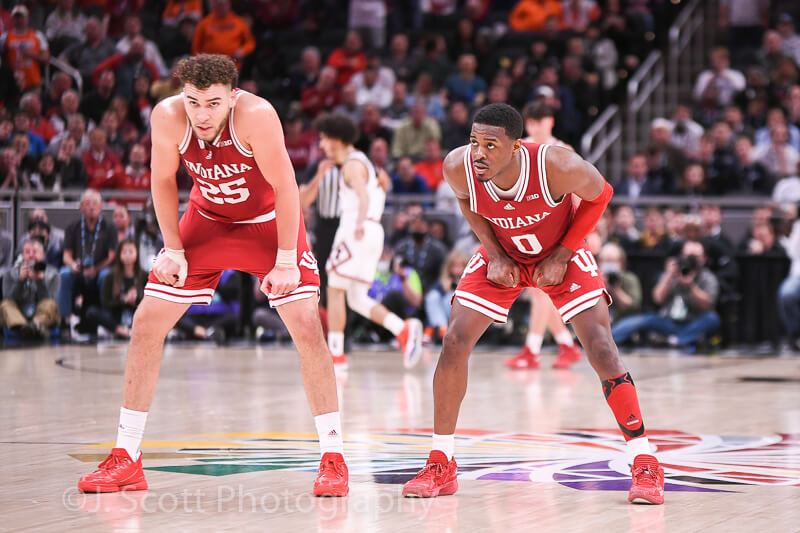 Hoosier Hysteria is just 36 days away and Indiana's season opener against Morehead State tips in 67 days.
We'll begin our annual season preview content later this month, but today we are going through one key question about each of Indiana's 13 scholarship players.
Trayce Jackson-Davis: Will he expand his offensive game beyond the paint?
As he enters his fourth season in Bloomington, Jackson-Davis is a legitimate Big Ten player of the year candidate and preseason All-American. But even as the lefty climbs the program's all-time leading scorers list, his offensive game hasn't changed much over his career. Is this the year Jackson-Davis adds a mid-range or a 3-point shot? More importantly, does he even need to? The Center Grove product has only attempted three 3-pointers over his first three seasons. But much of the talk about Jackson-Davis adding a jump shot is tied to his NBA future. It could certainly benefit Indiana at times to not have him tethered to the block, but it's hard to find fault with a player who has averaged 16.9 points per game over his career on 55.8 percent shooting.
Xavier Johnson: Can he lead a team with aspirations for a Big Ten title?
As great as Johnson was late last season, it's also hard to ignore the fact that he was inconsistent for much of Big Ten play. There's no denying he's Indiana's most talented point guard since Yogi Ferrell, but talent has never been an issue with Johnson. For Indiana to reach its potential, it needs a focused Johnson on and off the floor. On the floor, that means Johnson needs to consistently make the available play rather than trying for the home run. Off the floor, Indiana can't afford situations like his suspension for the Northwestern game or his arrest in April.
Miller Kopp: Will he become more consistent offensively?
The fifth-year senior scored in double figures in only five of Indiana's 35 games last season. After Kopp exploded for 28 points in a double-overtime loss at Syracuse on Nov. 30, he didn't score in double figures again until a Feb. 27 win at Minnesota. He went scoreless in each of Indiana's NCAA tournament games. Kopp won't be – nor does he need to be – a featured option offensively for Indiana. But if he's going to command starter's minutes again, he needs to shoot better than the 35.6 percent he produced from the field last season.
Race Thompson: Can he push his 3-point shooting percentage into the mid-30s?
Indiana needs better floor spacing around Jackson-Davis. Thompson was able to provide timely 3-point shooting in several key wins last season. In wins over Penn State, Maryland and Illinois, Thompson went 6-of-6 from distance. Overall, however, Thompson shot 27.3 percent on 3s and for his career, he's a 25.3 percent 3-point shooter on 83 attempts. He'll likely have the green light to continue hoisting from deep. If Thompson can make 20 to 25 3s this season with a percentage in the mid-30s, it will be a major boost to IU's offense.
Trey Galloway: Can he stay healthy?
Galloway is valuable on both ends of the floor, but missed 15 of Indiana's 35 games last season. He underwent groin surgery this offseason and is expected to be 100 percent for the start of the season. Galloway is a pest defensively and his aggressiveness in attacking the rim is his primary strength offensively. Indiana's depth this season will get a major boost if Galloway is healthy and in the rotation all season.
Anthony Leal: Can he grow into an effective 3-point specialist?
The 2020 Indiana Mr. Basketball is a fan favorite who came into the program with 3-point shooting as his specialty. Through two seasons, Leal has taken 52 of his 59 field goal attempts from the perimeter. He's only connected at a 30.8 percent rate. If Leal is going to break into the rotation in his third season, he'll need to look for his shot more aggressively and connect when he does so.
Jordan Geronimo: What position will he play?
During a summer Zoom call with reporters, Geronimo said he's working on expanding his game "to the point where I can play the three and the four." Through two seasons, Geronimo has largely played the four because his ball skills haven't been good enough to play the three. Geronimo has been able to finish plays at the rim and also make the occasional mid-range shot or 3-pointer. But he only has 14 assists in 598 career minutes. Geronimo has also never shown an ability to handle the ball. To play the three, his ability to create for others and handle the ball must improve.
Tamar Bates: Are major gains in efficiency in the cards?
Bates didn't lack confidence in seeking his offense as a freshman, but he was third-worst on the roster in terms of offensive efficiency. Per KenPom, Bates had an offensive rating (defined as points produced per 100 possessions used) of 86.9. Only Rob Phinisee (83.5) and Khristian Lander (78.5) were worse. Bates will be a popular preseason breakout candidate and he has the talent to play much better than a season ago.
Logan Duncomb: Will he be able to carve out a role?
It's hard to say much about Duncomb's freshman season because he barely played. Perhaps the biggest indictment of his readiness to contribute was the Northwestern game on Feb. 8 when the Hoosiers had only seven scholarship players available to play. He did not get on the court and walk-on Nathan Childress did. A former top 75 recruit, Duncomb has an uphill battle for minutes. Jackson-Davis and Thompson will occupy a majority of the frontcourt time available and the addition of freshman Malik Reneau is an obstacle to playing time for Duncomb.
Jalen Hood-Schifino: How will he fit alongside Xavier Johnson?
The short answer to this question is that Indiana hopes he will fit much better than Parker Stewart. Stewart needed Johnson to create nearly all of his offensive opportunities. That shouldn't be the case for Hood-Schifino, who is a creator in his own right and should take some pressure off of Johnson to do everything.
Malik Reneau: What will his role look like as a freshman?
As a top 30 RSCI recruit, Reneau enters college with expectations but is also in a favorable situation for his long-term development. With Jackson-Davis, Thompson and Geronimo all returning, Reneau won't be forced to play major minutes from day one. That should allow the Indiana coaching staff to deploy him against second-unit frontcourt players. A talented lefty scorer who is crafty around the basket, Reneau should be a significant upgrade as a backup from Michael Durr.
CJ Gunn: Can he use his 3-point shooting to get on the floor as a freshman?
As a senior at Lawrence North, Gunn made 37.4 percent of his 3-pointers. It's no secret that Indiana needs to become a better shooting team from the perimeter. That could be Gunn's ticket to playing time in his first season. None of his primary competitors for minutes have proven that they can make 3s consistently. If Gunn can, he becomes a very attractive option off the bench for the Hoosiers.
Kaleb Banks: Will Banks push for minutes at the three?
This is likely the position that is most up for grabs on the roster. Kopp enters the season as the incumbent and there's been talk of Geronimo getting some time at the position. The wildcard is Banks, who had praise heaped on him by his teammates this summer in multiple interviews. It's never easy to predict how freshmen will perform, but at the least, Banks gives Indiana another option to consider on the wing.
Filed to: 2022-23 season preview