6-Banner Sunday: Trayce Jackson-Davis withdraws from NBA draft, returning for 2022-23 season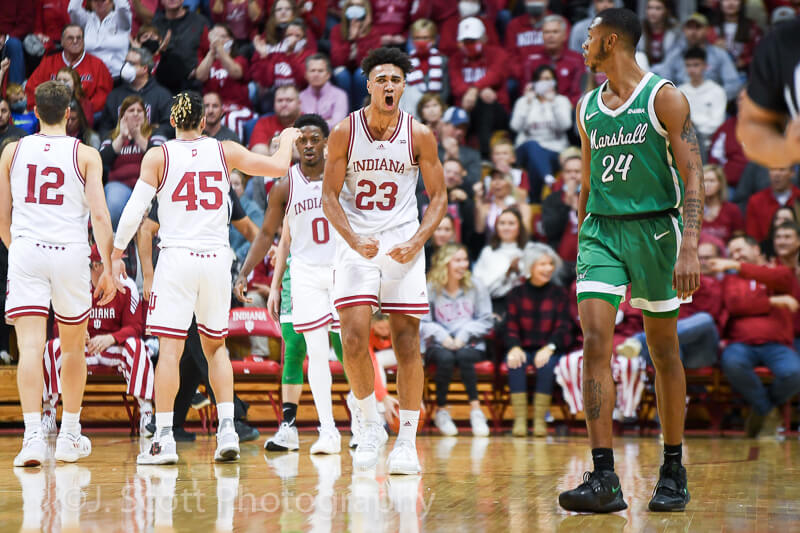 6-Banner Sunday is Inside the Hall's weekly newsletter in partnership with The Assembly Call. More than 9,000 Indiana fans receive the newsletter each week. In addition to appearing each week on the site, you can also opt to receive 6-Banner Sunday by email. A form to subscribe via email is available at the bottom of this week's 6-Banner Sunday.
Welcome to another edition of 6-Banner Sunday, a joint production between The Assembly Call and Inside the Hall where we highlight the five most essential IU basketball stories of the past week, plus take a look at how the other IU sports programs are doing.
The biggest news of IU's offseason came down this week with the confirmation that their star player is coming back for his senior season. With a deep roster now intact, the Hoosiers will have expectations higher than they have had in quite some time and should be among the favorites to win the Big Ten.
While this announcement was far and away the biggest thing in Hoosier Nation this week, a few other smaller items came to light as well. Another game on next year's schedule was revealed, a TBT team is coming together with all IU alumni for the first time, and a few small recruiting updates were the other stories of interest this week.
We will as usual conclude with a look at how other IU sports. This was highlighted by baseball's late-season turnaround and clinching a spot in the Big Ten tournament and a beloved Hoosier on the women's basketball team staying in Bloomington to work for her alma mater.
• Trayce Jackson-Davis returning to IU for senior season
• Another non-conference opponent revealed
• IU TBT team coming together
• Recruiting updates
• AC Radio and podcast
• Hoosier Roundup
Banner #1 – Trayce Jackson-Davis returning for IU for senior season
The news that IU fans have been waiting for finally became official. On Friday afternoon star center and leading scorer, Trayce Jackson-Davis announced on his Twitter account with a video that he was withdrawing from the NBA draft and returning to play for the Hoosiers for his senior season.
Jackson-Davis was originally planning to try to show off his skills in last week's NBA combine and possibly improve his draft stock. Instead, he tested positive for COVID-19 and was unable to attend. Whether this unfortunate timing was the reason for his decision or if he was planning to return anyways is not clear, but either way, this is nothing but a positive for supporters of the IU program.
Fans were not the only ones pleading for Jackson-Davis' return. IU coach Mike Woodson told a crowd in Fort Wayne earlier in the week before the decision that he was hoping to have his elite big man back. With their star returning though, expectations heading into this season will be at a place Indiana has not been since the Cody Zeller/Victor Oladipo era a decade ago. A Big Ten title, a deep run in the NCAA tournament, and spending all season in the top 25 will be expected by many. Whether the Hoosiers can meet and handle the preseason hype after several years of no one expecting much remains to be seen.
Banner #2 – Another non-conference opponent revealed
While it was not the same excitement as the reveal that IU would play Arizona and Kansas in the non-conference games next season, the Hoosiers did learn of another opponent for next season when it was announced they would face Kennesaw State on December 23.
While this game with the Owls won't move the needle much, the Hoosiers will have plenty of elite competition before conference play. Besides the games against the Wildcats and Jayhawks, IU is expected to host a top opponent in Assembly Hall for the Big Ten-ACC challenge after playing the road in that event the last two years. Jackson-Davis and North Carolina star Armando Bacot were lobbying the conferences to match their teams up in the challenge in what would be a juicy contest between the NCAA tournament runner-ups and the possible conference favorite Hoosiers.
Another potential top matchup is a road game early in the season in the Gavitt Games. This would have Indiana play a Big East team should IU be selected as one of the participants in that event.
Banner #3 – IU TBT team coming together
The Basketball tournament is one of the top events of the summer pitting former college players against each other with the winning team pocketing one million dollars.
While many IU alumni such as Jordan Hulls and Christian Watford have played for various teams in the event, the Hoosiers have never had a team of exclusively alumni as many schools do. That should change this year as a team of former Hoosiers called 'Assembly Ball' will likely take part in the event.
Already they have announced the squad will include Devonte Green and Josh Newkirk with more players expected to be revealed in the coming weeks.
Banner #4 – Recruiting updates
The summer recruiting season is here now and future Hoosier targets will get to show off their talent at various events over the next couple of months.
A couple of players IU is after for future classes had terrific springs as 2025 prospects Jalen Haralson and Trent Sisley had highlight videos.
Haralson is also tearing it up on the Nike EYBL circuit.
Banner #5 – AC Radio and podcast
While Podcast On the Brink took the week off, Assembly Call Radio was busy with two different episodes.
The normal Thursday show broke down a possible future schedule. Meanwhile, a special emergency podcast was recorded following the big announcement by Trayce Jackson-Davis that he was returning to IU.
Banner #6 – Hoosier Roundup
• Despite an up-and-down year, IU baseball rallied late in the season to finish in the top-eight of the conference and get to the Big Ten tournament. This is something they have managed to do every year since 2008 when the event took place outside of one season. Despite losing their final conference games to Iowa, IU managed to win their final home series against Minnesota and got some help from other teams around them to qualify. The team also beat Illinois State on senior day in a non-conference game.
• Recently graduated women's basketball star Ali Patberg was added to the staff in the same role Jordan Hulls recently was announced to for the men's team.
• Men's Soccer announced their season opener this fall will be against defending national champion Clemson.
• Track and Field wrapped up the conference championship last weekend. They also announced the replacement for longtime legendary head coach Ron Helmer who is retiring after next season. He will be succeeded by current associate head coach Ed Beathea. They also got 27 athletes to regionals.
• Rowing finished fourth at the Big Ten Championships.
• Men's Golf finished 12th at NCAA Regionals.
• Field Hockey announced its upcoming fall schedule.
Thanks for your continued support for The Assembly Call and Inside the Hall. We'll be back next weekend with a new roundup.
Now go enjoy yourself a 6-banner Sunday.
Aaron (Ari) Shifron
Assembly Call Contributor
Filed to: