The Big Ten, NBA draft combine and the decisions that could impact next season's conference race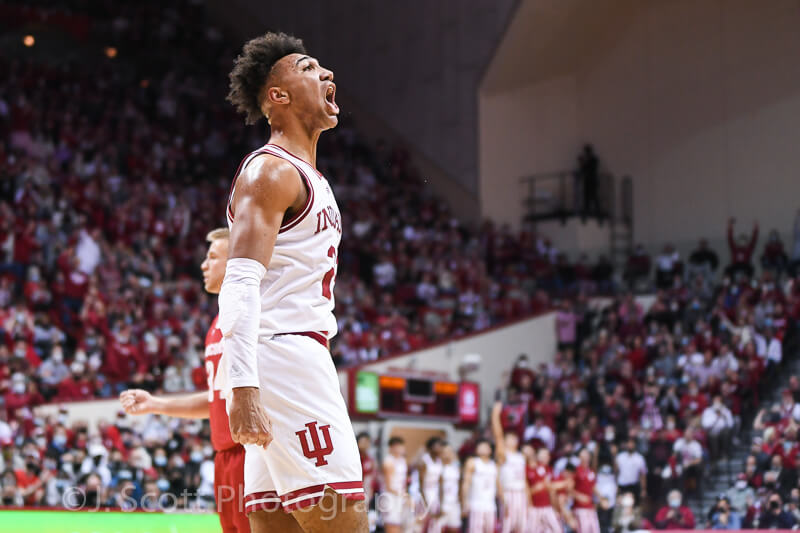 The NBA draft combine gets underway on Wednesday in Chicago and there are a few key Big Ten storylines to follow.
Before getting into the decisions that could have a major say in next season's race, there are no shortage of Big Ten stars who are staying in the draft and not returning to school next season.
The Big Ten players who entered the draft, are in Chicago for either the G-League Elite Camp or the NBA Draft combine and not returning next season include Jaden Ivey (Purdue), Keegan Murray (Iowa), Johnny Davis (Wisconsin), Malaki Branham (Ohio State), E.J. Liddell (Ohio State), Bryce McGowens (Nebraska), Max Christie (Michigan State), Trevion Williams (Purdue), Ron Harper Jr. (Rutgers), Gabe Brown (Michigan State) and Kofi Cockburn (Illinois).
From that list, only Brown is in the G-League Elite Camp. Michigan's Eli Brooks is also participating in the G-League Elite Camp but is not eligible to return to school next season.
That leaves five Big Ten players who are still up in the air in terms of their status for next season: Kris Murray (Iowa), Caleb Houstan (Michigan), Moussa Diabate (Michigan), Pete Nance (Northwestern) and Trayce Jackson-Davis (Indiana).
Here's a look at each of those situations and what we know heading into the combine:
• Kris Murray: The twin brother of Iowa star Keegan Murray, Kris Murray turned down an NBA draft combine invite despite being ranked No. 37 in Jeremy Woo's latest top 100 rankings at Sports Illustrated. The decision to turn down the combine invite has fueled speculation that Kris Murray will return to Iowa City. His father Kenyon, however, recently told Kennington Lloyd Smith III that no decision has been made either way. If Murray returns to Iowa, he will be the focal point of a Hawkeye team that will have to overcome the losses of Jordan Bohannon and Keegan Murray.
• Caleb Houstan: The Canadian-born forward had an underwhelming season in Ann Arbor and like Murray, turned down an NBA draft combine invite. Unlike Murray, however, most of the speculation with Houstan is pointing towards him staying in the draft. So why would he decline a combine invite if he's staying in the draft? Houstan might have a promise from a team to draft him in the first round, according to Jonathan Givony.
• Moussa Diabate: Diabate was also underwhelming as a freshman at Michigan, but his size and raw talent is likely intriguing to teams. Diabate is ranked No. 62 in Woo's latest big board and Dylan Burkhardt of UMHoops believes a week of solid testing in Chicago could vault him up draft boards:
He's a prospect who could help himself in the combine process with impressive athletic testing. I'd be shocked if he doesn't grade out ahead of most other bigs in terms of movement — things like the 3/4 court sprint and lateral agility drills — and the swing factor will be his vertical leap. He wasn't a great rim protector at Michigan this year, and it's hard to say if that was a product of a physical limitation or a developing feel for the game. If he tests with a great vertical, that would be even more reason to think he'll improve exponentially as a rim protector in the coming years.
Besides Indiana, no other Big Ten team has as much riding on the combine as Michigan. If Houstan and Diabate both leave, the Wolverines will be replacing four starters in Brooks, DeVante Jones', Houstan and Diabate.
• Pete Nance: The Northwestern star is No. 67 in Woo's latest rankings, but didn't earn a combine invite and will try to play his way there via the G-League Elite Camp. The interesting thing with Nance is that he's also in the transfer portal, so if he returns to school, it might not be in Evanston. In his first day at the G-League Elite Camp, Nance scored 11 points and grabbed five rebounds on 4-of-6 shooting. He made three of his four 3-point attempts.
• Trayce Jackson-Davis: The Hoosier star earned a combine invite despite being ranked 85th in Woo's latest big board. Jackson-Davis has been working out in California and this week is pivotal for his draft status. The most likely scenario for Jackson-Davis, if he stays in the draft, is a second round slot or a two-way contract. He'll have to balance that against a potentially lucrative fourth season in Bloomington due to name, image and likeness opportunities. While Jackson-Davis hasn't spoken recently, his teammates are publicly advocating for him to return to school.
How to watch the G-League Elite Camp and the NBA draft combine
The G-League Elite Camp runs on May 16th and 17th, and games will be live-streamed on Twitch. The NBA Draft combine runs from May 18th through 20th and will be televised by the ESPN family of networks. Thursday's action will be on ESPNews from 3-5 p.m. (ET) and ESPN2 from 5-7 p.m. Friday's coverage is 1-2 p.m. (ET) on ESPN2 and 2-5 p.m. (ET) on ESPNews.
Filed to: NBA draft combine, Trayce Jackson-Davis