Brian Walsh becomes a father, moves into role as assistant coach at IU: 'I haven't met someone that doesn't like B-Walsh'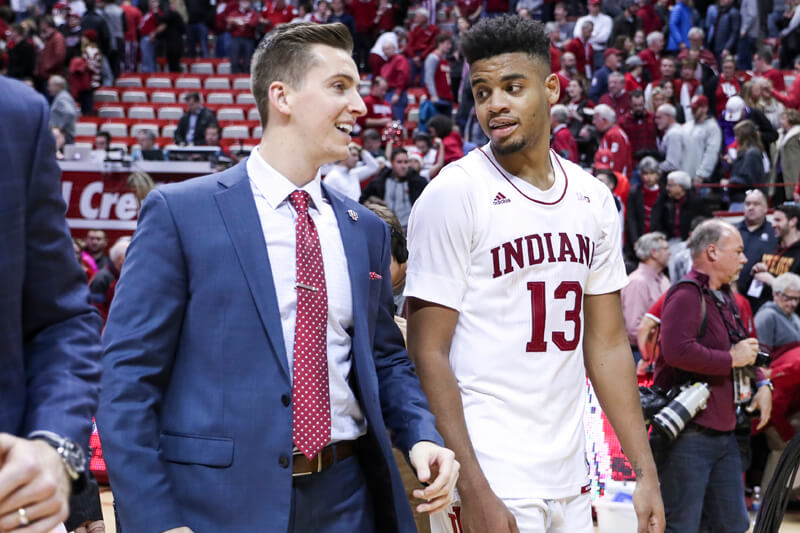 Brian Walsh held his infant daughter Isla in his arms. His wife Jessica was sitting to his right. Indiana head coach Mike Woodson was on the phone. Walsh put it on speaker.
Recently, a lot had been unfolding in Walsh's life. Isla was born March 9, 2022, the day before Indiana played Michigan in the Big Ten tournament. Walsh missed that game, but then went back and forth following the other games in the Big Ten tournament. Then Indiana left Monday for Dayton, Ohio, where they were playing in the First Four, the program's first NCAA tournament appearance since 2016. After the win over Wyoming, there was a trip out west to Portland, Oregon, where the Hoosiers fell to Saint Mary's in the Round of 64. Walsh estimates he missed five of the first seven days of Isla's life. Walsh's wife and in-laws took care of Isla while he was away.
On March 23, Woodson announced in a release that Dane Fife — who was in his first season as an assistant coach with the Hoosiers — wouldn't be returning to IU. Then it was March 24. Walsh, IU's team and recruiting coordinator, was on the phone with Woodson. For transparency's sake, Walsh had previously told Woodson that some other opportunities had arisen for him around college basketball. Shortly after, Woodson called Walsh. Next to his wife and holding his daughter, Walsh listened to Woodson offer him an assistant coaching position. The following day, along with Kenya Hunter and Yasir Rosemond becoming associate head coaches, Walsh's new position was officially announced.
"…It's been amazing," Walsh said on Zoom call Tuesday afternoon. "This is an absolute home run and Grand Slam for myself in my young career and I'm extremely grateful to Coach Woodson and the rest of the staff who believes in me and excited for the opportunity ahead."
Walsh's time at IU started back in 2017. After working with Archie Miller at Dayton, Walsh was hired on Miller's staff at IU as the program's director of basketball operations, where he ultimately spent four seasons in that role. But last March, after four seasons without an NCAA tournament appearance, Miller was fired. That, too, meant Walsh wasn't sure about his future.
"I was kind of in limbo of what was going to happen, looking for other opportunities, trying to figure it out," Walsh said. "Very uncertain time for myself and my wife at the time."
Then Woodson was hired. Walsh said that some people "went to bat for me here at IU." Ultimately, Walsh was kept on staff as IU's team and recruiting coordinator. In that role, Walsh wasn't able to work with players on the court, but he helped get recruits on campus for visits and collaborated with Woodson, Rosemond and Hunter (who recruited him at Xavier), along with other members of the staff.
At 32-years-old, Walsh has already begun to ascend up the hierarchy of college basketball, now as an assistant coach at a storied program. He said he gave "immediate credit" to his father and brother for instilling his work ethic in him. His dad played baseball in college. His brother, who played college basketball, is now in medical sales. Walsh said he watched his father "grind for 40 years in his business and do really well."
"They are very blue collar," Walsh said. "We are not the most talented guys in the world, my family is not. We are not the smartest. But we will work and we're not scared of it and we don't run from it, and we know that if you work really hard and treat people well, it's usually going to work out for you."
In his own basketball career, once a standout in Moon Township, Pennsylvania, Walsh went on to play at Xavier from 2008-10, where the Musketeers made back-to-back Sweet Sixteens. Walsh, though, ultimately transferred from Xavier and finished his career at Akron. What he learned in his college days, though, has remained with him.
"You get to college and you get smacked in the mouth, and you realize how hard it is, and you have to work extremely, extremely hard to play," Walsh said. "And that's something that has always stuck with me. Didn't really go my way at Xavier, which is fine, but it taught me a valuable lesson that you can't coast, you can never get comfortable; that you always have to work and continue to get better every day, and that's no different in the workplace."
Asked why coaching is important and what he wants to bring in terms of mentorship on and off the court, Walsh said "relationships are everything to me." Christian Kezmarsky, a Pittsburgh-based basketball trainer with ties in grassroots AAU, has built a relationship with Walsh and attested to who Walsh is as a person. "I haven't met someone that doesn't like B-Walsh," Kezmarsky said. Kezmarsky said Walsh stays in contact with him more about life than basketball. Walsh texted Kezmarsky on his birthday and on Christmas. Both being from the same area, they text about the Pittsburgh Steelers.
"In a business where a lot of guys just check-in for when they need you, it seems like B-Walsh is like a legit friend that I've made in this," Kezmarsky said.
There have been more transitions at IU this offseason. Four players have entered the transfer portal. Three class of 2022 recruits have signed their letters of intent. A program that was once a dominant force is now trying to continue to build its way back to the top. Walsh will continue to be an important part of that. Now as an assistant coach.
"You are going to win games, you're going to lose games but it's about being here for these kids, not only on the floor but off the floor in life and having them navigate academics, social life what it looks like when they are done," Walsh said. "Just being someone that they can count on, forever, not just when they leave here but as they go through life and need different things. So that's big to me."
Filed to: Brian Walsh