What to expect: Illinois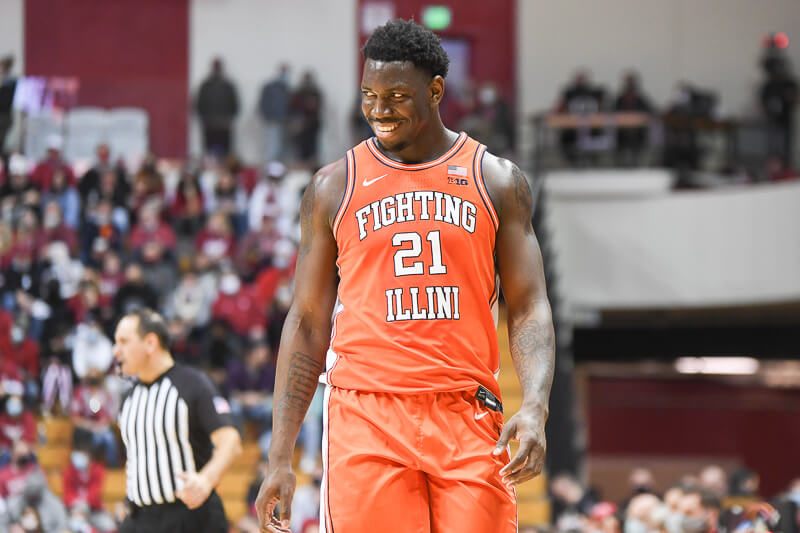 Indiana's thrilling 74-69 win over Michigan on Thursday set up a Friday quarterfinal matchup against Illinois in the 2022 Big Ten tournament at Gainbridge Fieldhouse.
Illinois beat Indiana 74-57 on Feb. 5 in Bloomington. Friday's rematch is set for an 11:30 a.m. ET tip on BTN:
Indiana's NCAA tournament hopes were in a precarious spot when it trailed Michigan 60-43 with 12:28 remaining on Thursday in Indianapolis.
But the Hoosiers never quit and battled back for a Quad 1 victory over the Wolverines. The win kept IU's tournament hopes alive and set up an opportunity for another Quad 1 win on Friday against Illinois.
The Fighting Illini won a share of the regular season Big Ten title with a 74-72 win over Iowa last Sunday in Champaign. Illinois won its only regular season meeting against Wisconsin and as a result, earned the top seed in this week's Big Ten tournament.
THE FIRST MEETING
Indiana's loss to Illinois in early February was the first in what became a five-game losing streak for the Hoosiers.
After a strong first half in which it scored 36 points on 1.07 points per possession, Indiana fell apart offensively in the second half against the Illini.
What went wrong for the Hoosiers offensively? Just about everything.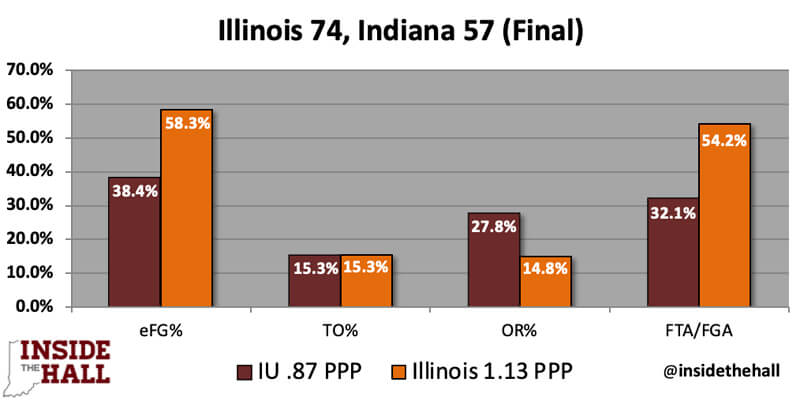 Indiana committed eight second half turnovers, shot 29.6 percent from the field and scored just 21 points in 31 possessions. Postgame, Mike Woodson said his team "never got into anything" in terms of sets. Indiana did grab six offensive rebounds in the second half, but scored only two second chance points.
Illinois was able to bury Indiana on the strength of its 3-point shooting and the play of Kofi Cockburn. The Fighting Illini made 10 of its 23 3-point attempts compared to just a 3-of-13 performance from distance for the Hoosiers.
Cockburn, a first team All-Big Ten selection, outplayed Trayce Jackson-Davis in Bloomington. Cockburn went for 17 points and eight rebounds in the win compared to just six points and six rebounds for Jackson-Davis. Over four career head-to-head matchups – all wins for Illinois – Cockburn is averaging 15.8 points, 9.5 rebounds and 2.8 blocked shots against Indiana. Jackson-Davis is shooting just 34.6 percent from the field in his career against Illinois.
Trent Frazier, arguably the league's best perimeter defender, also had a terrific all-around game. Frazier scored a game-high 23 points and was a big reason Xavier Johnson managed just a 4-of-11 shooting performance from the field. Johnson scored 12 points and dished out five assists.

TEMPO-FREE PREVIEW
(Stats are for conference games only.)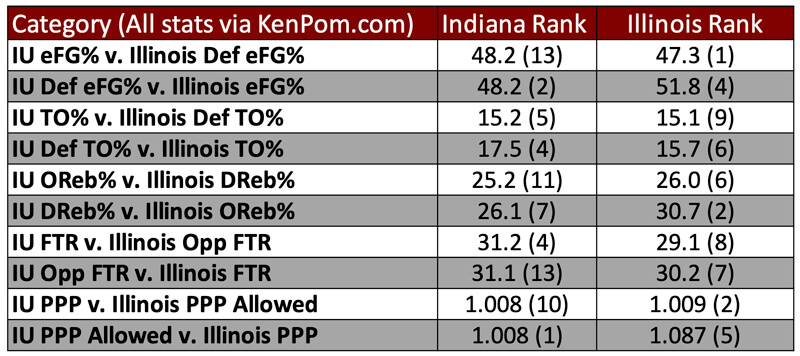 Indiana and Illinois were the top two defenses in the Big Ten in the regular season with the Hoosiers narrowly finishing ahead of the Fighting Illini in points per possession allowed.
Illinois took the most 3-pointers of any Big Ten team relative to its field goals attempted. According to KenPom, 42.1 percent of its field goal attempts in conference play were 3s. Illinois shot 35.1 percent from deep in league play, good for seventh in the conference.
The Fighting Illini surround Cockburn with bonafide weapons on the perimeter in Alfonso Plummer (41.7 percent), Jacob Grandison (41 pecent) and Trent Frazier (34.3 percent), which makes it a "pick your poison" scenario when game-planning a defense.
Illinois is also a strong offensive rebounding team as it grabbed 30.7 percent of its missed shots in conference play. That ranked second in the conference. Indiana ranked just seventh in the Big Ten in defensive rebounding percentage and has been susceptible to giving up second-chance points.
WHAT IT COMES DOWN TO
The KenPom projection is Illinois by four with a 37 percent chance for Indiana to pull off the upset.
Indiana had to dig deep in the second half to erase a 17-point deficit in its win over Michigan on Thursday, but the Hoosiers should have a favorable crowd on Friday and already have two games under their belt this season in Gainbridge Fieldhouse.
Jackson-Davis was able to come through with a monster second half performance against Hunter Dickinson in the Michigan win, which is the first time he'd outplayed the Michigan big man in his career. He'll need a similar effort on Friday against Cockburn to give Indiana a shot to advance to the Big Ten tournament semifinals.
One other key difference from the first matchup is the late-season surge from Johnson. He's playing at a much higher level than he was in early February and has now scored in double figures in six straight games. Over the last six contests, Johnson is averaging 18.6 points, 6.5 assists and 4.3 rebounds per game.
Indiana's win over Michigan kept the Hoosiers in the NCAA tournament conversation but a win on Friday over Illinois would clinch a bid in the big dance. A loss would mean a stressful couple of days waiting to learn the program's postseason fate on Sunday night.
Filed to: 2022 Big Ten tournament, Illinois Fighting Illini