The Minute After: Michigan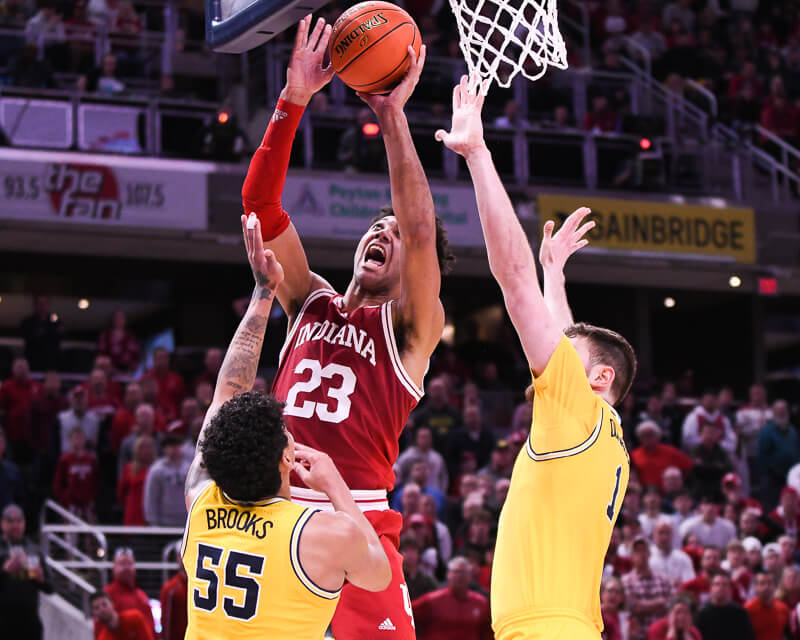 Thoughts on a 74-69 win against the Wolverines:
The stories were already writing themselves.
Here the Hoosiers were once again, faltering against Michigan's length and talent. Here the Hoosiers were once again, flaming out in the Big Ten tournament with their NCAA tournament hopes on the line. Here Trayce Jackson-Davis was once again, being outplayed by a taller conference opponent at the 5-spot.
It was all happening. You saw it. We all saw it.
But sometimes things aren't always as they seem. Sometimes, after being down and out, things change in a big way.
And so it went for Indiana in the second half, as the Hoosiers erased a 17-point Michigan advantage with just under 13 minutes to go to win by five points. It was a miraculous 32-9 run to close out the game.
How did it get done?
For starters, Indiana's defense turned it up to eleven. For nearly 75 percent of the game, Michigan glided off the perimeter with ease for buckets. Hunter Dickinson was comfortable. But with Xavier Johnson hounding the ball at the point of attack and Trayce Jackson-Davis (four second-half blocks) and Jordan Geronimo (two blocks) cleaning things up at the rim, Michigan became uncomfortable and uneasy. Dickinson scored just two second-half points as Indiana swarmed him. Johnson's pressure helped create turnovers and it was huge for the comeback. The Wolverines turned it over 10 times in the second half and Indiana scored 17 points off them.
Possession by possession, Michigan just couldn't get anything going. The Wolverines made just eight baskets all second half, as the pro-IU crowd got loud and turned up, cheering the Hoosiers on.
On the other end, Indiana made buckets. After sitting for a long stretch in the first half, Johnson picked up his third foul early in the second half at the 17:51 mark. It looked like Rob Phinisee would come in and sub. But Johnson waved off the substitution and Mike Woodson obliged.
It was the right call. Johnson didn't pick up another foul the rest of the contest.
His ability to read the defense and make plays for himself and others was absolutely essential in this one. Johnson dished out seven second-half assists and scored nine points, as Indiana again found success with his high-level work in ball screen action. Parker Stewart (1-of-1) and Miller Kopp (2-of-2) made all their 3-pointers after the break. Indiana had a hot afternoon from distance overall (8-of-15, 53.3 percent).
And then there was Jackson-Davis. His start was woeful. But his second half was anything but. Indiana's second-team All-Big Ten selection finally got the better of Dickinson, outscoring him 19-2 in the second half.
Jackson-Davis benefited from Johnson's ball screen work, as he found him for lobs and in movement. But Jackson-Davis also scored against Dickinson 1-on-1 in the post. His left-handed hook over Dickinson with 3:36 to go to give Indiana a 3-point lead has been the type of shot he's missed in similar moments this season. The junior made 8-of-11 in the second half, a statement performance the Hoosiers absolutely needed to pull off the comeback.
"I can't say enough about these guys in the locker room," Woodson said after the game. "They just won't quit."
This was an improbable, impressive comeback, one that just might help the Hoosiers sneak into the NCAA tournament.
Can Indiana bottle up this magic and do it again against the top-seeded Illini tomorrow?
Filed to: 2022 Big Ten tournament, Michigan Wolverines