Five takeaways from Indiana's regular season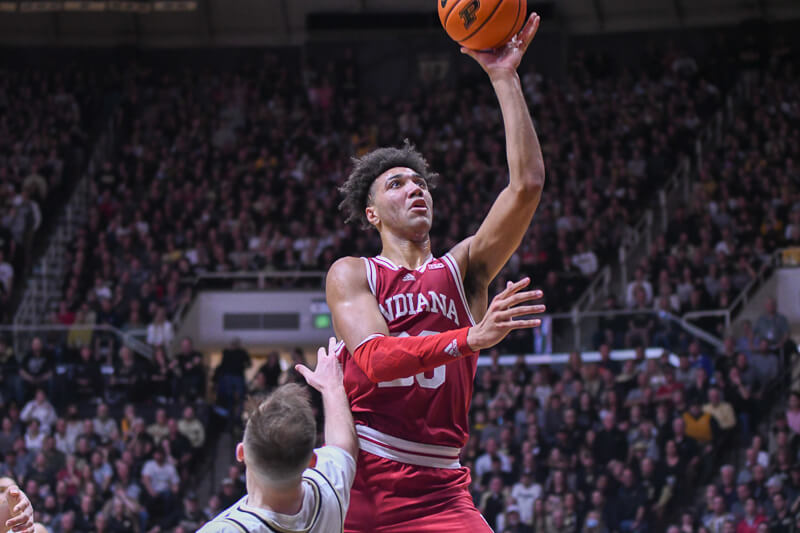 Indiana concluded the 2021-22 regular season with an 18-12 record and a 9-11 mark in Big Ten play. The Hoosiers earned the No. 9 seed in this week's Big Ten tournament in Indianapolis.
Here are five takeaways from Indiana's regular season:
Indiana had the Big Ten's best defense
Mike Woodson warned Indiana fans in the offseason that his team's defense was far ahead of the offense. That proved to be the case for the duration of the 2021-22 regular season.
The Hoosiers finished the conference season with the league's best defense at 1.008 points per possession allowed. That's no small feat for a first-year coach in a conference with some of the best coaches and scouting anywhere.
Indiana finished second in the Big Ten in effective field goal percentage defense, fourth in turnover percentage and sixth in defensive rebounding percentage.
The one major flaw for Indiana defensively? Sending opponents to the foul line too regularly. Big Ten foes posted a free throw rate (FTA/FGA) of 31.1 against Indiana, which ranked 13th in the league.
The offense never found its footing
As stellar as Indiana's defense was, the offense sputtered for most of the 30-game regular season.
In Big Ten play, Indiana finished 10th in offensive efficiency at 1.008 points per possession. According to Ken Pomeroy's ratings, Indiana's adjusted offensive efficiency currently ranks 101st in the country. That would be the lowest rating for the program since the 2009-10 season, Tom Crean's second in Bloomington.
While Woodson was able to get his team to take care of the ball – Indiana's turnover percentage of 15.2 in Big Ten play was the best-ever for the program in the KenPom era – the majority of the other numbers ranked near the bottom of the league.
Indiana's 3-point shooting percentage in Big Ten play was 31.9 percent, 13th in the league. The Hoosiers did eclipse the 70 percent mark in conference play from the free throw line. But at 70.1 percent, Indiana ranked just 12th in the conference. Indiana also ranked just 11th in offensive rebounding percentage and 11th in 2-point field goal percentage.
Indiana's guard and wing play wasn't good enough
After inconsistent play early in the Big Ten season, Pittsburgh transfer Xavier Johnson proved himself to be one of Indiana's most reliable players over the last month of the regular season.
Johnson's assist rate of 35.1 percent currently ranks 20th in the country and he was fourth in Big Ten games at 36.8 percent. Johnson also shot 36.1 percent on 3s in Big Ten play and 78.3 percent from the free-throw line. In recent weeks, Johnson is playing as well as any point guard in the league.
Indiana's other backcourt pieces, however, were inconsistent.
Miller Kopp and Parker Stewart, who were brought in to provide reliable 3-point shooting, produced solid percentages from distance. Kopp made 37 percent of his 3-point attempts and Stewart connected at a 40.5 percent clip. But both players struggled to offer more than perimeter shooting. To Kopp's credit, he shot 90.6 percent from the free-throw line. He also showed an ability to create shots for himself in the midrange at different times.
Tamar Bates, who showed promise early in the season, shot just 28.6 percent on 3s and 36.9 percent on 2s. Bates still has arguably the highest ceiling of any backcourt player on the roster, but his efficiency will need to rise to hit his ceiling.
Injuries held Trey Galloway back from realizing his potential in his second season. He suffered a broken wrist early in the season and currently is recovering from a high groin pull that has kept him out of the last five games. Rob Phinisee is shooting just 29 percent from 3 and missed seven games late in the season with plantar fasciitis. Khristian Lander's impact was minimal as well due to injuries and an inability to defend.
Anthony Leal's role was minimal when Indiana was at full strength and he shot just 31.8 percent on 3s in 16 games.
Race and Trayce form one of the Big Ten's best frontcourts
The steady rise and improvement of Race Thompson has been one of the best storylines for Indiana basketball over the last four seasons.
Archie Miller's first recruit, Thompson arrived in Bloomington in the summer of 2017 and redshirted his first season. Thompson grew from a role player in his first two seasons to an indispensable piece for the Hoosiers these last two seasons.
This season, Thompson delivered his best numbers in an IU uniform. He averaged 11.8 points and 7.7 rebounds in the regular season and shot close to 56 percent from the field.
Center Grove product Trayce Jackson-Davis saw his scoring average fall in his third season, but his efficiency rise.
Jackson-Davis shot 58.3 percent on 2s in 30 regular-season games after shooting just 51.7 percent last season in 27 games. His free-throw percentage also rose by two percent in league play.
One thing that didn't materialize for Jackson-Davis, however, was a mid or long-range game. Jackson-Davis took just three 3-pointers this season and missed all of them. He made a few mid-range shots, but never took them consistently.
Late game struggles keep Indiana on the bubble
Woodson talked all regular season about getting the Hoosiers "over the hump" and teaching his team "how to win".
Indiana won a few close games, but mostly struggled to finish all season. In games decided by six or fewer points, Indiana was just 2-6. The Hoosiers also lost games at Ohio State and Northwestern that were in the balance in the final minutes before the lead was stretched out beyond two possessions. In a January loss at Iowa, the Hoosiers were within two points in the final six minutes.
Of Indiana's nine Big Ten wins, seven came against teams that finished in the bottom five of the league standings. Against the league's best teams, Indiana simply couldn't get the job done.
The two games that Indiana won that were decided by six or less this season were Purdue on Jan. 20 and Minnesota on Feb. 27. The Hoosiers led the Minnesota game by 27 points at one point in the second half.
The regular season, however, will be remembered for the close games Indiana couldn't finish out.
Filed to: Anthony Leal, Khristian Lander, Miller Kopp, Parker Stewart, Race Thompson, Robert Phinisee, Tamar Bates, Trayce Jackson-Davis, Trey Galloway, Xavier Johnson