A regular-season filled with missed opportunities ends in fitting fashion for Indiana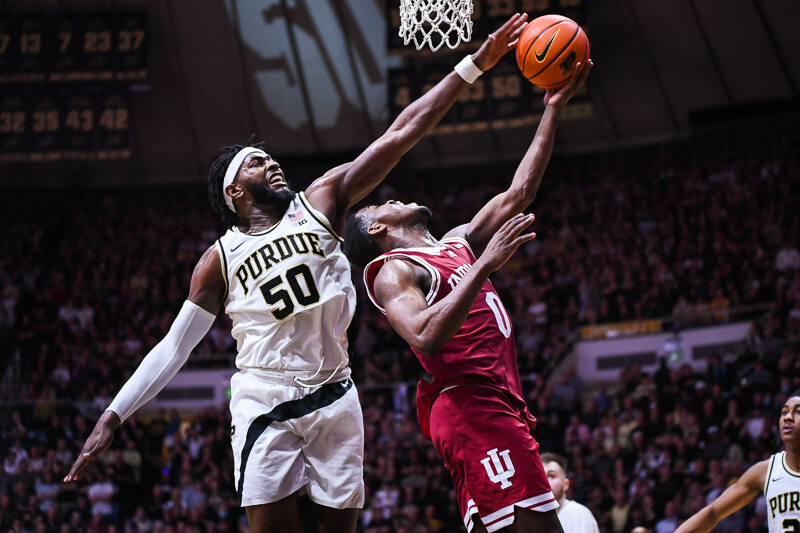 In the final one minute and four seconds of Saturday's game against Purdue, Indiana had multiple offensive possessions to either tie or take the lead.
• With 1:04 remaining, Indiana was down by two when Xavier Johnson threw a lob out of the reach of Trayce Jackson-Davis.
• With 37 seconds remaining, Indiana was down by two when Johnson drove into the lane but had his shot blocked out of bounds by Purdue's Trevion Williams.
• With 16 seconds remaining, Indiana was down by two when Parker Stewart missed a clean 3-point attempt. Trayce Jackson-Davis, though, grabbed an offensive rebound and was fouled, setting up a baseline out-of-bounds play.
• With 12 seconds remaining, Indiana was down by two when Miller Kopp threw that ensuing out-of-bounds play pass away to Purdue.
• With five seconds remaining, Indiana was down by two and grabbed a defensive rebound before Johnson eventually flung up a halfcourt shot that was off the mark.
There was chance after chance, but Indiana wasn't able to take advantage. As Indiana has fought for its NCAA tournament lives the past few weeks, this has become the prevailing trend. Indiana failed to make winning plays down the stretch of the game. The Hoosiers aren't a bad team, they're just largely inopportune. That's what has been one of the defining factors of Indiana's season. And that was the case in Indiana's 69-67 loss to Purdue on Saturday. Now the Hoosiers will likely have to win at least one or multiple games in the Big Ten tournament to even have a chance of making the Big Dance.
That Indiana is in this position is not because of a lack of chances. There are so many games you could look back on over the course of the season to pick out missed opportunities.
Remember the game against Syracuse in November? Indiana had the ball with 12 seconds remaining in the first overtime and the game tied. The Hoosiers didn't even get a shot off before the buzzer sounded. Syracuse won in double-overtime.
The December game at Wisconsin? Indiana led by six points with 3:08 remaining. The Hoosiers lost by five.
Wisconsin again in February? Indiana led by five points with 3:52 to go. The Hoosiers lost by five.
On the road against Ohio State in February? Indiana led by four points with 2:47 remaining in regulation. Then the Hoosiers let E.J. Liddell slip away for an open dunk to tie the game with six seconds left in regulation. Johnson missed a final heave. Ohio State ended up winning by 11 in overtime.
Rutgers at home in an important March NCAA tournament bubble game? Indiana led by two with 3:16 remaining. Ultimately, Rutgers' Ron Harper Jr. hit a game-winning three. Indiana lost again.
There have been few games this season where Indiana has shown a clutch factor down the stretch — notably against St. John's, Notre Dame and the first game against Purdue. But in large part, Indiana has folded.
"It's definitely in the little things," Rob Phinisee said prior to Saturday's game when asked about execution down the stretch. "After each one of those losses, we watched film on like that last six-seven minutes of the game and it's always little things where one guy — either he messes up a play, where the timing's messed up on offense, where we don't execute the right plays or it's the little things on defense."
In many of these losses this season, Indiana has played well enough to put itself in a position to win. To a certain extent, it was impressive how close Indiana made Saturday's game. The Hoosiers were playing in a daunting Mackey Arena environment against the No. 8 Boilermakers. Despite that, Indiana shot 43 percent from the field to Purdue's 40 percent. Indiana was 10-of-10 from the free throw line. Johnson, who finished with 18 points, 12 assists and five rebounds, was fantastic. Kopp found his rhythm and hit four threes. Indiana held Purdue's Jaden Ivey to just 2-of-11 from the field.
Once down by as many as 13 points in the first half and seemingly on the cusp of being blown out, the Hoosiers showed resilience. That eventually led us back to that final stretch of plays.
With 16 seconds remaining, Indiana had a sideline out-of-bounds play and got a phenomenal look for Stewart, who curled to the left-wing and launched an open three, which would've given Indiana the lead. It hit off the iron.
"The one shot that we had — six-seven seconds on the side — how did that look for you?" Indiana head coach Mike Woodson said postgame. "I mean Parker was wide open."
That's when Jackson-Davis got the rebound and drew the foul. But then on the inbounds play, Kopp was trying to find Jackson-Davis when the ball was stolen by Williams.
"I just saw an opening and I tried to squeeze it in there, but it didn't get there," Kopp said. " … I probably should've thrown it a half-second earlier, but I knew I had to get the ball in. We didn't have any timeouts. So I had to try to just make a play."
After Indiana cut the deficit to two, Williams missed two free throws. Indiana had five seconds to make something happen. Johnson took the ball down the floor and hoisted up a shot that wasn't close to the basket. No foul was called.
"I thought I saw him grab the back of my jersey, so I thought it was a foul," Johnson said.
Due to its inability to close out resume-building games, the Hoosiers have gone from being viewed as making the NCAA tournament earlier this season to now being on the outside looking in. A win in one or multiple of those close games could've changed the trajectory of Indiana's season or pushed them on the right side of the NCAA tournament bubble. But after Saturday's loss, Indiana has lost seven of its last nine games and is sputtering down the stretch.
"We've shown, literally, that we can beat any team in the country and any team in the Big Ten," Kopp said. "Whether we finish the games or not, we believe and we know, we can beat any team that's going into the same tournament we're going into. So that's our mindset. And we're coming in hungry. That's for sure."
Filed to: Purdue Boilermakers