What to expect: Michigan State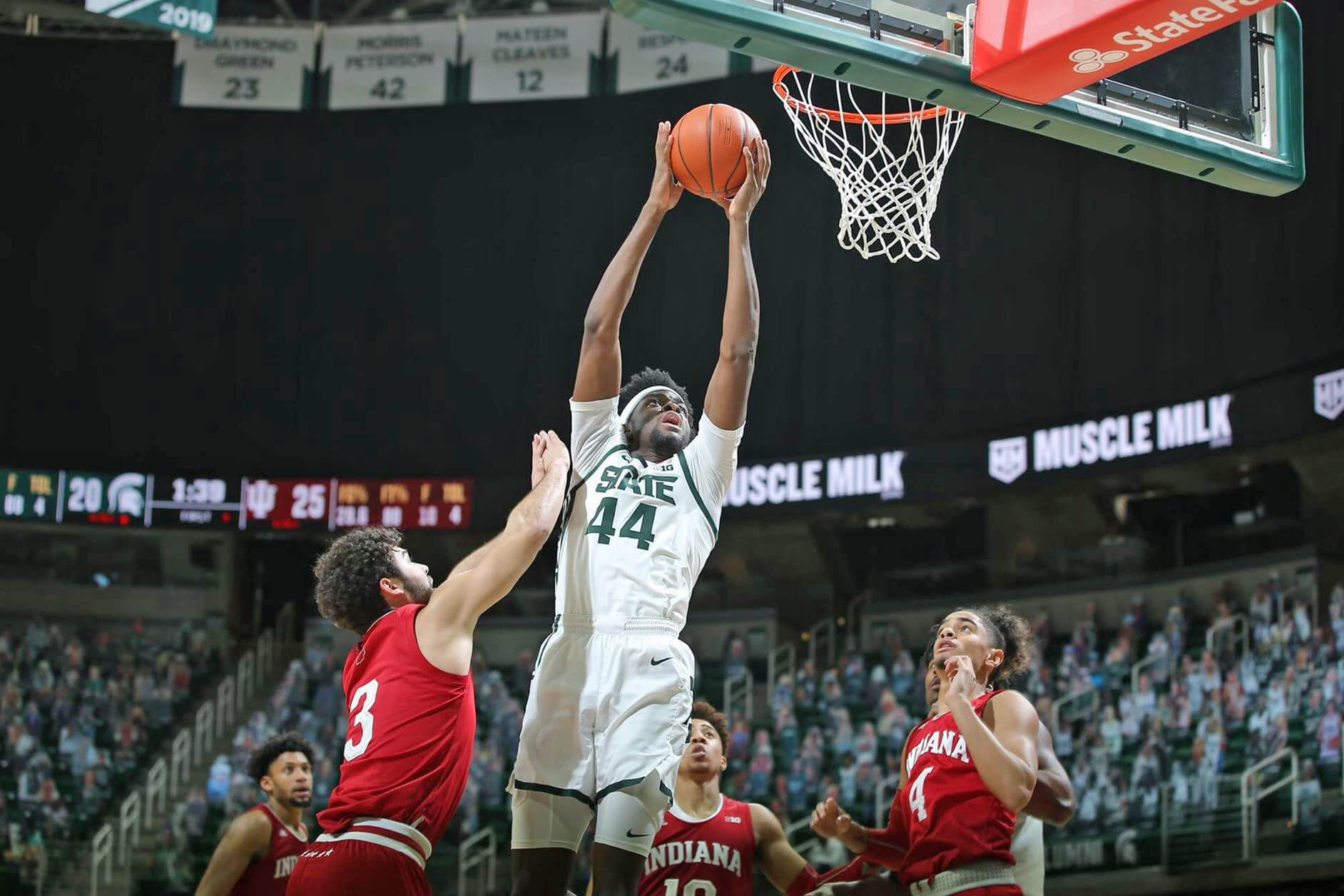 Indiana will look to avoid a third straight loss when it travels to East Lansing to take on Michigan State on Saturday. The Spartans are 17-6 overall, 8-4 in the Big Ten and have lost their last two games.
Saturday's game is scheduled for a 3:30 p.m. ET tip on FOX:
Indiana will have the five players that were suspended for Tuesday's loss at Northwestern available on Saturday at the Breslin Center.
A return to the regular roster – minus Rob Phinisee – is welcome news after the Hoosiers managed just 51 points in an eight-point loss at Welsh-Ryan Arena.
Michigan State, meanwhile, has been struggling as of late. The Spartans barely won at Maryland on Feb. 1, were crushed by 21 at Rutgers on Feb. 5 and just lost by eight at home to Wisconsin on Tuesday night. As important as this game is for Indiana, it's equally important for Tom Izzo and the Spartans.
MEET THE SPARTANS
Michigan State is the only team in the top five of the current league standings without a player in contention for first team All-Big Ten honors. The Spartans are a balanced offensive team with eight players averaging between 5.9 and 12.8 points per game. Only two players, Gabe Brown (12.8) and Malik Hall (10.1), are scoring in double figures.
The guard rotation is led by point guards Tyson Walker and AJ Hoggard with Max Christie and Jaden Akins at the off-guard spot.
Walker, a transfer from Northeastern, starts at the one with Hoggard coming off the bench. Walker is only 6-foot and is a much better shooter from beyond the arc (54.3 percent) than inside it (34.5 percent). Walker's 102 assists are second on the team and he has the 17th best assist rate in the country.
Hoggard, a 6-foot-4 sophomore, has the highest assist rate in the country at 47.6 percent. He's shooting only 41.6 percent from the field and averages just 6.3 points per game, but his 112 assists in only 445 minutes this season are impressive.
Christie, a five-star recruit, is fourth on the team in scoring and first in minutes per game (31.1). A 6-foot-6 guard, Christie has great size that makes him an attractive prospect to NBA scouts. His production, however, has been uneven this season. Over his last three games, he's averaged just seven points and is 7-of-24 from the field. Akins is a 6-foot-4 freshman who shoots 35.5 percent on 3s in 14.8 minutes per game off the bench.
The 6-foot-8 Brown, a lefty, is in his fourth season in East Lansing and has made a team-high 50 3-pointers on 130 attempts. He's an excellent free throw shooter (90.7 percent) and has the second-best offensive rating on the team behind Hall.
Hall is one of the best stretch fours in the Big Ten and is shooting 58.8 percent on 2s and 53.5 percent on 3s. He's Michigan State's most efficient player offensively and will be a tough matchup for Race Thompson because of his ability to play in the paint and on the perimeter.
Forward Joey Hauser has been much better this season than last, which was his first in East Lansing. Hauser is connecting on 41.1 percent of his 3s in Big Ten play, which is 11th in the conference.
Marcus Bingham Jr. starts at the five with Julius Marble II serving as his backup. Bingham Jr. is an elite shot blocker and defensive rebounder who has improved as a finisher over his career in East Lansing. Bingham has the highest block percentage in the league in conference play and ranks fourth in defensive rebounding percentage. He's making 60 percent of his 2s this season. Marble is making 62.2 percent of his 2s, but there's a huge drop off defensively when he's on the floor compared to Bingham Jr.
TEMPO-FREE STATS PREVIEW
(Stats are now for conference games only. Numbers are through Thursday's games.)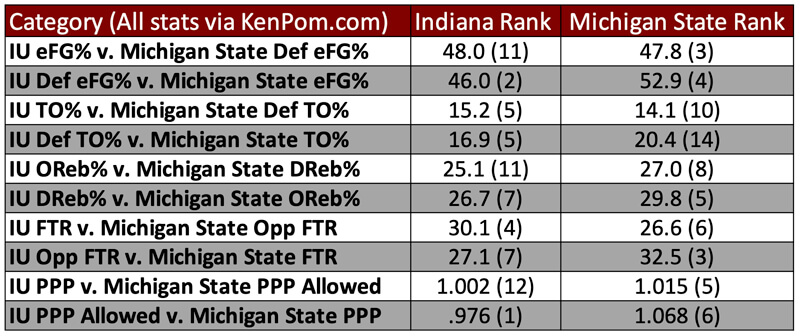 Michigan State is the most turnover-prone team in the Big Ten and its turnover percentage of 20.4 is 286th nationally. For the season, Michigan State's opponents have turned it over 250 times compared to 322 for the Spartans.
The Spartans are the best 3-point shooting team in the Big Ten in league play (39 percent) and also the best free throw shooting team at 80.5 percent. This isn't an elite rebounding Michigan State team, but the Spartans have been better on glass than the Hoosiers.
While Mike Woodson said on Friday morning that he doesn't think his team needs to take more 3-pointers, it is hard to overlook the fact that Indiana has only made seven 3s over its last two games.
"I'd just like to make the threes that we're taking. It's not how many you take, it's how many you make," Woodson said. "We had some good looks the other night against Northwestern. I thought Anthony (Leal) had some good looks, Miller had some — we just didn't knock them down. We've got to make them."
WHAT IT COMES DOWN TO
The Pomeroy prediction is Michigan State by four with just a 35-percent chance of an IU victory. The Sagarin ratings like Michigan State by 3.5.
Indiana has been defending well enough to win, but the Hoosiers have regressed recently offensively. Indiana is all the way down to 108th in Pomeroy's adjusted offensive efficiency ratings and has the 12th best offense in the league.
Trayce Jackson-Davis is going to need to play much better than he has recently and Indiana is going to need to figure out a way to make some perimeter shots if hopes to pull off the road upset. Over the team's last two games, Jackson-Davis is 7-of-22 from the field and Indiana is 7-of-29 on 3s. Those aren't numbers conducive to beating solid teams.
"I think our team can beat any team in the Big Ten if we commit ourselves," Woodson said Friday. "The Big Ten has kind of shown that this season, that anybody can beat anybody. We've just got to be committed for 40 minutes. Michigan State is going to force you to have to play them for 40 minutes in order to beat them."
(Photo credit: Michigan State Athletics)
Filed to: Michigan State Spartans