Film Session: Illinois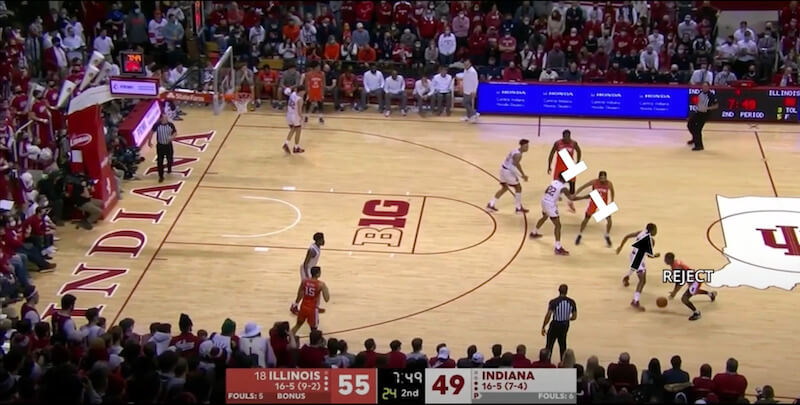 Despite some good, often wide-open looks, the Illini missed their first six 3-point attempts of the second half. Two of them were air balls.
Such a performance allowed the Hoosiers, who weren't able to get much going offensively themselves, to keep the lead for the first eight minutes.
But once Jacob Grandison buried back-to-back triples, the second coming at the 11:54 mark, Illinois got hot from distance and never looked back. The Illini hit 6-of-7 over the final 12 minutes of the contest, helping them close out the game on a 29-11 run.
During that same stretch, Indiana attempted five 3-pointers but made just one. For the game, the Illini outscored the Hoosiers by 21 from deep, a major reason they were able to pull away for a comfortable 17-point win down the stretch.
As Alex wrote in Five Takeaways over the weekend, Indiana's in-conference 3-point numbers are leaving a lot to be desired.
We'll talk a look at how the Illini got their game-breaking 3-point looks in the latest edition of Film Session:
On a baseline out-of-bounds set, the Illini get the ball to Trent Frazier near the free-throw line. Andre Curbelo sets a cross screen for Kofi Cockburn after he inbounds the ball. As Cockburn moves across the lane, Race Thompson leaves Grandison to help in the paint. Grandison uses the opportunity to leak out to the left wing.
From there, Frazier finds him after he turns around on a drive, and Grandison hits the 3-pointer to put the Illini up for good.
As we'll see later in this Film Session, this wasn't the only time the extra attention the Hoosiers paid to Cockburn led to an Illini triple.
Filed to: Illinois Fighting Illini, Trent Frazier