Series with Kansas signifies Mike Woodson's ambition to get Indiana back onto the national stage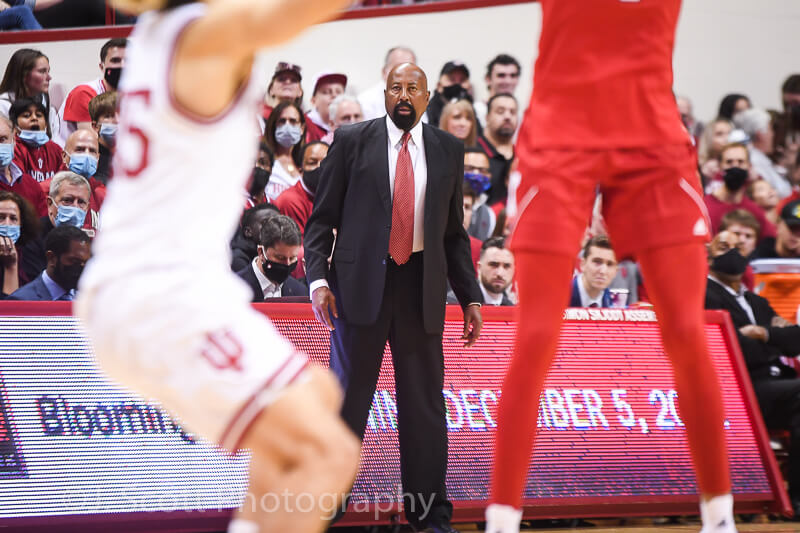 By the tone of his voice, Mike Woodson was a little bit agitated. Nothing egregious, but somewhat frustrated nonetheless. This was on Sunday, after Indiana's win over Merrimack, and Woodson was not asked about the game, but rather how this season's underwhelming nonconference schedule was put together.
"The schedule is what it is," Woodson said, shaking his head. "I came in here blindly as a head coach, thanks to my AD, and the schedule was pretty much set. So, hey, the schedule is what it is. You can think it's an easy schedule, hard schedule, whatever, but the schedule is what it is. We've got to play it."
But now, any criticism of future soft non-conference schedules will likely be quieted by the announcement that came on Tuesday. Indiana and Kansas agreed to a home-and-home series starting next season. The Hoosiers will travel to Allen Fieldhouse in Dec. 2022. The Jayhawks will travel to Assembly Hall in Dec. 2023.
On the surface, this is a series that will bring together two of the most decorated programs in college basketball history. They've combined for eight NCAA Championships and 23 Final Four appearances. Within that, there's more historical bearing in NCAA tournament games. Two of Indiana's five national championships came against Kansas — in 1940 and 1953. In 1991, Kansas beat IU in the NCAA regional semifinal and two years later they did it again in the NCAA regional final.
That, however, is in the past. For Indiana, the implications of this newly minted series are more important than a historical festivity. It signifies Woodson's ambition to take the necessary steps in helping Indiana return to national relevancy.
To put it honestly, this is the type of matchup that Indiana has needed for a while. But one of the reasons why Indiana hasn't is the Crossroads Classic.
The Crossroads Classic started in 2011 as somewhat of a coronation for the basketball-crazed region with the state's four biggest programs — Indiana, Purdue, Notre Dame and Butler. These games had a lot of importance locally. Some players, once on the same AAU team, were now playing against each other. The outcomes served as tangible bragging rights for fans.
But a decade later, the event has run its course. Indiana is 7-3 overall, the best of the group. It has also lacked national relevancy. There was nothing about the Crossroads Classic that allowed Indiana to continue to build its national brand. The fact that Indiana was locked into this event also forced it to balk at opportunities more appealing to a wider audience. Indiana declined a chance to play in the CBS Sports Classic, a national event, alongside UNC, UCLA and Kentucky, because of the Crossroads Classic.
As the years passed, programs like Duke, Kansas, Michigan State and Kentucky jumped into the Champions Classic, which has now become the inaugural tipoff to the college basketball season. Meanwhile, whether it was for a lack of trying or not, IU didn't schedule any national headlining matchups of the same weight. To a certain extent, the Big Ten-ACC Challenge delivers that, but Indiana doesn't have control of its matchup.
This season, though, will be the last of the Crossroads Classic, which allows Indiana the availability to schedule a series with Kansas.
From early on in his tenure, Woodson made it clear that he wanted to get back to playing high-caliber opponents. It came, though, with a bit of hesitation this season. Woodson has the perspective to know that he's a first-year coach with a mostly new coaching staff and six new players. Woodson knows that he's trying to rebuild a program that was once atop the college basketball sphere and jumping into a headlining matchup in his first season with already so many moving parts wasn't incredibly appealing.
It was reflected in the non-conference schedule this season, although Woodson said it was mostly set when he took over. Indiana's non-conference schedule this season is filled with the likes of low-major programs such as Merrimack, Jackson State and UNC-Asheville. More importantly, it will likely finish its slate without having played a team that is near a lock for the NCAA tournament.
"My thing is I like to get a team in position first before we start chasing the big boys," Woodson said earlier this spring. "I mean, I'm not afraid of competition. I want a team that's competitive, and if we can play, get back to play the Kentuckys and the Kansases and teams of that nature before we get on the Big 10, I'm open for that."
And now, Woodson has come through with that promise, maybe even earlier than some expected. The series with Kansas is important for more than one reason. One is that it's appealing to recruits. Players want to compete on the biggest stage. A matchup with Kansas delivers that. Woodson has already done a lot on the recruiting trail — landing two prep five-stars in Tamar Bates and Jalen Hood-Schifino among others — and playing premier matchups will only give Woodson more reasons in his pitch to come to Indiana.
Plus, for Indiana to achieve Woodson's vision of sustaining national relevancy, they'll have to beat really good teams. As a program, Indiana has a lot of things going for them — history, fan base, facilities, resources— but one they've lacked in recent years is winning big games on the biggest stage consistently. A program's profile is raised not only by winning but also by taking on an arduous schedule to continue to prove itself.
In no way does simply scheduling a series with Kansas mean that Indiana will reach that national relevancy again. That will have to come from a collection of factors, including winning and including taking on top-tier competition.
With the announcement on Tuesday, Woodson is giving Indiana a chance to do both on the big stage. And right now, that's all he can control.
Filed to: Mike Woodson