'He's not scared of the moment': Tamar Bates quickly becoming leader, spark plug for Indiana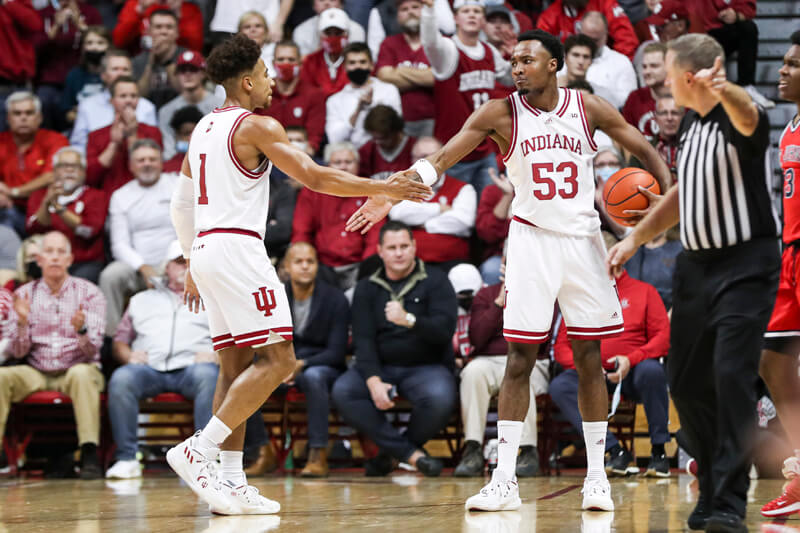 Within the final seconds of Wednesday's game, which produced what was perhaps Tamar Bates' least glamorous yet most important play of the night, there lies something worth noting.
Indiana led by two points with 8.4 seconds left, a once 14-point lead whittled down over the course of the second half. St. John's was waiting to pass the ball in under Indiana's basket. It was here that Bates noticed Race Thompson straying toward the middle of the court, away from his man.
Bates extended his arm, pointing toward the unguarded St. John's player, a small gesture that is likely unnoticeable yet undoubtedly important (Xavier Johnson did the same almost simultaneously). Thompson then moved back into place.
Here was an intersection of important moments.
Bates is an 18-year-old freshman playing in just his third collegiate game. Thompson is a captain, a fifth-year senior. But Bates has the confidence to direct Thompson, not in a demeaning manner, but in a way that, as Trayce Jackson-Davis says, "we're a family so we can communicate with each other like that."
Not only that, but Indiana coach Mike Woodson had enough belief in Bates to leave him on the floor for the closing seconds of a high-stakes, early-season game. Since arriving on campus in June, Bates earned that trust.
The rest of the play unfolded in a fitting way. It was Thompson's man, Rafael Pinzon, who caught the inbounds pass. Bates had the awareness to switch onto Pinzon as he curled across the court. Bates shadowed him until the 3-point line, before walling up on Julian Champagnie, who missed what would've been the game-winning 3-pointer.
Bates held his arms in the air after the buzzer sounded. Indiana won 76-74, a thrilling victory that moves the Hoosiers to 3-0 on the season and will certainly pay dividends in March.
This is a portrait of what Bates has become so early in his career at Indiana. He plays with an infectious bravado and perceptible energy. On Wednesday, he scored 11 points off of the bench, sparking a first-half lead that proved to be the difference. Perhaps what is most impressive, though, is the rate at which Bates has emerged as a trusted leader. Even as a freshman, Bates has led through both his play and his voice.
"He's not scared of the moment," Woodson said Wednesday night. "You need players like that."
***
What happened early in Bates' career at IMG Academy was uncommon.
Before his senior season, Bates transferred from Piper High School in Kansas City, to the traditional powerhouse in Bradenton, Florida. By the time the season started, in just a few short months, Bates had earned enough respect to be named a team captain, a decision that was made by both his teammates and coaches.
It was a product of the way that he worked and carried himself. When the IMG gym would sometimes open at 7.a.m., Bates would be there to get in shooting work. He responded to coaches with yes sir and no sir. He arrived to practice on time. Some days, Bates said, he'd wake up at 6 a.m. to workout.
"He's the golden child," said Trey Draper, who coached Bates at IMG. "People use the terminology 'I'd let him date my daughter.' (you) trust Tamar in all aspects of life… The way he approaches the game… that blue-collar approach. He approaches the game with a business-like mindset."
It allowed Bates, even without having been around his teammates for long, to have the authority to assert himself. At IMG, he urged his teammates to buy into the system. He adjusted his leadership style based on each unique personality. It's a characteristic, Bates said, that was instilled in him by his parents.
"That's something that I've always had," Bates said. "Even just being in school, my teachers would tell me 'you're a natural-born leader' because of how I conduct myself. If we're going to do something, let's do it the right way. Let's do it how it's supposed to be done."
There was also the fact that Bates played with a chip on his shoulder. Before arriving at IMG, Bates didn't get major national attention. But in his AAU days, Draper and the staff at IMG saw that Bates could flat out play. Their pitch, Draper said, was for Bates to come to Florida and make a name for himself.
And that he did. From the first game, a nationally televised event in Phoenix, Arizona, Bates started turning heads. On a team filled with Division I prospects, Bates averaged 11 points, 2.5 assists, three rebounds and 1.2 steals per game, while shooting 50 percent from the field and scoring at all three levels. The offers poured in as a result. He was later regarded as a five-star recruit.
Bates initially picked Texas. But then Shaka Smart left Austin. Woodson was hired at Indiana. Plans changed. Bates decided he wanted to spend his college career in Bloomington, his patience paying off.
"He trusted stuff," Draper said. "With this day and age with social media, guys want the microwave process. It's super quick, you warm it up and you're ready to eat. But Tamar trusted us to play the long game and I think now he's just starting to scratch the surface of what he really can be as a basketball player."
***
The night before his first game at Indiana, his first experience playing in front of thousands of fans in Assembly Hall, Bates said he wasn't nervous.
"All this is is basketball," Bates said. "That's what we came here to do. Obviously, the fans are back and everyone is going to be loud, but we came here to execute a game plan and win the game. My mindset going into it is 'I've been playing basketball for almost my whole life.' At the end of the day, it's hoop."
Bates' confidence quickly became evident when he arrived at IU. Thompson called him "one of the most confident kids I've been around." Woodson said "he's a cocky kid that is not scared."
It was a trait that permeated to those around him, even in ways that some would overlook, allowing him to again quickly gain the respect of his teammates, Take, for instance, Bates' warmups before IU's matchup with North Illinois last Friday. After finishing a rep, he said "let's go, man, let's go, man, let's go" as he clapped his hands together. "C'mon man, let's work," he said, urging his teammates as sweat already dripped down his face. Later, he did a quick bout of shadow boxing in the layup lines.
"He walked with that swagger," Draper said. "He played with that swagger. He played with that confidence. He did that in his everyday lifestyle. Those traits as a young man just transitioned to the court."
On Wednesday, Bates showed off nearly every aspect of his offensive repertoire in the first half. He glided into the lane and hit a floater. He knocked down mid-range jumpers. He even gave a little shimmy and hit a step-back 3-pointer.
In the second half, while he didn't score, Bates' leadership continued to show. He was quick to pull his teammates into the huddle. One time, when Indiana's lead was cut to two midway through the second half, Bates demonstratively moved his hands back and forth, in an effort to motivate his teammates. For that reason, among others, Bates was on the floor for 15 minutes in the second half, including the final winning stretch.
"He wants to win so badly," Jackson-Davis said after the game. "He's a guy that's not afraid to be vocal and we knew that coming in. Even from the first time he stepped on campus, he was super vocal and that's what we need."
In his first three contests, Bates is averaging 6.7 points in almost 20 minutes per game off the bench. Given that his college career has only just started, there's reason to believe that production will continue to increase as he gets more comfortable, regardless of whether he finds his way into the starting lineup or not.
Wednesday's performance was a sample of what Bates can be for Indiana. And again, people are starting to take notice. Asked why people haven't known about Bates for longer, Draper didn't have much of an answer.
"I have no idea. I've been trying to figure that out for the past three years."
(Photo credit: IU Athletics)
Filed to: Tamar Bates