What to expect: Merrimack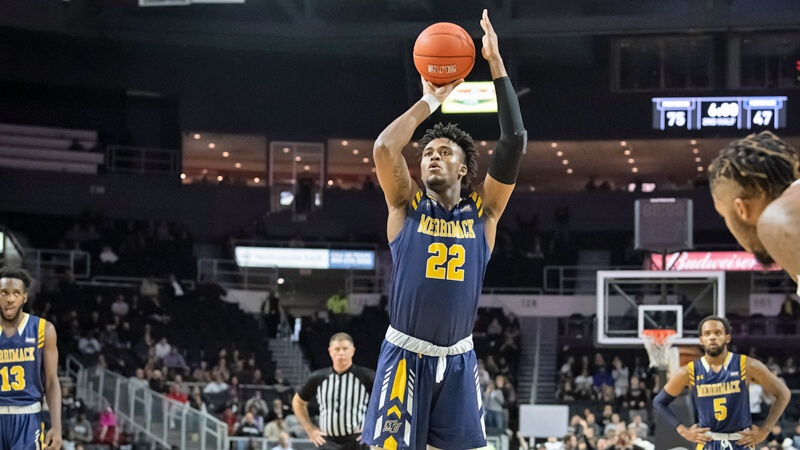 Indiana returns to action on Sunday afternoon when it hosts Merrimack at Simon Skjodt Assembly Hall. The Warriors 4-7 overall and have lost four straight games.
Sunday's game will tip at 12 p.m. ET on BTN:
Indiana will look to rebound from Wednesday's second half collapse in Madison when it hosts Merrimack on Sunday afternoon in Bloomington. The Warriors, members of the Northeast Conference, are transitioning to Division I and won't be eligible for the NCAA tournament until 2024.
Sunday's matchup is one of eight "guarantee" games on Indiana's non-conference schedule and the sixth to be played thus far this season. After starting 1-1 in Big Ten play, the Hoosiers will get a four-game reprieve from league play before going on the road to face Penn State on January 2.
MEET THE WARRIORS
Merrimack plays a tight rotation with eight players logging the majority of the team's minutes. Junior Jordan Minor starts at the five and has a usage rate that ranks in the top 40 nationally at 33.2 percent.
The 6-foot-8 Minor leads the team in scoring at 14.4 points per game and rebounding at 6.7 per game. He also has a team-high 26 blocks. Minor's 52 free throw attempts lead the team and he's converting on 80.8 percent of his opportunities at the line.
Ziggy Reid, a 6-foot-6 junior, starts at the four but has been terribly inefficient in his third season. Reid is shooting a dismal 21-of-91 from the field overall and 13-of-51 on 3s. His 30.8 minutes per game are second on the team and he's fifth on the roster in scoring at 7.5 points per game.
Jordan McKoy made his first start of the season at Gonzaga and splits the time available at the three with Devin Jensen. McKoy, a 6-foot-5 junior, is only 8-of-27 on 3s for the season. Jensen, who started the team's first 10 games before coming off of the bench at Gonzaga, is a 6-foot-5 junior who averages 4.1 points per game. Like McKoy, he's really struggled to shoot it from the perimeter. Jensen is just 9-of-38 on 3s (23.7 percent).
Justin Connolly, a 6-foot-7 senior, plays 13.2 minutes per game off the bench but has only attempted nine shots all season.
The Merrimack backcourt is led by 5-foot-11 guard Mikey Watkins. He's the team's second-leading scorer at 9.5 points per game and has a team-high assist rate of 25.9 percent. Watkins, like most of Merrimack's team, has been an inefficient shooter through 11 games. He's shooting just 40.5 percent overall from the field and 21.4 percent on 3s. He's attempted just eight free throws all season but has a team-high 25 steals.
Malik Edmead, a 5-foot-10 guard, made his first start of the season at Gonzaga on Thursday. Edmead is third on the team in scoring at 8.3 points per game and is a 40 percent shooter from the field. Also figuring into the guard rotation is 6-foot-2 junior Mykel Derring. Derring started the team's first 10 games with Watkins before being replaced by Edmead at Gonzaga. He's been dangerous from behind the arc with 24 makes in 56 attempts. Out of the regulars in the Merrimack rotation, he's the only player shooting better 32 percent on 3s this season.
TEMPO-FREE PREVIEW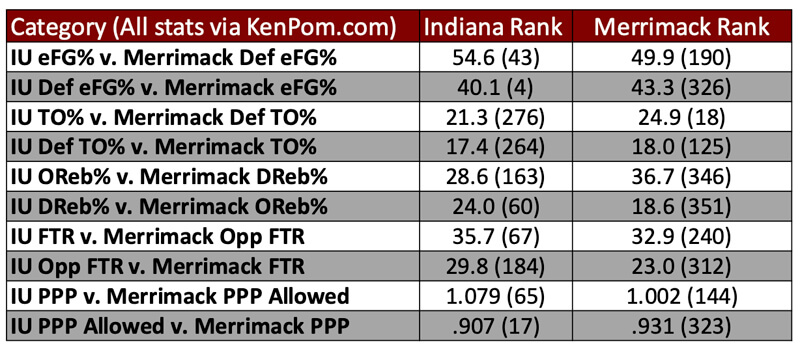 Merrimack plays one of the slowest tempos in the country, ranking 348th nationally in KenPom's adjusted tempo metric.
The Warriors rely heavily on 3-pointers to try and generate offense, but are a poor 3-point shooting team. Merrimack is generating 35 percent of its offense on 3s, which ranks 96th in the country. The Warriors are shooting just 30.3 percent from distance. Unsurprisingly, taking a lot of 3s doesn't lead to many trips to the free throw line. Merrimack ranks just 312th in the country in free throw rate (FTA/FGA).
Like many low major teams, Merrimack lacks size in the frontcourt and that deficiency is a real detriment on the glass. The Warriors rank 346th in the country in defensive rebounding percentage. Merrimack chooses not to pursue many offensive rebounds and ranks just 351st in the country in rebounding percentage on the offensive glass.
WHAT IT COMES DOWN TO
Indiana is a 19-point favorite in KenPom and the Sagarin numbers like the Hoosiers by 21.
Merrimack does have experience going on the road and beating a Big Ten team as they won 71-61 at Northwestern on Nov. 8, 2019 in their first season as a Division I transition team.
This season, however, the Warriors have started just 1-5 on the road and their five losses have come by an average margin of 18.2 points.
Like many of its early non-conference home games, this is a game Indiana should win handily. The Hoosiers have next week off for final exams ahead of a matchup against Notre Dame in the Crossroads Classic in Indianapolis.
(Photo credit: Merrimack Athletics)
Filed to: Merrimack Warriors