The Minute After: Wisconsin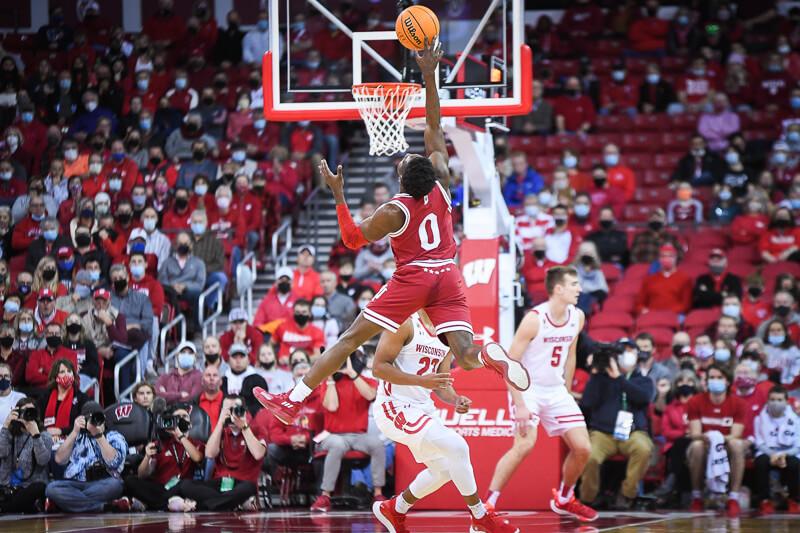 Thoughts on a 64-59 loss to the Badgers:
There are games you lose. Games you don't execute down the stretch. Times it's just not your night. It happens.
This … well this was something else. There's no way to be polite about this one: Indiana collapsed and absolutely blew this game. Considering all that was at stake — breaking the 23-year curse in the Kohl Center — it's about as gut-punching a loss as you can have in early December.
It's usually the methodical nature of the Wisconsin system holding these games hostage, Indiana succumbing time and time again. But that was not the case tonight. Indiana imposed its will on both ends of the floor in the first half. The Hoosiers pick-and-roll'ed Wisconsin to death and hit 5-of-8 from deep. The turnover problem was non-existent. Xavier Johnson and Trayce Jackson-Davis exploited their matchups with ease. As they pushed the lead out to 22 points, this didn't feel like Indiana playing a ranked Wisconsin team on the road, it felt like the Hoosiers vs. a KenPom sub-300 non-conference team inside Assembly Hall.
Sure, the Badgers were due, and are frankly too good a team, not to have a run in them in the second half. And run they did. But the comeback was more than just Wisconsin finding some second-half footing and playing better. Indiana simply didn't show up and kept sinking and sinking and sinking.
"We were in quicksand the second half," Mike Woodson said after the contest.
Indiana's offense just couldn't get into its stuff. Jackson-Davis made only one basket and finished with nine points, a season-low. Parker Stewart and Miller Kopp didn't make a shot. Indiana scored just 17 points. The Hoosiers failed to make a 3-pointer (0-of-5), made only 3-of-9 from the line and scored a scant .531 points per possession.
And Johnson really took this one on the chin. He was great in the first half, scoring seven points, dishing out six assists, snagging five boards and turning the ball over just once. But his second half was rough. Really rough. Johnson looked to continue where he left off in the first half. And he did, scoring Indiana's first bucket of the half on a fast-break score, hitting an and-1 to boot. That was the last time he saw the ball go through the hoop the rest of the contest.
From there, it went seriously sideways. Johnson missed his next three shots. Then he got into foul trouble, a reoccurring theme this season for him. He sat from the 14:34 mark to the 6:21 mark. When he returned, he missed all five of his shot attempts and all three of his free throws to finish 1-of-10 from the field and just 1-of-4 from the line in the second half. Johnson continued to have the advantage over Wisconsin's freshman point guard Chucky Hepburn, but his shots at the rim were erratic. As Indiana continued to sink, Johnson lost his composure. He wasn't under control. The Pitt transfer has been huge down the stretch for Indiana in other games this season, but that was not the case tonight.
He took ownership for his part after the loss.
"I take credit for this game," he said to reporters post-game.
The optics of this one are bad. It was the first time Indiana fans were openly questioning Woodson's decision-making. Yet, this is just the second game of Big Ten play in a matchup Indiana wasn't the favorite. It's a huge opportunity lost, sure. But the Hoosiers have plenty of season left. They simply need to bury this one and move on.
Filed to: Wisconsin Badgers, Xavier Johnson